The future of digital advertising is in your hands
Over the past few years, publishers have been wringing their hands over the failure of digital advertising to come to their rescue as print advertising revenues continued to evaporate. You had to look hard to find the occasional glimmer of hope.
Certainly it makes sense that digital media would have appeal to advertisers. After all, interactive media keeps readers engaged more deeply and longer in the pages of the publication, and offers the possibility of an instant, interactive connection between the reader and the advertisers. In addition, advertisers can specifically target their audience, include videos and other digital experiences, expand their reach globally, and track impressions and clicks, all features that aren't available in print advertising.
And at last, digital advertising is starting to live up to its promise. There are fewer complaints of "trading print dollars for digital dimes" or even  "trading digital dimes for mobile pennies" these days. Study after study after study proves that consumers really are consuming content on mobile devices, and spending quality time there, too. And that's good news because more and more consumers have access to those devices, and the devices just keep getting bigger, accommodating more user-friendly screens. Even older, non-digital natives are turning to mobile devices for content such as video – and it just so happens that video advertising is still a hot trend. The sky would seem to be the limit.
[text_ad]
The hot trends you can take to the bank
You may have your own ideas about the future of digital advertising, and we'd love to read your comments below. In the meantime, there are still plenty of ways you can capitalize on the new revenue streams represented by digital advertising. You just have to know where your opportunities – and their associated pitfalls – lie.
1. Native advertising
"Native" advertising – aka advertorials or "sponsored" content – are the most talked-about topic in advertising land. After all, it delivers soft-sell advertising that's integrated into the content experience, such as aligned sponsored video ads within your content, or endorsements of your content by a related advertiser.
Needless to say, some content producers worry about blurring the lines between editorial and advertising. And there are, of course, plenty of horror stories about native advertising done wrong. A couple years ago, the usually adroit Atlantic stumbled badly with a native ad that praised controversial Church of Scientology leader David Miscavige.
On the other hand, there are plenty of positive examples of well-executed native advertising, including one from the New York Times,  one in Forbes and and this one at BuzzFeed. The lesson: relevancy. When the sponsored or native advertising content blends with the surrounding editorial content, readers are far less likely to protest. And you probably already know that carefully labeling your native advertising is also critical.
Here's the New York Times, whose content does indeed sometimes include news and analysis of prison issues, and who has clearly identified this piece as a sponsored post: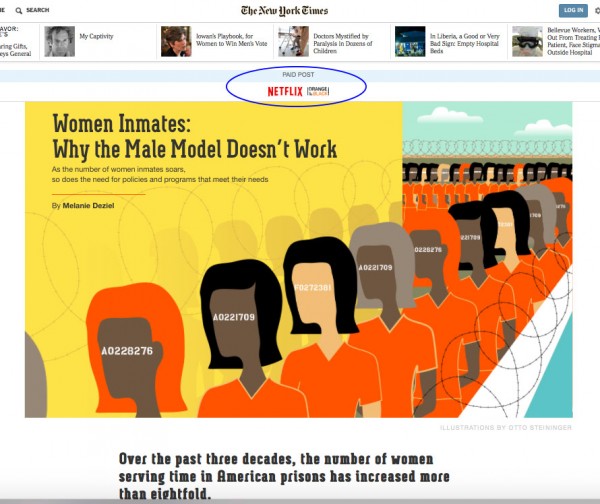 Forbes is a little less clear, with its rather disingenuous "ForbesBrandVoice" label and teensy tiny link to explain what that actually is. How do you feel about that? At any rate, Forbes is also riding relevancy here, because the topic the Gap CEO is writing about is completely natural to Forbes.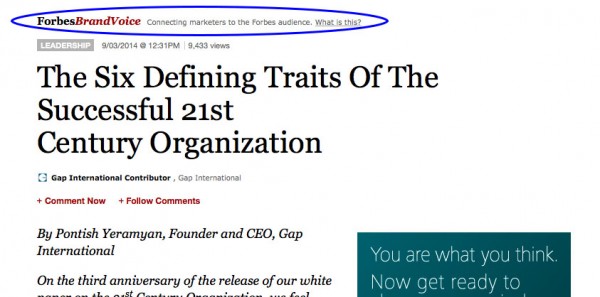 [text_ad]
However you feel about it, native advertising offers a huge boost to revenues for publishers who only two years ago were mumbling to themselves about "digital dimes." As early as January 2014, MediaPost quoted a J.P. Morgan report that native ads represented just 5% to 10% of Facebook's impressions in 2013, but accounted for more than 60% of the company's revenue.
Why is that? As Sharethrough found in a study it performed, consumers looked at native ads 53% more frequently than display ads, and native ads registered 18% higher lift in purchase intent and 9% lift for brand affinity responses than banner ads. That's a valuable property publishers have to sell, so it's no wonder that such ads drive higher revenues than boring old banner ads.
2. Video advertising
According to Nielsen, there was a year over year overall growth in 2014 of digital use of 16% among people age 18-34, with 53% growth in digital video viewing. And Nielsen says this growth is even more marked among 35-49 year olds and 50-64 year olds.
That sure sounds like an opportunity to me. What's more, Business Insider reports that online video is growing faster than most other advertising formats and mediums. Says BI:
Video ad revenue will increase at a three-year compound annual growth rate (CAGR) of 19.5% through 2016, according to our estimates.
That's faster than any other medium other than mobile. And much faster than traditional online display advertising, which will only grow at a 3% annual rate.
Video ads have an average click-through rate (CTR) of 1.84%, the highest click-through rate of all digital ad formats.
Fair warning: There are plenty of questions about how much of video ads are actually being seen – and by whom, the New York Times discovered – that's leading advertisers to question expensive advertising that they feel isn't worth what they paid for. And rates that publishers can charge are said to be dropping as more and more publishers rush to get into the game.
But video ads are clearly here to stay, and you'd be an unwise publisher to ignore its revenue potential.
3. Mobile advertising
With so many more mobile devices in the hands of consumers – and with bigger and better screens, too – publishers are starting to warm up to what was once considered the poor cousin of native and video advertising. Yes, the lack of cookies to track a user's wants and needs is a drawback, as is the short attention span that mobile device users are presumed to have.
However, all is not lost. As explained by Readwrite, by combining programmatic ad buying with contextual delivery of ads, mobile advertising could become a gold mine. In this scenario, you could offer an advertiser the opportunity to set up a campaign to send push notifications of ads to smartphones in a specific geographic area that have certain demographic traits, such as age, gender or zip code, and deliver push notifications or advertisements to their devices and apps.
Readwrite reports that plenty of companies are already taking on the challenge of making this happen. It's up to you to stay tuned to these burgeoning opportunities and be poised to take advantage as soon as you can.
4. Responsive creative design
With all of this newfangled advertising coming of age, it can be a challenge for publishers with limited sales resources to keep up with it. That's why we're still fond of responsive advertising, which allows you to sell one ad that works on all the different platforms you publish on.
The IAB explains that Responsive Creative Design refers to an automated ad server process of optimizing the look and fit of an ad creative to the ad opportunity/ screen/ inventory available. RCD can also mean not just "responsive to the screen" but also "responsive to the capabilities of the device," so an ad built using RCD might be shake-able on a smartphone, but mouse-over-able on a PC.
Twitter reported that in doing this, it sometimes generates more revenue from mobile device ads than from desktop ones. That's an encouraging sign, and IAB offers a lot of free guidance for those who might want to follow in Twitter's footsteps in its white paper, Responsive Design and Ad Creative: An IAB Perspective.
Of course, all of these evolving digital advertising opportunities are worth little if ad buyers are spooked by problems with video ad placement, or if every publisher's sales team is using different sets of data to make their case to buyers. Buyers started pushing back last year because of all the confusion, and the industry responded by creating tools with which publishers can sooth shattered nerves and increase the value of their properties to ad buyers.
[text_ad]
5. AAM's Consolidated Media Report and Rapid Report tool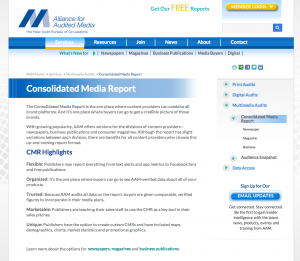 One of the biggest problems for digital ad sellers and buyers thus far has been the random nature of the data. As Ethan Grey, MPA's SVP of Digital Strategy and Initiatives, explains it, "Digital editions are like having every international plug in front of you—they're all different. Every electrical outlet works exactly as designed, and all deliver power, but they're incompatible. The exact same ad will deliver completely different data sets. They're not apples to apples."
To meet this challenge, in 2013 MPA launched its Digital Editions Standardization Initiative (DESI), in which measurement of four specific metrics was built into Adobe's widely-used Digital Publishing Suite. That data can then be audited and included in the Alliance for Audited Media database, where ad buyers frequently perform their due diligence about your digital magazine.
If you can report on these universal metrics to your advertisers, you have a much more appealing product to sell, and you can set ad rates accordingly.
6. AAM reporting tools
Additionally, AAM also responded to  increasing demands from ad buyers for usable metrics in the digital age. Its year-old Consolidated Media Report takes independently audited data for all of a publisher's channels, combines it with graphics and charts, and delivers an suer -friendly report perfect for media kits and sure to excite your ad sales team with its dynamic presentation. This data is also available in the Media Intelligence Center .
These initiatives are key to reassuring ad buyers that your digital magazine brands are valuable commodities where they should be placing their native, video and mobile ads. If you want to sell digital advertising, but you're not taking advantage of these tools already to reassure buyers of the value of your publication,  you should be.
It's not a problem …
Mequoda hopes publishers will take advantage of the excitement that digital publishing creates, rather than growing discouraged from any confusion. A marketing executive I once worked with had previously worked at Walmart – a success story if ever there was one – where, she told me, the word "problem" was never to be spoken. Instead, marketing executives were ordered only to speak of these things by using another, completely different word:
Opportunity.