Magazine covers can make or break sales on traditional and digital newsstands – are you leveraging current subscribers for input?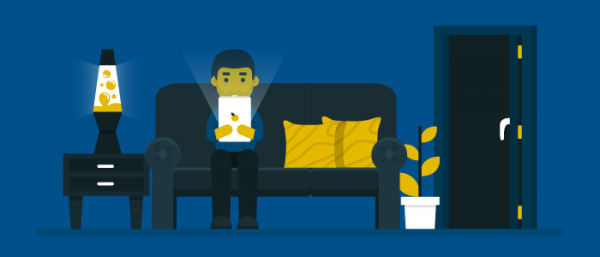 I subscribe to magazines and email newsletters of magazines for dozens of publishers. As part of our research, we are always keeping an eye on what's going on with general interest publishers and niche publishers alike.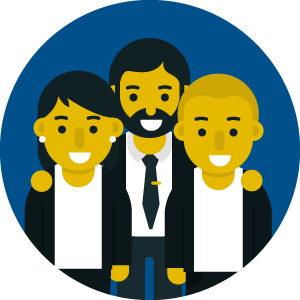 One trend I've noticed lately is magazine publishers crowdsourcing ideas from their email lists and social media users. For example, Metro Parent has an annual CoverKids Search where readers submit photos that will be used on magazine covers throughout the year. More recently, I received an email from Taunton Press's Fine Gardening publication through email, asking me to help them pick the best cover for their December issue (clearly they're working six months ahead – go them).
What I found interesting about this short survey, was how short and simple the invite was, with no promise of a reward or a contest. But it completely appeals to the Millennial market, who seek to offer input and customization in the products they buy and subscribe to. What better way to make them feel involved, than by offering them a way to construct the cover of future magazines?
The email was simple:
We value your opinion, please help us pick the best cover for the upcoming issue of Fine Gardening magazine.
Click Here to Start the Survey
Thank you in advance for your participation.
The first page of the short survey was solely about the copy on the cover of the magazine. Which spoke to me? Frankly, I didn't find many of these titles appealing on their own in this format.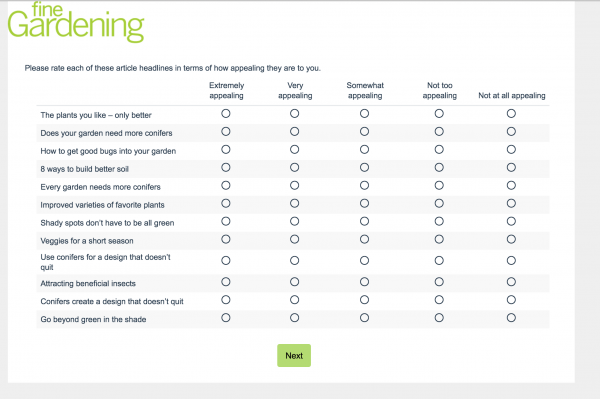 However, on the next three pages of the survey, they paired magazine covers with different headlines, which made for an easier voting strategy when the images were paired with copy. We know through research that asking a reader if they would buy something does not offer any type of real insight into whether a reader would ever pull out their credit card. However the data below does offer them some basic insight as to whether the cover as a whole is appealing.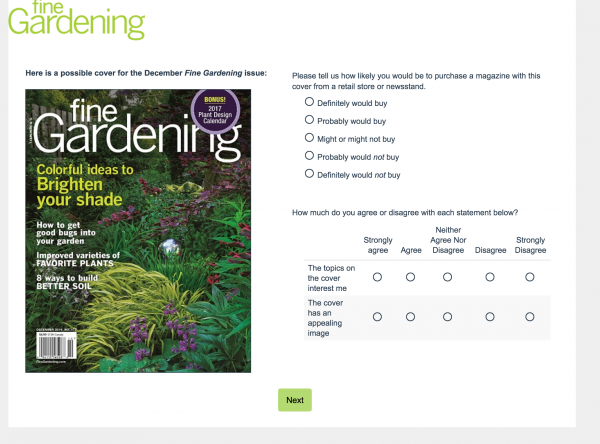 Next there was a page comparing the three magazine covers side by side to pick my favorite, and finally there was this screen which offers the publisher some validation on the importance of the answers. For example, with this data, Fine Gardening could decide to omit answers from people who do not subscribe, purchase, or borrow the magazine. Or if they're seeking a new user base, they could omit answers from current subscribers.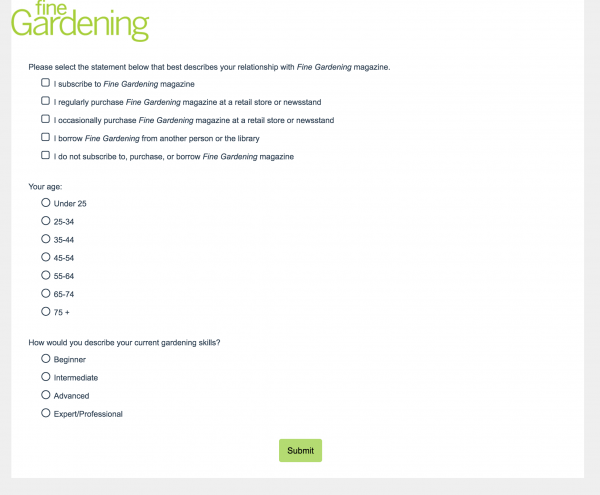 With the age question, they can see if answers pertain to a specific age group, and whether that is who they want to target. And with the question about current gardening skills, the publisher could relate the choices to the different types of gardeners, making a more informed decision about their final choice.
Given the fact that they're working so many months ahead, I have no doubt they'll spend time analyzing this data in a way that not only serves their current readership, but also increases subscriptions and newsstand sales.
Do you crowdsource to get ideas and opinions on new issues? Would love to hear your experience in the comments below.