Digital magazine marketing will give you an afterlife
There are times in business when we feel like we've created something great, and we don't understand why it's not selling.
Back in 1967, a successful New York ballerina by the name of Marta Becket stumbled upon an old social hall in Death Valley Junction, California, population: 6. After setting eyes on it, she was smitten, and although everyone told her she was crazy, she got a lease on it for $45 per month. She spent the rest of her life, until her recent death at the age of 92, dancing and putting on operas and plays in that hall, which turned into the Amargosa Opera House.
It's a shame now, that the limelight is finally being put on Becket. After decades of work, the rest of us are learning that the Opera House has been compared to Shakespeare's Globe and the Sistine Chapel. How many road trips could we have taken to see Becket in her prime, operating the opera house in a desert ghost town?
[text_ad]
Becket did most of the creative work on the theatre herself. She used coffee cans and turned them into stage lights, and she sewed the curtains herself. The ceilings and walls were covered with her paintings. At one point, after many performances to an audience of zero, she decided to paint an audience on the walls, too. In 2013, the New York Times reported that even after visits from National Geographic, Life and People, and revenues in the $300,000's, her opera was still at a loss for the year, but she pushed on until her death.
Isn't it funny how so often the greatest things created and imagined, don't get noticed until they're gone? Picasso was poor, but yet Marina Picasso, his granddaughter, just sold one of his paintings to Sotheby's for $8.6 million. Sure, Netflix can bring back Arrested Development and even Full House from the dead, but in the world of magazine publishing, a fold is a fold. And issues at your local library won't bring back the spirit of an old magazine.
That's why we think it's so important that magazine publishers consider digital magazines as part of their magazine marketing strategy. Your digital magazine is your afterlife, and if print distribution becomes too costly to afford, or multi-platform advertising generates more revenue, it's the lifeline for all publications. Not just in a tablet edition, but in a web edition, and through your free content Portal.
Do you want to sell more digital subscriptions? Take our magazine marketing advice.
Magazine marketing with your website
Naturally you already have a website where you drive traffic via organic search, convert visitors to email subscribers and sell your numerous products, right? Don't forget to sell your digital magazine there, too – believe it or not, I've stumbled across quite a few otherwise savvy publishers whose digital magazine is mentioned nowhere on their site!
The Economist doesn't hold back, they have a clever rotating ad at the top of their home page that speaks to both digital and print subscribers, asking "Which Economist reader are you?"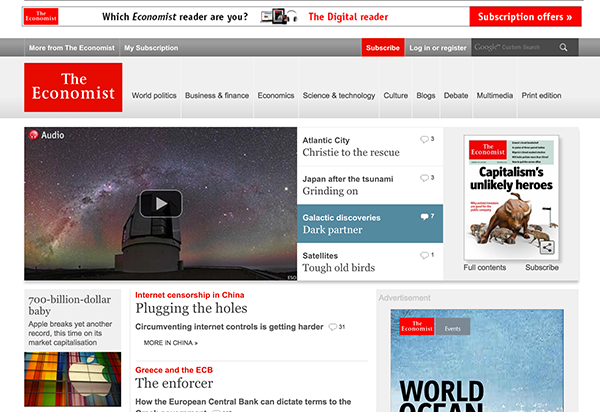 Later down the home page, you'll find a "refer a friend" promotion, offering access to their digital edition in exchange.
Similarly, The New Yorker publishes in print and many digital formats and sells subscriptions to them all in the same place, most notably via a popup that you see when you arrive at the home page.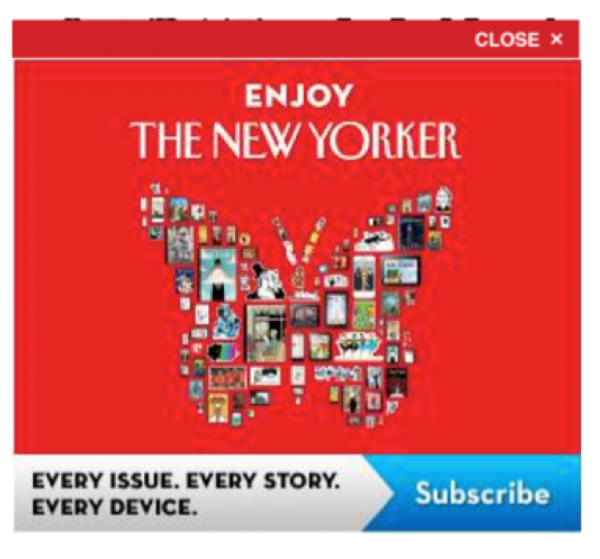 Every device. Imagine that! These small banner ads pop up as floaters and in the right rail all over the New Yorker website. And remember, as we like to remind folks, as long as your website includes content and isn't simply a rival retail site, you can have the Apple App Store actually fulfill these sales, and you don't have to give Apple a cut of the sale. You also get to keep the data you've just gathered, which Apple doesn't share.
That makes selling your own digital subscriptions a no-brainer.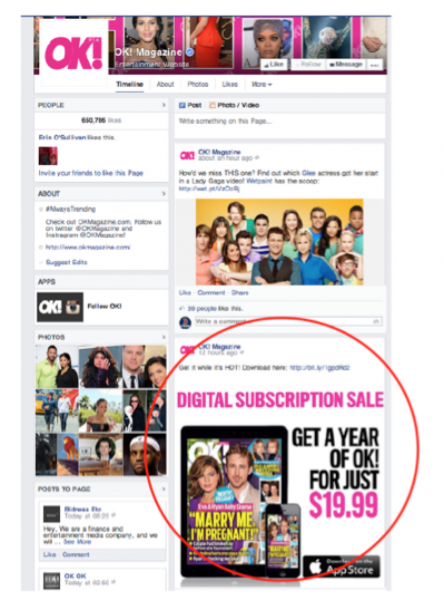 Magazine marketing with social media
There's no excuse not to use one digital medium to promote another. But believe it or not, some of the biggest players have yet to figure this out – and yes, it absolutely makes a difference! For example, OK! magazine, with a whopping digital circulation of 196k, features prominent promotion for the digital edition in their timeline.
But there are a million more ways to promote your magazine in social media, especially digital editions. Think about it. If you post an image from behind the scenes of an interview, or reveal the title of an interesting story in social, and the only way to view it is to subscribe immediately, or go out to the store and see if your local CVS has a copy, who in their right mind would put on pants and leave the house when they can download it immediately? Use your most popular networks like Instagram, Twitter, Facebook and even Pinterest to tease featured premium articles and increase digital magazine subscriptions.
Magazine marketing in the newsstand
Let's face it: If your digital magazine isn't available in Apple's app store, it doesn't exist for the vast majority of digital magazine buyers. Other options you may also have already considered include Amazon, Google, Barnes & Noble, and Zinio.
There are also a couple of new partner options worth considering. Zinio, best known as a traditional newsstand, has a Netflix-style program called Z-Pass, in which the consumer pays $5 per month for any three magazines.
Another entry in this Netflix model is Next Issue, a joint venture of Condé Nast, Hearst, Time Inc., Meredith and News Corp. With NIM, readers pay $9.99 per month for monthly magazines, or $14.99 per month for subscriptions that include weekly magazines.
Magazine marketing within your app
You should have at the very least a free or sample issue in your app. "Free" magazine apps that have no actual free content are something consumers hate with the heat of a thousand flaming suns. And in that free content, you should lose no opportunity to sell subscriptions and single issues.
Magazine marketing in print
If you have the resources, you could be buying space to advertise your digital magazine in other publications. In the past we've seen Bon Appétit advertised in Glamour. And you should definitely be including an offer to go digital when you renew or bill your print subscribers via snail mail.
Magazine marketing with email
If you're looking in your email backend and it does not spark joy, if you find that it takes you more than 30 seconds to find something you need to promote your magazine, then it's about time you use the Marie Kondo method and minimize.
One method to do this is to take a look at your magazine promotional campaigns for the last 12 months. Export the data into a CSV or Excel file, and then sort the campaigns by revenue generated. If you don't have this data, sort them by click-through rate.
You might be wondering, "what about the open rate?" The answer is that open rates are a second-hand metric in this case. You want to know which emails, once opened, converted the most highly. Changing a subject line is easy, but re-writing a promotion is not!
So once you have your top list, organize them so you have the top 12 that have promoted your magazine. You now have in front of you, the top 12 magazine promotions that have generated the highest conversion rates. Why send anything else?
Now all you have to do is turn these into templates that you can recycle every 12 weeks (if you only send one magazine promotion per week). Now, after about 6 months, look at your email metrics again and find the email that converts the worst, and replace it with a new template. Repeat this cycle.
Magazine marketing with a 12-spotlight email cycle
If you're not happy with the emails you've been producing so far and want to start from scratch with a new email strategy, that's fine too.
As with any product you'll ever have, if you want to sell it, you have to promote it. Even the most search-optimized landing page for a best-selling product that generates a ton of free traffic from search, can generate more revenue through email promotion.
Think about it, if your email list has 35,000 people on it, (or 100,000, or 500,000 or more), all you need is to hit "send" and a big chunk of those subscribers will see your magazine promotion. If you've been delivering them great content every day through email, they might be most inclined to pay for your magazine.
To get in the habit of doing exactly that, first, develop your spotlight email template.
In fact, develop twelve of them.
A short one, straight to the point with a super-charged call to action.
A long one, including bullet points about every benefit they get as a magazine subscriber, and many calls to action.
One with video, featuring exclusive content only available to magazine subscribers.
One with a large image above the fold that provokes the email subscriber to keep reading to the call to action.
One that's highly designed and has more images than text.
One in the form of a plain-text email from the editor.
One that polls them on their favorite content from your site (with a more subtle CTA for the magazine).
One that includes a "once a year" offer on the rate.
One that includes reader testimonials.
One that includes a list of links to premium content that would be immediately available to them, if they signed up for your web edition.
A free trial offer.
A "bonus gift" offer.
Once you've created your twelve email templates, to satisfy a whole quarter, choose a day of the week, say Wednesday, and roll through them every twelve weeks.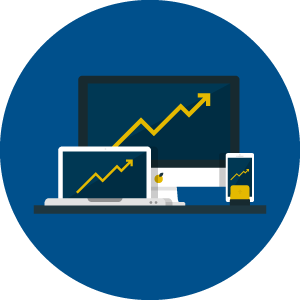 Magazine marketing with search engine optimization
One completely "new" channel available to publishers that didn't exist a few decades ago, is a little search engine called Google, the largest search engine in the world. Google has provided publishers with two major ways to market themselves and their magazines – through SEO and PPC.
I'm careful not to pit SEO and PPC against each other, either. It's not a battle SEO vs PPC, because your best chance at the best magazine marketing through Google is to try both.
Search engine optimization encourages publishers to create abundant amounts of helpful content that is optimized for terms people are looking for in search.
Keywords: Content is optimized for long-tail keyword phrases that are usually two, three, or four words long.
User-Friendliness: Optimizing content for search engines helps publishers market their content in a natural way.
Credibility: Editorially based content receives more credibility than paid advertisements.
Transition: Content you give away for free is a great way to introduce people to your content before they begin to pay for it.
Conversions: Content you give away for free can be optimized to include links to landing pages and embed calls to action.
Longevity: Content can be created once and drive traffic for years.
Search Volume: Long-tail keywords will have less search volume than those you can target in PPC.
Cost: Cheap – leverage your existing team to write and/or recycle old archived content and re-optimize it for search.
Magazine marketing with pay-per-click
Pay per click allows publishers to pay for desirable search terms and guarantee traffic to them.
Keywords: Based on your budget, you can target highly competitive keywords that you can't rank for organically in search because they have too much competition.
User-Friendliness: Ads can be optimized to reflect what the user searches for, making it user-friendly, however most ads go directly to sales pages so there's rarely an opportunity for a "hello, how are you?" before the sales proposition.
Credibility: Users prefer PPC ads over other types of paid ads as long as they're not deceiving.
Transition: Studies have shown most searchers don't differentiate paid search results from organic ones, so there's a fluid path from search to your landing page.
Conversions: Most PPC companies you'll hire will be expert landing page developers and can maximize your conversion rates. Note: Hire professionals, it will be worth it.
Longevity: Unfortunately, traffic stops when your budget runs out. But you'll have wrangled some good traffic in the meantime.
Search Volume: Your budget is your limit, since you're only paying for clicks, it's up to you how much traffic you're willing to pay for.
Cost: The more you spend, the more traffic you'll receive.
As you can see, SEO and PPC go hand in hand. They fill in the gaps for one another. Magazine content is built for SEO, but any paid product can benefit from PPC.
The major benefit of optimizing your content for organic search is that you only have to create a piece of content once, and you can receive traffic from that content for years. Some of our most traffic-inducing posts drive tens of thousands of visits per month and they were originally published more than five years ago. Imagine that every article you publish is a new landing page. If you publish every day of the year, that's 365 landing pages, when set up to leverage 3C Zone Architecture, are optimized to convert visitors into subscribers.
The major benefit of PPC is that you go directly for the sale, so your revenue from these efforts will be much more obvious than the longer path of search engine optimization. You get what you pay for with PPC, and if your landing page is well designed, and (better yet) tested – your budget will hopefully convert into more revenue than expense.
Now it's your turn. I'd love to hear how you market your magazines and digital magazines. Leave a comment below.