Field & Stream gets it right the second time
If you've read this blog for a while, you know that we're big fans of Bonnier Corp. for its embrace of digital technology. You can read more about the digital edition of Popular Science here, and about Bonnier's advances in tablet magazine advertising here.
Meanwhile, forward-thinking publishers like Bonnier have a great deal to offer smaller niche publishers in terms of ideas and experience.
Most recently, Bonnier decided to upgrade one of its legacy magazines, Field & Stream, from a plain digital magazine replica to what we call a reflow plus edition, courtesy of their partner and ours, Mag+.
A reflow plus edition is redesigned from the print version so that the text is larger and more readable, and simply flows vertically or horizontally on an endless page, accessed by swiping. It's Mequoda's preferred version, because it's more reader friendly than a simple replica, with its print pages squeezed down into a tablet screen size.
Bonnier Senior Consumer Marketing Director Bob Cohn explains that six Bonnier publications, including PopSci and Popular Photography, had leaped into a reflow version right from the start, but other magazine staffs, such as that at Field & Stream, decided to begin more cautiously with the plain replica.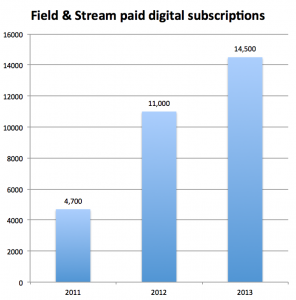 "We were pretty dissatisfied with the replica starting the day it came out," says Cohn. And so about a year ago, the company began brainstorming how and when to make the transition to the more complicated reflow version.
As it would be at any magazine, justifying the associated cost was paramount. Bonnier made its decision based on two things that management felt would justify the move: improving the magazine experience for readers, and allowing the advertising sales staff to cross-sell ads between F&S and Bonnier's existing reflowed magazines.
Bonnier uses an integrated sales staff that sells ads across the websites, print magazines and tablet versions. The catch is that experienced salespeople who have established relationships with advertisers aren't always the youngest, most tech-savvy folks. Bonnier solves this problem by adding specialists to work with the staff as advisers on digital sales.
This enhanced staff had been asking for the ability to cross-sell general consumer advertisers into F&S. And sometime in May 2013, they finalized the decision to go ahead. One of the biggest challenges was to convert some 32 back issues into the reflowed version so subscribers wouldn't lose them when they upgraded.
"The last thing we wanted was to introduce a new product and get bad reviews in the newsstand," says Cohn. Cohn is right to be concerned about those reviews; research shows that consumers take these seriously when deciding whether or not to buy a magazine. As many as 84% of mobile device users say app store ratings are important in their decisions to download a mobile app.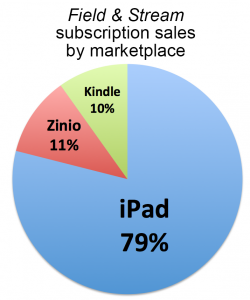 Result? "We're getting good feedback, though it's slow," reports Cohn. "There's a definite increase in people using the app and in the number of daily downloads." Since the relaunch, Bonnier is seeing a 50% increase in iPad subscriptions, thus meeting one of their criteria of enhancing the reader experience.
As for advertisers, that's a slower process, because, Cohn explains, Bonnier finds that tablet advertising is a decision made more often by a client than by an agency, creating a longer decision trail.
Also, as a seasonally relevant magazine, F&S's ad revenues always peak in the second half of the year. Right now the sales staff is engaged in serious negotiations with key advertisers about major sponsorships for F&S, hoping to gain long-term revenue streams rather than trying to sell new ads every month.
Among others, Cohn says, Bonnier is pitching its digital bellyband concept, which I've written about before. Asked if there are other groundbreaking ad concepts in the works like Bonnier's bellyband and 3D digital rotation ads, Cohn admits there are – but we'll have to wait to see them later in the year.
Meanwhile, we can already see from the charts that Bonnier has had success with its Field & Stream replica alone, increasing its circulation since launching in 2011 by a whopping 209%. Bonnier sold 6,452 single copies and 4,270 new subscriptions in 2013.
And Bonnier is hoping to get a reflowed version of Saveur up and running later this year, where the food magazine's plentiful video content will fit right in. Meanwhile, the brand spanking new Field & Stream reflowed edition hits most Mequoda Best Practices.
Mequoda Best Practices: Field & Stream
| | | |
| --- | --- | --- |
| Field & Stream | | |
| Mequoda Best Practice | Complies? | Notes |
| | | |
| Design | | |
| Features readable design, either vertical reflow or responsive. | Yes | |
| Easy to navigate | Yes | |
| Portrait OR landscape mode | Yes | Vertical |
| | | |
| Content | | |
| Uses available technology to enhance reading experience | Yes | |
| Includes updated daily content | No | |
| Includes free content | No | Only a free sample issue with a 1-year subscription offer |
| | | |
| Functionality | | |
| Free from glitches, crashing, etc. | Yes | |
| Includes interactive advertising | No* | *But it will have some soon. |
| Stationary image with text scrolling | Yes | |
| Includes in-app purchases of books or special issues | No | |
| Includes tool for saving content | No | |
| Easy to find in newsstand | No | Resides in the competitive Sports category. |
Design
1. Magazine features readable design, either vertical reflow or responsive. YES
As mentioned above, F&S uses vertical reflow.
2. Magazine is easy to navigate (instruction page, scrubber bar and instructional icons) YES
Everything is laid out nicely for even the most inexperienced of tablet magazine readers. A nice extra touch for relating to the reader: The hands holding a tablet in the user guide show sleeves of camouflage fabric.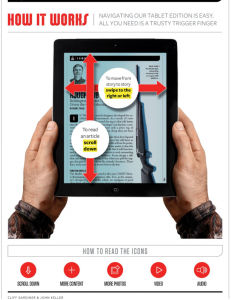 3. Magazine uses either portrait or landscape mode, preferably portrait. YES
This is a first for us: We've never seen a reflowed magazine that made the choice not to spend precious resources (and increase the file size) on a redesign element we don't believe is necessary. F&S is portrait mode only.
Content
1. Magazine uses available technology to enhance the reader experience. YES
At least I think it does. There are numerous things to click and scroll, but because I couldn't find a print copy to compare it to, it's hard to tell if that content is additional or just the same as print, accessed through clicking and scrolling instead of simply being printed on the page.
There are no videos or anything marked "bonus content," as some magazines offer. Still, it's just a baby, and it will no doubt mature over time.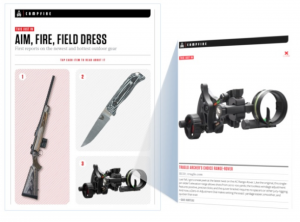 2. Magazine includes updated daily content. NO.
Popular Science actually has daily content in a separate app. F&S could easily go the same route; but we still believe that having the content right in the magazine app is what keeps readers engaged and renewing their subscriptions time after time; in fact, if you have their attention every day around renewal time, you could dramatically increase those renewal rates.
3. Magazine app includes free content. NO
F&S has a free issue offer with a one-year subscription, which means it's only free if you remember to cancel the subscription before the 30-day trial ends. We would suggest that F&S add some back issues or special issues as free content, or at least offer a sample issue that's not tied to a subscription offer.
Functionality
1. Magazine app is free from glitches, crashes or other technical problems. YES
The magazine is flawless as far as I can tell. Even though it's still showroom new and there are no negative reviews for functionality, being ever vigilant, Bonnier has already updated it once for "bug squashing issues; stability improvements."
2. Magazine includes interactive advertising. NO
That is, not yet – I'm staying tuned for this as I know Bonnier's sales staff is hard at work here.
3. Magazine features images that remain stationary when text is scrolled. YES
This is nicely done within feature articles where there are separate sub-articles, such as recipes.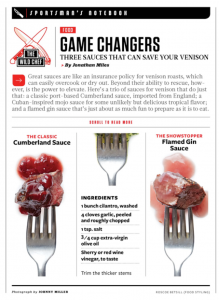 4. Magazine offers in-app purchases of books and/or special reports. NO
F&S sells its numerous books and guides only on Amazon and Barnes & Noble – not even on its on website. We see this is a significant missed opportunity in both places.
5. Magazine has a tool for saving content. NO
You can't save and you can't share with friends. Let's get some viral marketing going here, Bonnier!
6. Magazine is easy to find in the Apple newsstand. NO
The fault here lies both with Bonnier and with Apple. The newsstand is a hopeless mess, especially the Sports category, where you can find only a few of the innumerable sports magazines published today.
And Bonnier has made the mistake of listing F&S in that very category, where it isn't one of the lucky few that the newsstand lists; whereas all of its fellow hunting and fishing magazines are listed nicely in the Outdoors & Nature category, which is easily browsed.
All in all, it's a slam-dunk for a brand-new edition, and Bonnier's digital magazines make excellent mentors. If you've got any thoughts on the Bonnier stable of digital magazines, or you're thinking of making the leap to replica to reflow, we'd love to hear from you in the comments below.