The Atlantic Weekly curates hand-picked content for their loyal readers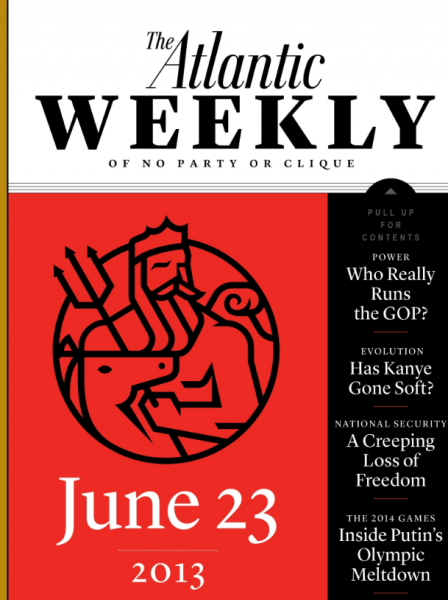 What do you when your website already publishes every word that appears in your premium print and digital publications for free? Um, well, uh … if you're The Atlantic, you take the same content and put it another paid publication.
The reason? Apparently, just because.
And that's OK because there is an absolute need for publishers with the pockets to do it to make these daring experiments here in the early days of mobile publishing.
When The Atlantic launched its new weekly digital-only publication, The Atlantic Weekly, earlier this month, Senior Editor Geoff Gagnon told Folio, "We've already got a really good paid product that people can see for free, it's called The Atlantic magazine."
"We've done so well and the reception has been so good on our magazine app, we thought it was a no-brainer to continue to engage these readers on more apps."
I praised The Atlantic's digital publication two months ago, with a few caveats, one of them being the presence of all premium content on the website – and not even hard to find, as you'll see at other subscription websites, who assume the reader will be willing to pay simply for the convenience of curation.
In their announcement of the new app they wrote:
We are asking readers to pay for this magazine. The reason is that we are putting work into it–by editors, designers, and developers–and at least for now we're not including any advertising. This is, for us, another experiment in putting to use any new means available to create and support the journalism of ideas that distinguishes The Atlantic.
The Atlantic folks say they're considering a paywall for later this year.
Having boosted its declining circulation from 439,318 in 2008 to 488,332 by December 2012, Atlantic Consumer Media president Justin Smith told Mashable that while tablets and e-readers are cannibalizing print newsstand sales, both magazine circulation and print ad revenues are up, "largely due to the brand impact that our digital strategy has had," he says. "The dramatic growth in digital audience has in turn driven demand for the magazine, because so many more millions are now aware of it."
I do believe this is an excellent experiment in expanding the brand's digital presence, especially considering the importance that The Atlantic has placed on digital media – diving headfirst into digital in order to rescue a brand that had been failing steadily for years.
The Atlantic boldly announced in 2011 that it would henceforth be not a company that happened to publish a digital edition, but a digital company that happened to publish a print magazine. The publisher called this strategy "digital first."
So now that the dust has settled from the ballyhooed launch of The Atlantic Weekly, let's take a look at the details, and without the necessarily optimistic commentary from the publisher that accompanied all the articles around the industry on the day of launch.
Learn the secrets behind today's most rapidly growing niche publishers. Download a FREE copy of How to Develop a Multiplatform Magazine Business Plan, and discover how large your magazine business could become and how much of an investment will be required to build your business to maturity.
Same or different?
Both The Atlantic digital and The Atlantic Weekly are replica editions, with no bells or whistles. Both allow you to swipe horizontally to navigate between articles, and scroll vertically to read each article.
Of more substance in the similarities is that The Atlantic Weekly's content includes six articles taken from TheAtlantic.com (which, as I said, includes the magazine's premium content), TheAtlanticWire.com (the brand's daily content) and TheAtlanticCities.com, which covers urban issues.
The Atlantic tells us that The Atlantic Weekly articles are selected by editors for their content, not by page views, and in fact they usually won't be the most popular articles, on the theory that those articles have already been seen by most readers.
Rather, says the publisher, "No one who doesn't work for The Atlantic can keep up with it all (many of us can't, either), and we suspect that even our most constant readers miss some of our best pieces. We're aiming to provide readers with a selection of stories and ideas on screens scrubbed of all distractions."
The only enhancement over the website and monthly publications is the inclusion of an archive article in the weekly product. I'm a big fan of monetizing your archive content, but I'm not sure this will cut it. Hopefully The Atlantic Weekly will prove me wrong, but I'm wondering if $19.99 per year is a fair price to pay for 48 archive articles.
Heck, over at the Biblical Archaeology Society, you can get 6,600 articles from 35 years of Biblical Archaeology Review plus articles from two magazines they no longer even publish – 20 years' worth of Bible Review and eight years of Archaeology Odyssey – for $5.
What's not in The Atlantic Weekly

Aside from the inclusion of that single archive article, The Atlantic Weekly has much in common with The Atlantic digital edition – unfortunately, much of what's in common are things that are lacking. Neither has a link to the website, and neither allows you to save premium articles in handy folders, my favorite feature of TheAtlanticWire, the daily free content you get with The Atlantic digital edition.
For that matter, subscribers to The Atlantic Weekly don't get TheAtlanticWire. Here at Mequoda, we love apps that include fresh daily content, because it's a great way keep your subscribers engaged in your content, remembering how much they love you, and, if you sell advertising, laying eyeballs on your ads.
The Atlantic Weekly says its goal is to be a "lean-back" medium, so perhaps they figure daily news content doesn't fit. But TheAtlanticWire is one of my personal favorite features of The Atlantic – solely because of the high quality of the journalism, a rare find in today's daily news media – and I miss it in the weekly publication.
The Atlantic Weekly, unlike The Atlantic, is sold by itself at $19.99 for a year, $2.99 per month as a monthly sub, or $1.99 as a single issue. There are no bundled offers with the parent publication, either print or digital. In fact, it's mentioned nowhere on TheAtlantic.com, and isn't (yet?) available at Amazon, Barnes & Noble or Zinio.
Presumably there will be more outlets carrying The Atlantic Weekly soon, unless the publisher is hedging its bets and waiting to gauge consumer response.
The long and short of it
I'm always thrilled to see publishers taking risks and thinking outside the box, and I can hope for success in the case of The Atlantic Weekly. Certainly they have plenty of great marketing minds on board who must have given this new product much thought and have insights into consumer behavior.
And even if the magazine fails – and, as Mashable noted in its article about the new kid on the block, the weekly space has gotten more competitive lately with New York, Esquire, Time and Huffington Post all offering such products – experiments are good in these early days of mobile publishing. The more experiments, the better, bring 'em on!
Do you agree? What do you think of the weekly digital magazine experiment, and/or The Atlantic Weekly? Is it a good or bad idea to continually offer premium content for free on a website? Talk to me. We're all in this grand experiment together.