The Perfect Digital Magazine Template
By— Don Nicholas • 02/09/2016
Five magazine characteristics define the perfect digital magazine template for 2016
Some of the most striking magazine publishing news over the past few years has been the revival of print magazines: Print Newsweek is back from the dead, and traditionally online publications have suddenly begun launching print magazines, contradicting prognostications in recent years that print is a dying breed.
It may still be, but all this does prove one point to us at Mequoda: Magazines themselves are not, as was also predicted before the April 2010 launch of the iPad, becoming dinosaurs. In fact, magazines have already survived radio and television in the contest for consumers' time and attention. This latest development simply reaffirms their ageless quality.
Meanwhile, digital circulation is definitely on the rise, though clearly not yet on the brink of extinguishing print. Many of the publishers we work with generated more than 20 percent of their new subscription sales from digital channels in 2014, and those numbers rose by another 30 percent in 2015.
Every week we identify the best characteristics of magazines we believe must be recognized in the digital magazine era. Given the newly-proven resilience of the medium, it behooves us to acknowledge the importance of these characteristics and identify how they must be translated into the perfect digital magazine template for 2016.
The combination of a magazine's attributes make it desirable and "survivable" for some part of the reading population, and paper or tablet, the essential attributes of a magazine will not change. Consumers who love magazines are not going to let publishers change the characteristics of a magazine that have made the medium so successful over the years.
We believe magazines share a few important characteristics. As your publication is transformed from print to tablet, make certain it doesn't lose even one of these essential attributes, which define the user experience and make magazines unique and ageless.
------------------------------------------------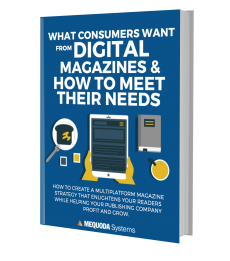 Consumers are telling us loud and clear what they want—are you listening? How much would you pay for that information? Download a copy of What Consumers Want from Digital Magazines and How to Meet Their Needs for FREE instead, to find out how you can improve your digital magazine rapport with subscribers. Download now.
------------------------------------------------
Perfect digital magazine template characteristic #1:
Magazines are linear and finite. Don't encourage your readers to wander.
Magazines are designed to be read from front to back. They have covers and a table of contents. Magazines are arranged in a series of articles. Compare that with other media, where the articles are arranged with taxonomies and hyperlinks, and are not linear.
Hyperlinking on a Portal website is not linear. When the readers bounce around among hundreds or thousands of articles, is not a linear medium. What's more, humans desire closure, which magazines provide. A reader can say "I have read the April issue of Vanity Fair. I finished it on Sunday."
No one has ever said she has finished the Vanity Fair website. And no one ever will finish it.
Subscription-based web magazines—hosted on a subscription website and viewed on HTML-based web pages—can be linear as long as the conversion architecture maintains consistent navigation that includes an always present table of contents, much like a digital magazine app. 
The lesson: Keep your readers inside your magazine as much as possible! If you begin linking outside the magazine, whether in an app, or a web magazine, you risk killing the linear characteristic of the magazine, and you won't have a magazine anymore.
Instead, use that tempting technology to link to the jumps of your articles, or, at most, to related content on your website that pops up right in the screen the reader is on, as Forbes does with its "window shade" feature. As soon as that related content is consumed, the reader can pull down the "shade" easily and continue on his linear path.

Some publishers will find they really do need to send readers to the Internet, such as a regional magazine whose mission includes publicizing events that have websites with more information. Still, keep in mind that the main goal is to deliver a product that can be completed in 30 to 90 minutes for the average happy reader.
Perfect digital magazine template characteristic #2:
Magazines are periodic. Use the technology to provide more frequent periodic content.
Weekly, monthly or quarterly, magazines are periodic, based on how often the user wants to consume content, and how often the content is needed and changing.
Traditionally, the printing and postal system pushed magazine publishers to lower frequency. When publishers complete the switch from print to digital, we'll pay greater attention to the natural organic frequency of magazines (the frequency at which the subject matter or the market wants it, rather than the economic frequency that has been imposed by physical, print delivery).
As we often write, publishing daily content is a Mequoda Best Practice. And publishers can at least shoot for weekly instead of monthly! It keeps readers more engaged with both the editorial content and advertisements in the medium, and more inclined to buy more affiliated publications and products. Overall, customer satisfaction and subscriber retention rates will increase.
Perfect digital magazine template characteristic #3:
Magazines are cohesive. Maintain the quality of curation for your digital product.
Part of the appeal of a magazine is that it's been edited and curated. Its editors have culled out the most interesting and most relevant content for the reader.
The content does not comprise an isolated collection of articles or stories. Instead, the editorial content is connected and cohesive. Frequently there's an introductory letter from the editor that creates context for the content that follows. On the right-hand side of I Like Crochet's web magazine, you will always find a Note from the Editor.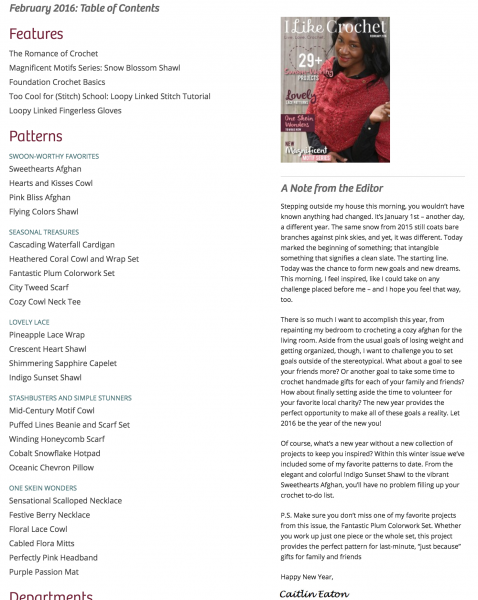 ------------------------------------------------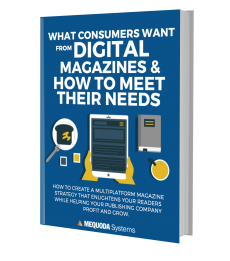 Consumers are telling us loud and clear what they want—are you listening? How much would you pay for that information? Download a copy of What Consumers Want from Digital Magazines and How to Meet Their Needs for FREE instead, to find out how you can improve your digital magazine rapport with subscribers. Download now.
------------------------------------------------
Perfect digital magazine template characteristic #4:
Magazines are collectible. Digitize your back issues yesterday.
People like to own magazines. As a child, Don notes, he lived in a household that collected and displayed every issue of National Geographic and Reader's Digest magazines. And as Steve Jobs noted, while there's a small group of consumers that wants to own television shows, most want to rent.
But many magazine subscribers collect their back issues. For some specialty magazines such as Biblical Archaeology Review and Interweave Knits, as many as 70-80 percent of subscribers keep their back issues for future reference. In fact, having a rich archive of back issues is a huge revenue stream for clients like Biblical Archaeology Review. So make your back issues available right in your app – including special issues, which is another Mequoda Best Practice. As part of your magazine subscription website, allow subscribers to download PDF editions.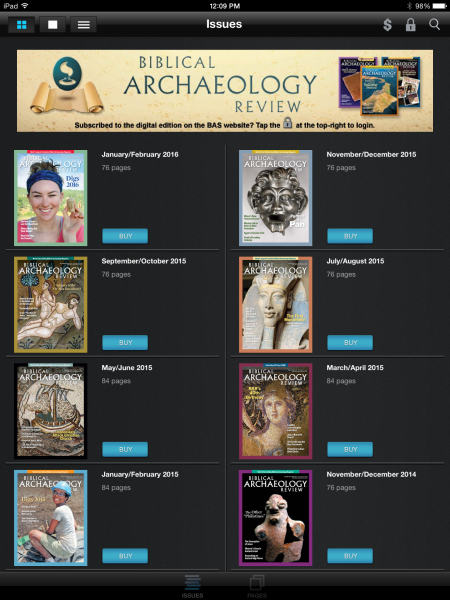 Perfect digital magazine template characteristic #5:
Print magazines are not easily searchable. Make sure your digital content is.
Collecting print magazines had one frustrating limitation: The difficulty in finding older content in them necessitating cumbersome and expensive-to-produce back issue indexes. A magazine delivered on a digital platform must be searchable.
Whether he or she previously read an article in Sunset and is now actively planning a Hawaii vacation, or previously read an article in Consumer Reports and is now preparing to buy a kitchen appliance, the user wants to be able to revisit and find specific information.
Perfect digital magazine template characteristic #6:
Print magazines deliver four-color, saturated content. You should publish on any digital platform that delivers the same.
In the future, magazines will not be limited by platform. Readers will expect to be able to access the content of your magazine on any platform that delivers four-color-saturated, editorial content. Currently, that means desktops, laptops, tablets and smartphones (and if wearables, like Google Glass, start to gain more widespread traction in the market we'll add them to the list as well).
Publishers are wisely making make their magazines available on the Apple iPad, the Samsung Galaxy Tablet, Kindle Fire and all other lightweight, portable, touchscreen, tablet-sized, personal computers, regardless of operating system.
Users will expect their subscription content to be available to them everywhere. Publishers should try not to risk disappointing them by making exclusive platform alliances.
Of course, the niche publishers we serve may have to start slowly, beginning with the iPad, and a companion magazine subscription website (organized by topic and issue) to fill in the gaps of universally-accessed content. Later, as digital magazine demand grows, such publishers can expand their app editions based on market share in their niche.
What do you think are the essential elements of the perfect digital magazine template?
You may disagree with me, and argue that a digital magazine must be defined by other attributes and characteristics than have traditionally been the norm. Please add to the discussion of "the perfect digital magazine template" in the comment below.
—–
Editor's note: Originally published in 2010 and updated every year with current best practices.
Posted in Digital Magazine Publishing