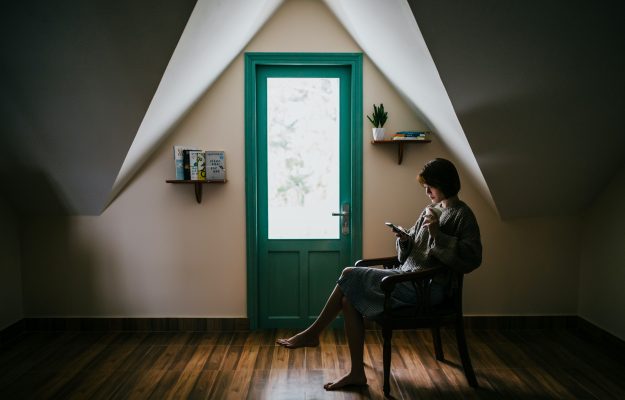 We strongly believe magazines will move toward "clean magazine publishing" by 2050. There has been a lot of movement in the magazine industry over the last decade, and it proves one point to us at Mequoda: Magazines themselves are not, as was also predicted before the April 2010 launch of the iPad, becoming dinosaurs as was once said. In fact, magazines have already survived radio and television in the contest for consumers' time and attention, and the way magazines are adapting into digital magazines and beyond simply reaffirms their ageless quality.
HTML-based web editions are rising in popularity, and digital circulation is definitely on the rise, though not yet on the brink of extinguishing print.
We are always identifying the best characteristics of magazines we believe must be recognized in the digital magazine era. Given the newly-proven resilience of the medium, it behooves us to acknowledge the importance of these characteristics and identify how they must be translated into the perfect digital magazine template.
The combination of a magazine's attributes make it desirable and "survivable" and the essential attributes of a magazine will not change on the web. Consumers who love magazines and magazine content are not going to let publishers change the characteristics of a magazine that have made the medium so successful over the years.
We believe magazines, no matter the medium, share a few important characteristics. As your publication is transformed from print to web, make certain it doesn't lose even one of these essential attributes, which define the user experience and make magazines unique and ageless. We'll use the newly launched Food Gardening Magazine as an example. We consider it the perfect web magazine for all the reasons below.
Digital magazine publishing essentials
Before we get into the digital magazine template characteristics themselves, let's talk about the basics—the frameworks required to run a successful digital magazine-based subscription business.
We've written about five digital magazine system essentials, a worthy read on its own, but I will summarize the basics below about what's required to truly create a profitable digital magazine.
Team. No ambitious endeavor is without a strong team behind it. Whether you're launching a new magazine business, or you're a legacy publisher building out a new digital magazine publishing system, having the key players in place makes all of the difference.
Content. If possible, the ideal scenario is to have 12 months' worth of issues available in your archive. But if budgets are tight, you may decide to launch with as little as 3-6 months of back issues and allow the benefits of the archive to grow over time.
Business Plan. Read How to Create a Bulletproof Magazine Business Plan for a More Profitable Future to discover a seven-step magazine business plan that will determine how large your magazine business will become and how much of an investment will be required to build your business to maturity.
Revenue. Identify your costs, risks, and opportunities so you know what you need to invest and can take advantage of the investor funds flowing back into the publishing market if necessary.
System. No matter what technology stack you choose, it should help you efficiently manage your free and premium content, as well as build your email list to a complete, central database that informs your marketing decisions and helps you maximize the lifetime value of each subscriber.
[text_ad]
Perfect digital magazine template characteristic #1:
Magazines are linear and finite. Don't encourage your readers to wander.
Magazines are designed to be read from front to back. They have covers and a table of contents. Magazines are arranged in a series of articles. Compare that with other media, where the articles are arranged with taxonomies and hyperlinks, and are not linear.
When a user is reading free articles on a portal or blog, the experience is not linear. When the readers bounce around among hundreds or thousands of articles, is not a linear medium. What's more, humans desire closure, which magazines provide. A reader can say "I have read the April issue of Vanity Fair. I finished it on Sunday."
No one has ever said they have finished reading the Vanity Fair website. And no one ever will finish it.
Subscription-based web magazines—hosted on a subscription website and viewed on HTML-based web pages—can be linear as long as the template maintains consistent navigation that includes an always-present table of contents.
The lesson: Keep your readers inside your magazine as much as possible! If you begin linking outside the magazine, you risk killing the linear characteristic of the magazine, and you won't have a magazine anymore.
The exception of course is linking to additional premium subscriber content. For example, each month Food Gardening releases a new monthly magazine and three book-length collections on specific vegetables, fruits, or grains. Magazine issues leverage content from the collections and provide shorter, magazine-length articles that can help readers decide if they want to make a dive into the longer book-length collections, which they are linked to at the end of those articles.
Below is an example of an article page within Food Gardening Magazine. You can see that the table of contents remains consistent on the right-hand side of the page so readers always know which issue they are reading, and what other articles are available to read within the magazine.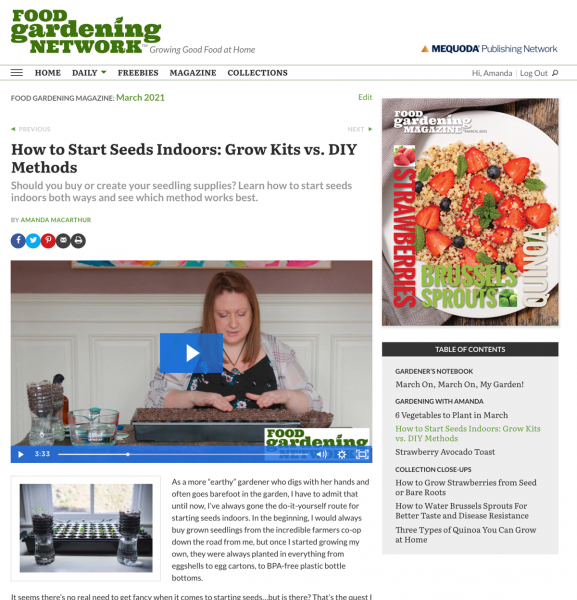 On a related note,
Food Gardening Network
also includes
daily
posts that are designed to provide immediate engagement and entertainment, with the secondary goal of previewing longer magazine article-length and book-length gardening content.
Thus a digital magazine publishing system with its principal magazine framework is complemented by additional frameworks that include the portal or blog, and various versions of book content we can link to that can go into greater depth than a magazine-length article. We thus now provide the reader with a short, medium and long set of variations to match the level of need and engagement they may have at any point in time. Short and medium length articles are designed to make them aware of information which they were not seeking, while the book length content is designed for someone who is doing deep research on a topic.
Perfect digital magazine template characteristic #2:
Magazines are periodic. Use the technology to provide more frequent periodic content.
Monthly, bi-monthly or quarterly magazines are periodic, based on how often the user wants to consume content, and how often the content is needed and changing.
When publishers complete the switch from print to digital, we may see publishers paying more attention to the natural organic frequency of magazines (the frequency at which the subject matter or the market wants it, rather than the economic frequency that has been imposed by physical, print delivery).
Most special-interest magazines really want to be monthly in terms of meeting reader needs. Gardening for example, in the case of Food Gardening, is seasonal such that a monthly magazine can match up to a gardening calendar in terms of providing timely information and instruction that can be acted on in near real-time. Still, the content is evergreen enough to live on forever in the issue archive.
News magazines can publish weekly editions. It keeps readers more engaged with both the editorial content and advertisements and more inclined to buy more affiliated publications and products. Overall, customer satisfaction and subscriber retention rates will increase.
Many magazines have compromised their natural frequency to minimize printing and postage costs that constrained their legacy print business model. Web magazines have no such constraints and can exist at any frequency that is most appropriate for engaging the reader. We believe that over time, most magazines will move to either a monthly frequency to serve instructional needs or a weekly frequency to support news analysis in a timely manner.
Perfect digital magazine template characteristic #3:
Magazines are cohesive. Maintain the quality of curation for your digital product.
Part of the appeal of a magazine is that it's been edited and curated. Its editors have culled out the most interesting and most relevant content for the reader.
The content does not comprise an isolated collection of articles or stories. Instead, the editorial content is connected and cohesive. Frequently there's an introductory letter from the editor that creates context for the content that follows. In Food Gardening Magazine, there is always a Gardener's Notebook from Executive Editor, Bill Dugan at the top of each issue's table of contents.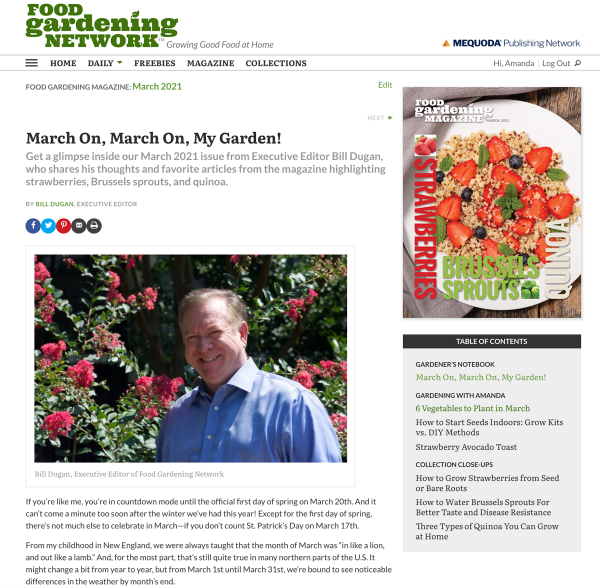 [text_ad]
Perfect digital magazine template characteristic #4:
Magazines are collectible. Digitize your back issues yesterday.
People like to own magazines. As a child, I lived in a household that collected every issue of National Geographic and Reader's Digest magazines. And as Steve Jobs noted, while there's a small group of consumers that want to own television shows, most want to rent. Hi, Netflix?
But many magazine subscribers collect their back issues. For some specialty magazines, as many as 70-80 percent of subscribers keep their back issues for future reference. In fact, having a rich archive of back issues is a huge revenue stream for many of our clients.
I do still wonder what happened to all of the
National Geographic
and
Reader's Digest
back issues my parents had on a bookshelf in the living room. It's actually pretty easy to start a new title with a digital-only footprint and be successful. The bigger challenge is transitioning a legacy title or maybe more appropriately a legacy audience. I believe there are two very distinct avenues. In the one case, you offer All-Access subscriptions, adding the digital
magazine
and library with the goal of building that up over time and cutting the frequency of print until at some point it simply goes away. Another option is to launch a sister brand for the same audience leveraging all that back issue content, and letting the two 
magazines
 duke it out where one is print and one is digital.
In any case, digitize your back issues and let your audience speak for itself.
For a gardening title like Food Gardening Magazine, offering access to a library of back issues is a substantial benefit. Subscribers enjoy the benefit of a comprehensive archive of past issues—something a print subscription simply can't offer.
Perfect digital magazine template characteristic #5:
Print magazines are not easily searchable. Make sure your digital content is.
Collecting print magazines had one frustrating limitation: The difficulty in finding older content in them necessitating cumbersome and expensive-to-produce back issue indexes. A magazine delivered on a digital platform must be searchable.
Whether a reader previously read an article in Sunset and is now actively planning a Hawaii vacation, or previously read an article in Consumer Reports and is now preparing to buy a kitchen appliance, the reader wants to be able to revisit and find specific information.
Perfect digital magazine template characteristic #6:
Print magazines deliver four-color, saturated content. You should publish on any digital platform that delivers the same.
In the future, magazines will not be limited by platform. Readers will expect to be able to access the content of your magazine on any platform that delivers four-color-saturated, editorial content. Currently, that means desktops, laptops, and all mobile devices.
Users will expect their subscription content to be available to them everywhere. Publishers should try not to risk disappointing them by making exclusive platform alliances.
What do you think are the essential elements of the perfect digital magazine template?
If you think back to Gutenberg and the printing press, magazines are still being produced the same way now as they were then. We have a long way to go. Paper is not the future of magazines. The technology necessary to fully utilize the Internet as a principal marketing and distribution platform is available today for magazine publishers, but it will take a decade or more for the industry to adopt it.
You may disagree with me, and argue that a digital magazine must be defined by other attributes and characteristics that have traditionally been the norm. Please add to the discussion of "the perfect digital magazine template" in the comments below.
To learn how we can help you plan, implement and optimize a digital-first future for your legacy magazine or newsletter brand that grows your audience, revenue and profits, join Mequoda Pro today.
—–
Editor's note: Originally published in 2010 and updated every year with current best practices.