Who's building digital circulation fastest? The top digital magazine performers are the under-the-radar companies you rarely read about
This is our final analysis (you're welcome) of AAM's latest circulation data from December 2013. So far we've looked at:
And today we're taking a look at the 25 top magazines by digital circulation improvement. I suppose it shouldn't be a surprise that there's only one magazine appearing here that also made it into the Top 25 by digital circulation;  #24 on this list, Shape, ranks 10th for total digital circulation.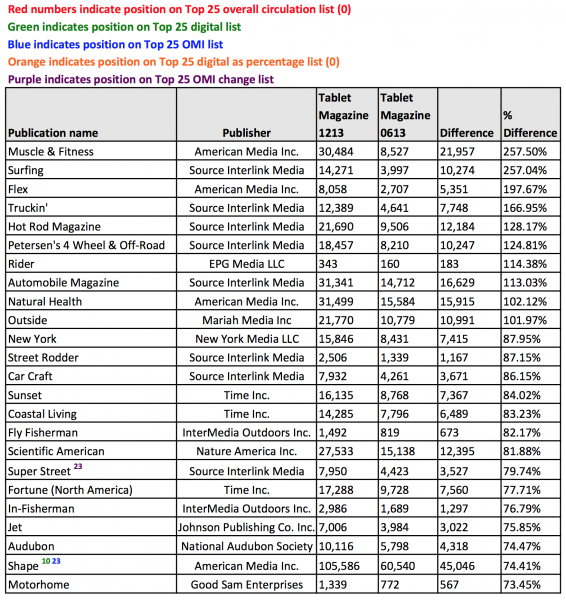 After all, our Top 25 list of digital as a percentage of total circulation was something of an anomaly, showing that under-the-radar publishers such as Shape's American Media Inc. are clearly outperforming the major, multi-title companies – hungrier, perhaps, than the industry leaders with money to spare. So you might have predicted that these publishers, such as enthusiast publisher Source Interlink Media, publisher of Sound & Vision, Transworld Motocross and Transworld Snowboarding, among seven altogether on the Top 25 digital by percentage of total circ list, might also shine in building its digital circulation.
Learn the secrets behind today's most rapidly growing niche publishers. Download a FREE copy of How to Develop a Multiplatform Magazine Business Plan, and discover how large your magazine business could become and how much of an investment will be required to build your business to maturity.
You'd be right – but none of SIM's magazines from that former list are here. Instead, some of its much smaller titles dominate this list for improving digital circulation: Surfing, Truckin', Hot Rod, Petersen's 4 Wheel & Off-Road, Automobile, Street Rodder, Car Craft and Super Street own this list. That's right – SIM has a total of seven out of the top 25, including Surfing in the #2 spot with a spectacular 257% increase in digital circulation.
There's nothing fancy about SIM's digital magazines. They're straight replica-plus editions, that is, not reflowed for reading comfort, but with a couple of extra features to enhance the reading experience. Still, their readers with active lifestyles must appreciate being able to read their magazines on the beach and at the track!
Meanwhile Surfing is just edged out of the #1 spot by American Media Inc.'s Muscle & Fitness. We took note of AMI – also an enthusiast publisher – in our very first analysis, when it scored as many magazines in our list of Top 25 by digital circulation as giants Hearst and Condé Nast. It also had four magazines in the Top 25 list of digital circulation as a percentage of total circulation.
AMI's Shape has become a standout in the past two weeks of analysis, landing on three of our six lists. (We haven't published the total circulation list because it's readily available here.) AMI is doing what few other publishers have done: Shape is performing well digitally, landing on the Top 25 lists for digital circulation and digital circulation as a percentage of total circulation, and in subscription website publishing, with Shape also appearing on the Top 25 list for OMI.
None of our other "winners" have come even close, except for those whose massive multi-title publishers can push them into the Top 25 for total circulation. Clearly, it's the more humble publishers such as AMI, achieving in both digital and subscription website publishing, and SIM — which owns both the Top 25 list of digital as a percent of total circulation and this Top 25 list of digital circulation improvement — that are making the most of their resources.
Naturally, we'll be revisiting this analysis in six months when AAM publishes the June 2014 data. Somehow I doubt we'll see any significant change in overall status at that time; AMI and SIM will probably still be kicking you-know-what and taking names across the digital and online publishing landscape, and Hearst, Time Inc., Condé Nast, Meredith and Rodale will still be focusing their energies on simply maintaining their mass circulation.
Other digital magazine players of note
While we're busy praising the smaller, hungrier publishers, it's worth noting that only Time Inc., of all the big players, has any representatives on this list of improved digital circulation – in fact, it has three. Sunset, Coastal Living and Fortune give us hope that at least some of the titans can cope with the demands of modern tablet magazine publishing. Still, even these are among the smaller publications from Time Inc., ranking nowhere in even the top 100 magazines for total circulation.
Several "indies" or near-indies also have managed to boost their digital circulation significantly. These include Outside from Mariah Media, Scientific American from Nature American Inc., Audubon from the National Audubon Society, and Motorhome from the delightfully-named Good Sam Enterprises.
Notably, unlike the lists for the Top 25 digital circulation or Top 25 total circulation, but more like the list for Top 25 digital as percentage of total circulation, this list contains few representatives from the large niches – finance/business, women's interest, men's interests, health/fitness, entertainment and news. Natural Health, Shape, Jet and Fortune are here, but otherwise it's all about those small enthusiast niches, from Flex to Fly Fisherman.
Interestingly, and perhaps encouragingly, I should mention that we calculated this digital improvement data for 265 U.S. magazines (again, deleting free magazines), and a full 204 of them increased digital circulation – though the lowest increase comes from one of those big name magazines, GQ, which gained just 0.01% … 8 new digital sales in six months.
And the sad part is that among the remaining 21 magazines actually losing digital circulation, there are many from publishers who should be able to build circulation in their sleep, based on their names alone – from Bloomberg Businessweek at -.03% to (shame!) Seventeen at -91%.
But now that we've completed our analysis of tablet magazine and subscription website data, what have we learned overall?
For one thing, ranking high on lists by simple circulation numbers, whether it's total circ or tablet circ, is a specialty of the multi-title publishers we all recognize. They also perform well when it comes to OMI, with big brand interest driving enough website unique visitors to boast impressive numbers.
But when it comes to driving new circulation for their tablet editions, beefing up total circulation via those tablet magazines, or even improving their OMI numbers with increased website traffic – despite their lack of brand name recognition – it's the narrower niche publishers, creating content for a dedicated audience of enthusiasts, who continue to impress.
We applaud Forbes for its ongoing excellence in subscription website publishing with its ever-rising OMI – and wish the company would report its digital circulation so we could see how it compares to its smaller brethren on those lists.
And publishers American Media Inc. and Source Interlink Media will no longer be overlooked here at Mequoda, now that we've crunched more than just simple circulation numbers to reveal their true excellence.
If you've found this analysis intriguing, have any questions or want to discuss reasons why companies like AMI and SIM are performing so well, have at it in the comments below. And stay tuned for the end of August, when we'll do it all over again.