Magazine Publishers Prevailing New Editions and Sites
By— Kim Mateus • 02/14/2017
Magazine publishers Hearst and The Atlantic share exciting news; Chemistry World gets a new website
Witnessing the still-changing world of print magazines is a sign that publishers have intentions of making it work financially, at least to some extent.
We're seeing some major magazine publishers going that route, while other publishers bring new life to their digital presence.
------------------------------------------------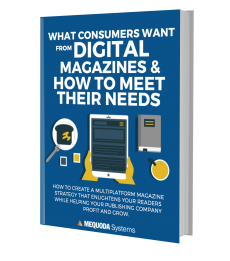 Consumers are telling us loud and clear what they want—are you listening? How much would you pay for that information? Download a copy of What Consumers Want from Digital Magazines and How to Meet Their Needs for FREE instead, to find out how you can improve your digital magazine rapport with subscribers. Download now.
------------------------------------------------
We begin with a story from Media Wire Daily, which is reporting on the new look of Hearst's Esquire. ""Esquire's new EIC Jay Fielden is charting a new course for the magazine and he's starting with a bigger trim size and new look including a refreshed logo. Mr. Fielden was profiled by The New York Times as he put together the March issue featuring James Corden the popular host of CBS's 'Late Late Show'. This is the first issue that truly carries the vision of Fielden who took over last April from long time EIC David Granger.  The magazine has been going after new audiences all over social media and the web to promote its new image and message to its ideal reader "who's an upstart, an iconoclast, an independent thinker, the most charming guy in the room.""
Next we take a look at The Atlantic, which has printed a second run of its January/February issue. minOnline has the story. "It's the second time in six months that The Atlantic has produced an extra batch of print issues to meet rising demand. In July, the magazine made the then-unprecedented move of printing an extra 25,000 copies of its July/August issue, featuring the cover story, "How American Politics Went Insane." By anyone's guess, it was the first such re-printing of a single issue in The Atlantic's 160-year history."
"This time, The Atlantic is upping the ante, printing an additional 40,000 copies to be distributed across retail outlets and to new subscribers who signed up after the January/February issue was shipped."
The article continues with information on the The Atlantic's experience on the newsstand. "Things appear equally rosy on the newsstand side of the business. The numbers on the December issue aren't in yet, but Bross says The Atlantic is anticipating a 14.8 percent year-over-year increase in single-copy sales in 2016. Judging by the magazine's 2015 numbers, that would place total newsstand sales at around 447,000 units — or about 45,000 per issue."
Now we turn to a publisher that decided to relaunch its website after experiencing its own magazine success. This website is for Chemistry World, and InPublishing has the story of its new launch. "Following the successful relaunch of Chemistry World, the Royal Society of Chemistry has relaunched their magazine site for chemistry teachers."
"The site currently operates with a metered access model – RSC members are entitled to unlimited access to the site through using their membership ID, whereas non-RSC and LCP members are allowed access to 1 article per month before they must register their information in order to gain unlimited access to the content."
"The site, along with Chemistry World, has now been migrated to AWS managed hosting, a service provided by Abacus, which is highly optimized for mobile delivery and page speed, says Abacus."
We'll stay on the look out for new websites and print runs from successful magazine publishers this year.
Posted in Digital Publishing Trends