In thinking about the last 30 days, how many digital magazine issues have you read?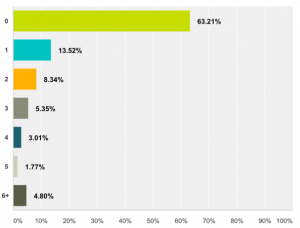 Yesterday, we shared a bit of data from our brand-new 2015 Digital Magazine Market Study and Handbook. But it might not have been the data you'd expect from a digital magazine market study.
We revealed that more than 2/3 of U.S. adults actively read print magazines. But that stat is just the beginning!
The primary stat we set out to understand in this study was what percent of U.S. adults with Internet access reported reading a digital magazine issue in the last 30 days. We found that 36.8% of American adults have read an average of 2.37 digital magazine issues in the last 30 days.
This means that 77 million adults have read an average of 184 million digital magazine issues in the last 30 days.
It also means consumption of digital magazines has now reached 43% of print magazine consumption and is climbing rapidly.
Learn the secrets behind today's most rapidly growing niche publishers. Download a FREE copy of How to Develop a Multiplatform Magazine Business Plan, and discover how large your magazine business could become and how much of an investment will be required to build your business to maturity.
This encouraging report for multiplatform publishers jibes with the findings of the Association of Magazine Media, which launched its Magazine Media 360° monthly Audience Reports late last year.
A snapshot from March: After six months' worth of data, the Audience Report charted a 10.1% year-over-year increase in site visits during August of 2014 to January of 2015 from the same time period in 2013-2014, while tabbing average monthly traffic for digital magazines at 1.6 billion (as opposed to 1.4 billion during those same months in 2013-2014).
In April, the MPA released its overall Q1 report, in which it recorded a 10.2% year-over-year spike in total visits, and total traffic for digital magazines at 1.73 billion, up from 1.55 billion in the 2014. Mobile consumption skyrocketed 65.3%, accounting for much of the surge.
They then released their 2015 Magazine Media Factbook in May, which compiled and expounded upon the positive figures. To wit: The percentage of U.S. adults who read digital edition magazines has more than quadrupled over the past three years.
The industry shows no signs of slowing down, and neither do our stats! Stay tuned for another update tomorrow!
Need even more data right this minute? Good news: Our 2015 Digital Magazine Market Study is available for free download!