A glimpse at how digital transformation is addressed by a company that's nearly 200 years old
I recently had the opportunity to speak with Willie Vogt, the Corporate Editorial Director at Farm Progress.
The conversation focused on how Farm Progress is handling the digital transformation in 2011. The most amazing thing to me, is the evolutionary nature of Farm Progress. For a company that was founded in 1819, and boasts the oldest known continuously published magazine with Prairie Farmer, Farm Progress is doing a tremendous job bringing content into the digital landscape.
Farm Progress Companies, Inc. is the largest U.S. media company serving the agricultural market with 18 state and regional farm publications, nearly two dozen content-rich e-newsletter titles for agricultural producers, four world-class farm trade shows and an array of marketing services.
The online editorial process
As the corporate editorial director, Willie mentioned that although Farm Progress has been on the web for 10 years, they are consistently reeducating editors to write for the web. He noted that the original reason to bring content online was to create enhanced products on the web that went beyond the magazine. To do this, some editors are web exclusive while others made the transition from the magazine to become daily web editors.
In order to focus primarily on being a journalist, Farm Progress editors don't enter their own copy to the web. Instead, designated web personnel make the conversion from Word documents to clean HTML content.
Farm Progress has been adding value to their content by providing news and blogs, with a number of guest bloggers joining the content initiative.
The best online business model for Farm Progress
Farm Progress' business model is 100% ad/CPM driven. This allows them to offer custom programming to advertisers, which acts almost like a microsite. These enhanced models help deliver multimedia experiences that advertisers are seeking in modern times.
Online components reach new audiences
When I asked Willie about the value of being online, he mentioned having a broader recognition with younger farmers. They are receiving the magazine their father subscribed to, yet they are also learning information their father never had.
This lead to me asking about the most beneficial endeavor Farm Progess is doing in 2011. With no surprise, Willie said the continued development of smart phone apps was something the company is extremely happy about. This process, which they began three years ago, continues to provide long-term benefits for farms.
Being a leader in developing smart phone apps within the industry, Farm Progress realized the value early on. Some of the apps they've created have greatly helped in assisting farmers by providing local farming conditions and tools for growing more efficiently.
As an example, the Growing Degree Day app helps measure how well a crop is growing by using a formula based on geography, the amount of growing days in the area and data from the current and past year.
Other apps allow farmers to get broader information in an easy to use format while on the go, including timely business management information, market commentary, market quotes and weather radar for data like average wind speeds and precipitation numbers.
[text_ad use_post="3452″]
The future of digital transformation
Willie was enthusiastic about the digital future. Currently, Farm Progress is working with Mequoda Group on a daily newsletter model that will include search engine optimized content and free white papers. This model will push traffic from the umbrella site to Farm Progress Daily.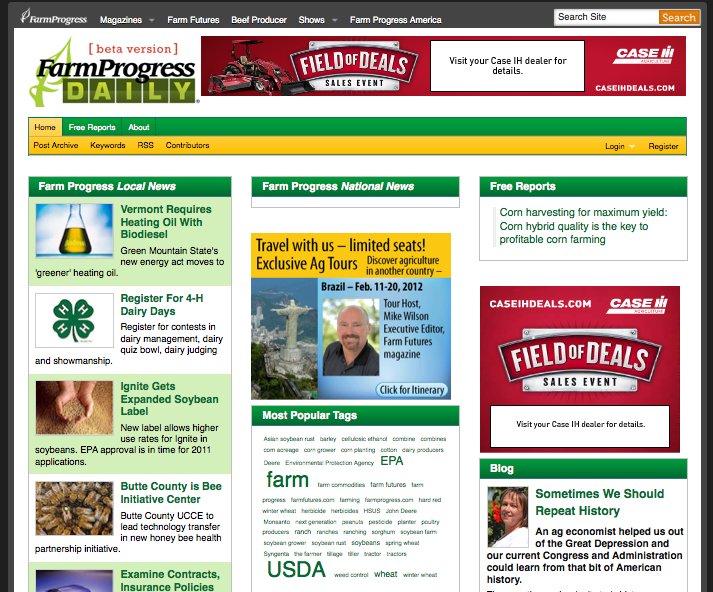 As of now, the digital transformation has been tremendously profitable for Farm Progress as they continue to evolve with more digital content and visibility.
Willie concluded our interview by saying:
"A lot of publishers are struggling with web strategy – you cannot carelessly slap content online and expect it to work for you. If you are going to play in this space, you have to be ready for it. A defined strategy is needed and you also need to try new things while learning from every attempt you make."
I couldn't agree more.