Ziff Davis files for bankruptcy, citing a decrease in print revenues as a primary factor. Might a better online strategy have saved them?
It is a troubling time for traditional media, especially print publishers who aren't operating with a clear online strategy. In the case of Ziff Davis, PC users were shifting their media consumption time online faster than any other consumer audience. This left ZD in a revenue death spiral that eventually led the one-time audience leader to file for protection from a series of investors and banks who failed to see the writing on the wall.
While IDG, publisher of PC World and competitor to ZD's PC Magazine remained private and moved online, ZD sold again and again to buyers who paid more and more for the special interest media publisher with no clear online strategy.
This mistake left them way behind in the move to online publishing.
Had Ziff Davis not outsourced its online business to CNET several years ago, might they be in better financial standing today?
ZDnet.com was launched by CNET, originally using content from PC Magazine and other ZD computer titles. This move caused ZD to lose control of the brand to CNET, which over time has shifted its content sourcing beyond the magazines that had been used to launch it.
Today, ZDnet is one of 14 flagship online publishing brands owned and operated by CNET Networks, Inc. The company had 2007 revenue of $405M and EBITDA of $65M, making CNET the current online publishing heir to the Ziff Davis special-interest publishing legacy.
As Time, Inc. has proven with the tremendous success of People.com post-AOL partnership and where Hearst is headed with an improvement to their sites post-iVillage partnership, it has become clear that outsourcing magazine content to a third party pure-play website is not a good strategy.
Numbers Always Tell the Real Story
Although Ziff Davis has since regained control of their PC Magazine brand online with PCmag.com, IDG's PCworld.com still gets almost double the traffic of PCmag.com, at least in February according to Compete.com.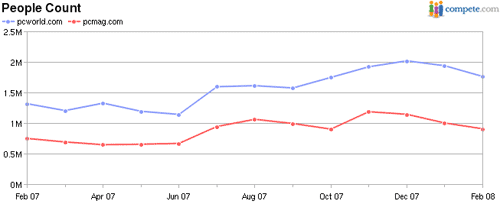 Comparing the monthly online audience of these two magazine websites to their almost identical print circulation figures (see chart below), it becomes even more clear that IDG's initial online publishing strategy was the right one.
We also included the key metrics for ZDnet.com. The site, while holding very impressive Web page and inbound link counts, still doesn't generate as much traffic as IDG's PCWorld.com. How Does your Print Circulation Compare to your Online Audience?
| | | | | | |
| --- | --- | --- | --- | --- | --- |
| Magazine Brand | # of Webpages | # of Inbound Links | Online Audience | Print Circulation | OMI |
| | | | | | |
| PC WORLD | | | | | |
| PC MAGAZINE | | | | | |
| | | | | | |
| Online Pure-Play Brand | # of Webpages | # of Inbound Links | Online Audience | Print Circulation | OMI |
| ZDNET.COM | | | | | |
*Sources for Key Metrics: # of Web pages and # of Inbound Links from Yahoo! Site Explorer, Online Audience from Compete.com, Print Circulation from the Audit Bureau of Circulations eCirc. Online Media Index (OMI) is calculated by dividing monthly unique visitors by print circulation.