Bristol, RI – September 23, 2004 – Internet Media Review Names Discover.com Best Consumer Magazine Website

With larger magazine publishing companies falling to the wayside, the Imagineers at Disney Publishing's Discover.com have been awarded the IMR Usability Excellence Award 2004 for Best Consumer Magazine Website.
With a score of 97 out of a possible 100 in the first annual website usability showdown, Discover.com bested one other well-known consumer magazine website by more than double. Other top websites include bhg.com (Better Homes & Gardens) and si.com (Sports Illustrated), with elle.com (Elle) and FamilyCircle.com (Family Circle) taking the honors for the worst in consumer magazine website usability from IMR's field of ten.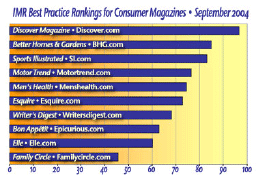 For this in-depth, 30-page research report, the IMR research team closely examined ten leading consumer magazine companion websites from ten top magazine publishing companies. Focus was placed on the overall homepage usability and several typical user tasks. A series of expert usability reviews and actual user test labs were conducted to determine what IMR believes to be the top ten "Best Practices" for homepage web design for the consumer magazine market.
Some of the key metrics studied by IMR were: brand integrity, persistent navigation, task depth, labeling and language, content density and load time. Discover.com scored a perfect 10 in each of the aforementioned best practices.
[text_ad]