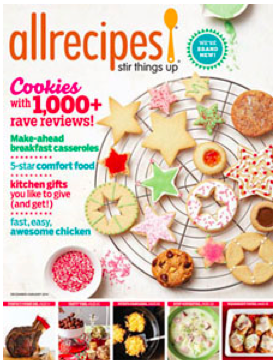 In a recent piece that outlines indicators of a magazine recovery, Library Journal also lists its best new magazines.
Here are its top 10:
allrecipes: The Meredith property is a successful outlier, producing a hard copy from a dominant all-digital product.
Anew: English-language journal of fashion, painting, photography, architecture, and creative nonfiction produced in Milan.
First American Art: Content, contributors, and editorial staff are all Native American.
Fool: "Many of the illustrations are quite striking, like the full-page images of fermented rice roaches, ox spleen, and lamb tripe." Need you know more?
Gygax: A magazine for fantasy adventure game enthusiasts.
Modern Farmer: A magazine for small-scale sustainable farmers.
Nautilus: Light on ads and heavy on production values, this journal covers physics, sociology, mathematics, and medicine.
[wherever]: A travel magazine with high aspirations and top-notch photography and illustration.
World of Animals: A British monthly from the great Imagine Publishing.
World Wildlife: A new quarterly from the World Wildlife Federation.
LJ cites Mediafinder.com in stating that there were 198 magazine launches in 2013, with 87 closures.
To read more about the best new magazines, visit LibraryJournal.com.