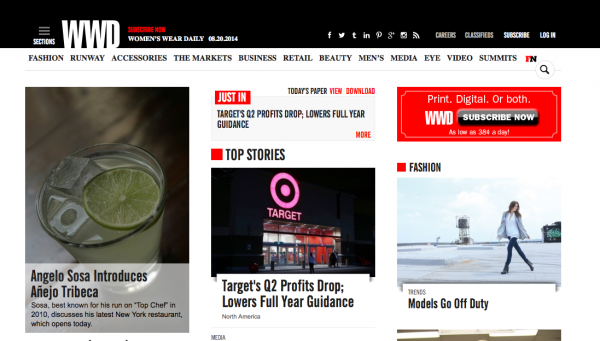 Condé Nast's latest in a long line of recent deals includes the sale of Women's Wear Daily, as Penske Media has acquired Fairchild Fashion Media for $100 million.
The New York Times reports that the purchase will be completed in September, and that Condé will keep consumer site Style.com and blog network NowManifest. In addition, Fairchild President and CEO Gina Sanders will stay with Condé parent Advance Media.
Penske Media owns Variety, Deadline.com, and HollywoodLife.com.
"The $100 million sale price highlights the struggles of print media companies in the digital age. In 1999, Condé Nast purchased the Fairchild assets from Disney for $650 million," Ravi Somaiya writes.
"This is the second time this month that Condé Nast, which owns magazines such as Vogue and Vanity Fair, has sold an asset. It recently offloaded the shopping magazine Lucky, merging it with the online retailer BeachMint. Condé Nast kept a stake in the new business, the Lucky Group."
To read more about Condé Nast publishing group Fairchild's sale to Penske Media, visit NYTimes.com