What comes to mind when you hear the terms: email marketing, search engine optimization, social media optimization and link building?
'Primary traffic drivers' should come to the minds of digital content marketing pros. By utilizing strategies for email marketing, SEO, SMO and link building, you can begin generating more website traffic and growing your online audience.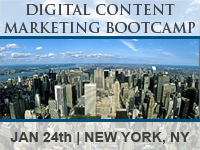 The latest, proven strategies
If you've ever found your content ranking high in search engine results pages, and the terms are searched often, then you understand how valuable SEO can be for publishers.
If Twitter is a top five traffic source for your website, you've probably realized how the social network has caught on for people interested in specific niche topics.
Digital content marketing has quickly become a promotional strategy that all media companies need to utilize to traffic and brand recognition while offering ways to generate revenue.
If you run a website or are planning on launching one, the digital content marketing strategies shared during our Digital Content Marketing Bootcamp will help you prioritize your organic and paid marketing efforts. Learn more about the Digital Content Marketing Bootcamp and register early to receive discount pricing.