Legacy publishers have the opportunity to expand their brand by developing a magazine-centric URL structure.
In doing so, your magazine content can remain the center of your online activity, while your brand grows through the additional of digital channels.
A magazine-centric website is often the nexus for the online components that allow a brand to share content, engage their audience and sell products.
The main site navigation typically will include links to the blog and product store, with calls to action for engaging with the company through social networks.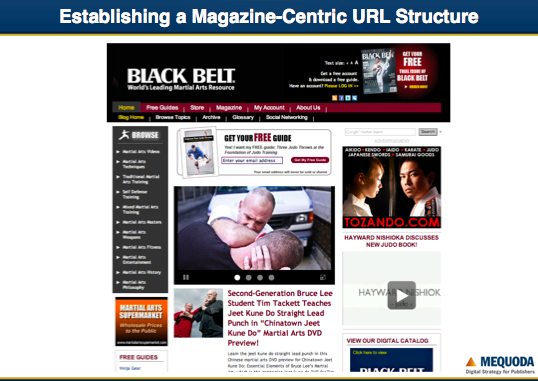 An "About Us" section and contact information round out the basics. Online publishers that offer subscriptions and registration on their website will also have a sign in area for account management on their magazine-centric website as well.
With all the opportunities for building audiences and selling content-based information products online, publishers have the chance to expand their brand through a successful digital strategy. Our Digital Content Marketing Bootcamp provides an extensive checklist for marketing, audience development and online business management that all online business owners can utilize.
Register now for the Digital Content Marketing Bootcamp and receive early bird pricing while seats remain.