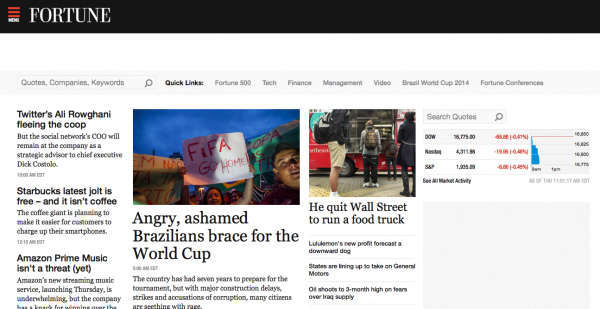 Despite Time Inc.'s recent spinoff and subsequent rocky start, its Fortune property is tripling its digital content.
The site will publish upward of 90 pieces per day, according to Poynter. Meanwhile, sister brand Money will publish 20 to 30. Taken together, the magazines have hired more than 30 new staff members.
"The two financial magazines officially divorced from CNN last week due to the Time Inc. spinoff, launching new websites based on the platform for the recently redesigned Time.com," Sam Kirkland writes. "Splitting off from their former home, CNNMoney, means Fortune and Money are taking full control of their digital presences. But that flexibility comes at the cost of losing referrals from CNN, one of the largest news brands on the Web. So the pressure to make up for any lost eyeballs seems to be on."
To read more about Fortune's commitment to digital, visit Poynter.