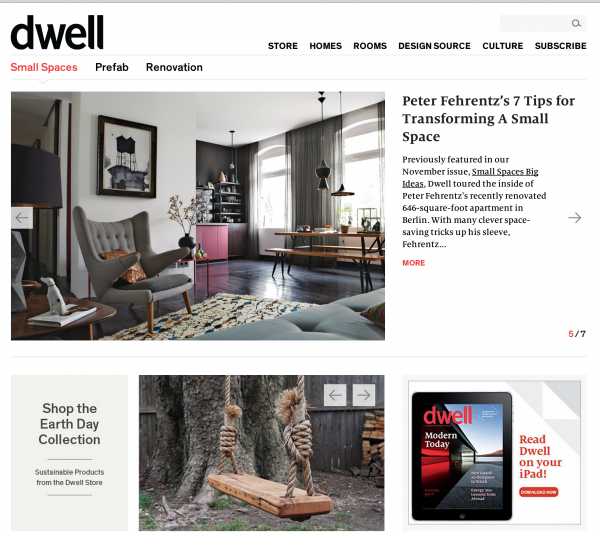 Michela O'Connor Abrams, president & CEO at Dwell Media, is no stranger to innovation. Launched in 2000 as a modernist design publication, Dwell is built on innovation in architecture, including exquisite homes, and one of the products they sell is … homes! Prefab homes, to be exact.
So, when Abrams says that the magazine is not her brand, that the magazine is simply one of the Dwell Media platforms, she's not kidding. This is the same principle we teach all of our Mequoda System clients, although none of them includes houses as a platform. "Dwell's mission is to bring good design to everyone: anytime, anyplace, and in any form," Abrams says.
But one of the biggest things we stress in a multiplatform publishing system is recycling. You can build a bigger media company faster – and more consistently – by recycling content across platforms. For example, a house can be a recycled platform as a subject for photographs and articles. For every prefab house, there are designs, features, and stories you can base on it.
Now, if you can recycle a house into a content platform, what else can you recycle?
Dwell Media serves 2.1 million consumers and professionals, and is divided into these groups:
Dwell Print
Dwell Commerce
Dwell Events
Dwell Research
Dwell Digital
And as Dwell Media expands to new platforms, the magazine thrives while still becoming a smaller portion of their revenue. That's a good thing! As Abrams said last year, "the magazine is about 55% of the business, and four years ago it was 94% of the business. But the magazine and the SIPs for the newsstand remain very healthy."
Although Abrams says Dwell Media is on 11 platforms – which she defines as Print, Dwell.com, Tablet, Mobile, Design Source, Dwell Store, Dwell Editions, Dwell Insights, Dwell Home, Dwell Custom Publishing, and Dwell on Design – we bundle platforms slightly differently: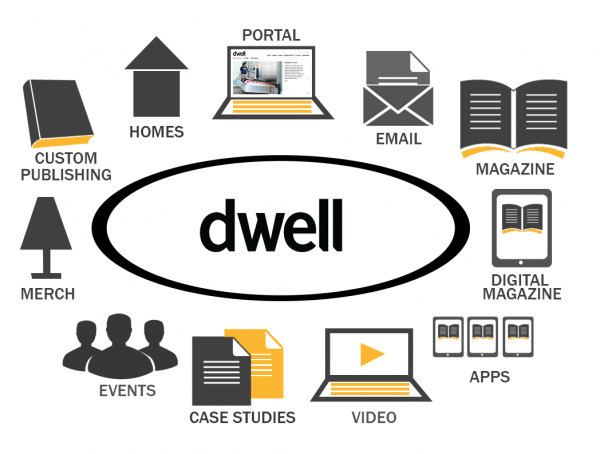 Dwell Media is also unique because we typically wouldn't include physical products like those in their store, or their prefab homes as a platform. Dwell, however, is using both as part of their publishing strategy.
Portal
Dwell.com serves as a flipbook of photos and editorial inspiration for those looking to makeover their home, and DwellonDesign.com serves as a community for those who sponsor and attend the publisher's annual exposition. Each component of Dwell Digital is cultivated and tested for relevance. You can be a part of their community by joining them on Facebook, Twitter, and their many Pinterest pages – where they experience loads of engagement from fans, followers, and pinners.
"We're at 2 million uniques," Abrams reports. "A year ago we were at 565,000 uniques, and about 6 million impressions, and now 25 million impressions." Twenty percent of her traffic comes from mobile.
Abrams says that Design Source is going to be "the largest fundamental, foundational asset to the company, being the definitive source for modern architecture, design, product, and services."
Email
Like any good publisher, Dwell offers email newsletters – five, to be exact:
This Week From Dwell (weekly)
To the Trade (monthly)
Products We Love (weekly)
Modern Furniture (monthly)
Dwell on Design (monthly)
Renovate (monthly)
Emails are simple, with content recycled from the website. Excerpts from articles link back to the website. They offer exclusive sponsorships to their Weekly emails that grant the single sponsor, like Herman Miller, a spot in their header, a banner ad, and midway interruptor ad.
Print Magazine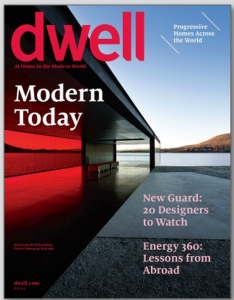 Dwell has produced insightful and inspirational content for its design-conscious readers through its magazine for more than 14 years. Content from the magazine is repurposed to and from every platform on this list, including some surprising ones down below. Dwell Editions are also available, featuring artist-designed collections.
Digital Magazine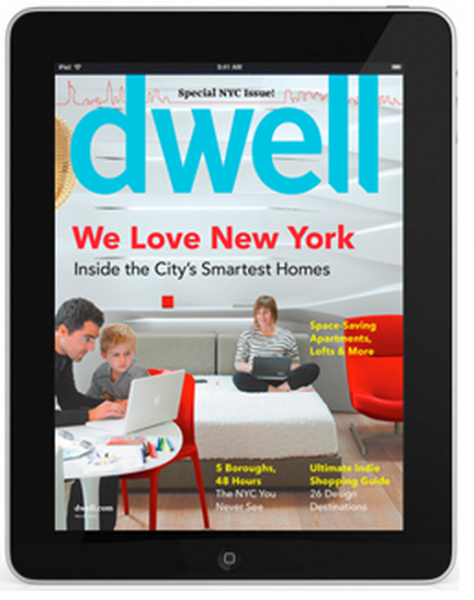 Abrams sees digital as her fastest growing product, just ahead of events. Dwell's strong digital strategy legitimately reaches users anytime and anyplace. They offer digital subscriptions to the magazine for $19.95 on iPad and Android via Zinio, Nook, and Kindle Fire.
Magazine App
The Dwell app for smartphones allows users users to subscribe to the digital issue, or browse through subscriber "clippings" for free. Users of the app can "clip" shots from the magazine, almost like screenshots. They can then share these clippings in social media or just through the app. Free users of the app have access to these clippings.
Video
There are already more than 60 videos on Dwell.com, but they're ramping up for a lot more. "We are going to be doing a great deal more with video in 2014 leading into 2015, which no one really has seen yet, and we're just actually bringing on that resource," Abrams says. Dwell also did a stint on TV for three years, something the publisher has considered starting up again.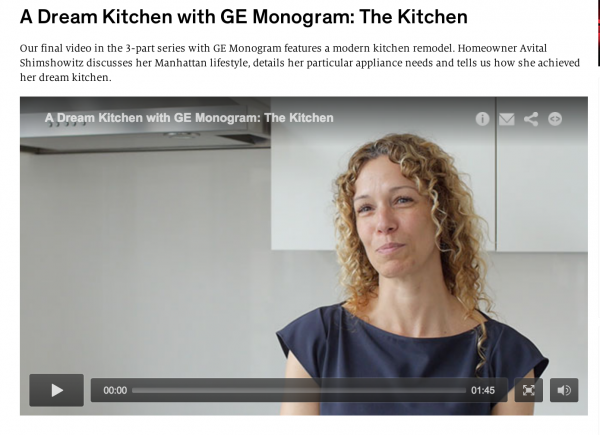 Case Studies
A huge part of Dwell's success has come from their ability to adapt to new consumer behaviors based on information gathered from their Research and Strategy platforms. Their team includes the Dwell Insights Group and the Inside Dwell Panel of design decision-makers. These contributors produce case studies like the "New Faces of Affluence," whose content gets recycled at their events.
Events
Dwell actively engages design and architecture aficionados by hosting events focused on supporting the brand's mission to bring good design to everyone anytime, anyplace, and in any form. The annual Dwell on Design Expo showcases the work of industry influencers to more than 30,000 potential clients. The expo occurs only once a year, so Dwell also offers home tours of beautifully built houses from Los Angeles to New York City throughout the year.

Merchandise
Research concluded that enthusiastic readers were also driven to buy the products featured by Dwell. Because of this, Dwell Store was introduced. The store not only generates revenue, but ties together the magazine content. Instead of just an article featuring an editor's favorite picks, they have an entire collection in the store dedicated to it.
Custom Publishing
Dwell Media works with other companies to create full publications. The staff manages the complete package of production and manufacturing.
Prefabricated Homes
If you still thought Dwell was just a publishing company, then consider this: Dwell sells homes. The Dwell Homes Collection is a line of prefabricated homes. If you want to know how this "content" recycles itself, just look through beautiful photos in the pages of Dwell.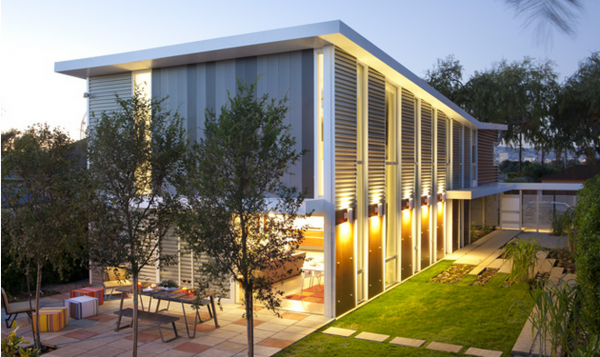 How does Dwell recycle?
How do they not recycle? Every bit of research goes into their publications, and feedback from their publications helps them develop their line of e-commerce and prefabricated homes.
"Original content at each entry point in the Ecosystem enables Dwell to serve readers best wherever they wish to engage. And, crucially, in cross-pollinating the most relevant content network-to-network, Dwell drives a virtuous loop of deeper continuous engagement," Abrams told the audience at the Niche CEO Summit.
Dwell continues to produce insightful and inspirational content for its readers in the modern world. By crafting original content on multiple platforms, Dwell Media never sacrifices the integrity of their message just to make the virtual cash register ring.
"I think in this industry, we spend a little too much time defending print, or defending television, or wherever the heritage was," Abrams says. "Instead of saying, 'We can serve that. Yes, it's a different expertise, but why not? In whatever form.'"