"We started from scratch" says Bill Dugan on the launch of fuelNet.com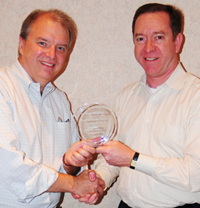 Don Nicholas and Bill Dugan
We announced today that fuelNet.com, a marketing website serving daily tips and information products for owners and managers of growing businesses won the third annual Mequoda Publisher of the Year Award for 2008.
Bill Dugan, Vice President/General Manager of fuelNet accepted the award today at our 5th annual Mequoda Summit in Cambridge, MA.
"There was both good and bad when launching fuelNet. The good was that we were in the middle of re-launching the product line, and we didn't have a website anyhow; we started from scratch. The bad was also just that: we started from scratch. The biggest challenge for meeting our launch date was content loading, it's a lot of intense work. When we first hooked up with Mequoda, we were in the middle of a big mistake. Other providers were just selling sites and "cool things", where with Mequoda we got an entire business strategy," said Dugan during his acceptance speech.
All 22 Mequoda Board members as well as all four Mequoda Partners were asked to vote for the nominees based on usability, navigability, strategic intent, editorial content, and overall look and feel.
The nominees were:
Anleger-Zirkel:  http://www.anleger-zirkel.de
Beading Daily: http://www.beadingdaily.com
FuelNet: http://www.fuelnet.com
RCR Wireless: http://www.rcrwireless.com
Sekada Daily: http://www.sekada-daily.de
Simplify: http://www.simplify.de
The winner, fuelNet.com, offers daily blog articles on the topics of customer relationship marketing, online advertising, direct mail and other marketing topics. They also offer free marketing reports, almost a dozen "Smart Books" and "Smart Reports" as well as a monthly marketing newsletter.
More coverage from the Mequoda Summit:
Building a Keyword Marketing Report