2015 was a blockbuster year for our Gold Members who, when following the Mequoda Method and using the Haven Nexus CXMS, have seen tremendous gains in traffic year over year.
We won't be so impolite as to divulge their traffic numbers for the year, however we'd love to reveal our top Mequoda Haven Nexus Systems in order of unique website traffic, some of whom haven't even been using their new CXMS for a full year yet (denoted by an *). For those who have, they saw anywhere from a 13% increase year over year to more than 130% increase.
#1 – Vida y Salud – vidaysalud.com launched in June of 2009 with just 240 posts in a dozen health categories. Publisher Carl Kravetz, along with Dra. Aliza Lifshitz, his wife and business partner, have created the Internet's most successful Spanish-language health website. It was so successful from launch that they received their 1,000,000th unique visitor less than 10 months after the website's launch.
Five years later, VidaySalud.com has grown to thousands of posts, recipes and videos in 21 health categories. Dra. Aliza Lifshitz, editor-in-chief, and Carl Kravetz, publisher, of Vida y Salud were inducted to the Mequoda Hall of Fame as Mequoda Masters in 2010 and were Mequoda Rocket Award winners in 2010 and 2012. As you can see, they're still going strong.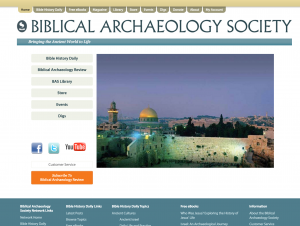 #2 – Biblical Archaeology Society – biblicalarchaeology.org is called home for the Biblical Archaeology Society—a non-profit, non-denominational, educational organization, dedicated to educating people about biblical archaeology founded in 1974 by Hershel Shanks—who also publish Biblical Archaeology Review. 
We first started working with publisher Susan Laden and her team back in 2006, and she became a Gold Member officially in October 2010. We launched their Mequoda System, with their Portal, Bible History Daily, back in August of 2011. Since then,  Sue has gone on to be our 2015 Mequoda Master due to extreme growth, implementation of the Mequoda Method, and willingness to share her secrets with the Mequoda community. Not only is Sue's content excellent but she has a forward-thinking team who has implemented the Mequoda Method with precision. They also get social media bragging rights—in 2014 they started on their path of growth from just 15 fans to more than 80,000 within a year. They now have more than 357,000 fans.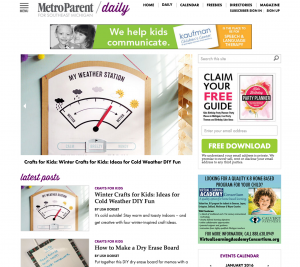 #3 – Metro Parent – metroparent.com* hasn't even been with us for a full year yet, but as you can see they're in third place with tremendous growth. Metro Parent, their flagship magazine, will celebrate its 30th anniversary next year, but in 2015 they celebrated a stunning success transitioning into the digital era by transforming their legacy ad-driven print magazine into a portal, directory, multiplatform magazine hybrid.
How successful is Metro Parent? They now rank for more than 25% of the keywords they set out to be found for in Google. If you think that's impressive, I should note that we set 25% as an ambitious goal for Year Three of their five-year plan. Editor in Chief Julia Elliott notes that their success using the Mequoda Method is certainly hard work, but it's not complicated. "It's just about due diligence and making sure you don't skip steps. Do your keyword research, post, promote, have realistic goals. There's no shortcut, but it doesn't have to be hard."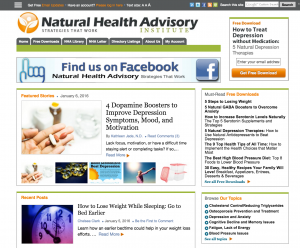 #4 – Natural Health Advisory Institute – naturalhealthadvisory.com was the winner of our 2015 Rocket Award for year over year growth, and this natural health information Portal is only just getting started. Publisher Tom Vick launched his Mequoda System in March of 2012 and saw 160% growth in the first 18 months. However impressive it sounds, it was a slow crawl compared to publishers in other niches, as we quickly learned how long it takes for Google to vet any new website in the health field, and for good reason. However, after it reached its second birthday, Google seemed to approve and the flood gates opened. They saw a 368% increase in traffic year over year in 2015.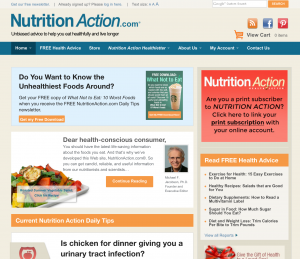 #5 – Nutrition Action – nutritionaction.com's relaunch with a Mequoda System in 2013 marked the first time that Nutrition Action, a division of the non-profit Center for Science in the Public Interest, had offered a digital edition of their newsletter.  In the early 1990s, the organization began to experience considerable growth with the Nutrition Action Healthletter. At the time, they also sold other products, like posters and guides, also third-party cookbooks and gadgets. Later, they decided to stick to a newsletter and their own products, focusing on their premium subscriber: a donor. And more than 20% of their newsletter subscribers are donors.
With the relaunch, NutritionAction.com went from a print newsletter publisher to a multi-platform publisher, and their results were dramatic. Featuring 99% recycled content from their print newsletter, they're something of a golden child of the Mequoda Method and in the first month of launch, they quadrupled traffic.
Our next top ten Mequoda Systems, some brand new, also saw excellent traffic numbers this year and we're proud of each and every one who are dedicated to implementing the Mequoda Method.
As you can see by the asterisks, six out of ten of them are brand new systems, and there are several more ready to launch in 2016. We can't wait!