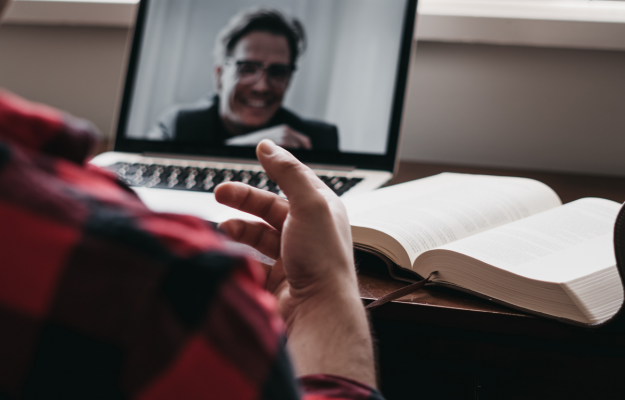 Have you ever run a roundtable discussion?
Throughout our years in publishing, we've taken part in countless roundtables. During some, we were the facilitator, and other times we were a participant. If you're a multiplatform publisher who produces events as part of your product strategy, you may have facilitated some yourself.
Although there are many ways to direct them, our ideal approach to running roundtables focuses on the fundamental needs of the attendees.
If your roundtable has been converted to a virtual roundtable on a service like Zoom like many over the past year, your attendees will have additional needs you may not be familiar with, when you're used to simply gathering people around a physical table.
[text_ad]
Facilitating Roundtables: The Traditional Approach
To begin roundtables, we typically get all the attendees into the room or around the table and ask, "If you could have the answer to one question that would help change the fundamental way your business runs, what would it be?"
We then take careful note of these important inquiries from the group. If people share the same question, we ask them to affirm that fact. This helps score the questions – the highest score goes to the question asked by the most people.
We begin roundtables this way for two reasons. First, this method leads us towards a list of questions that people want to be answered. Second, it helps us prioritize and forge the roundtable's direction. Some questions will be unique; others will be echoed by numerous attendees, clearly showing their relevance within our industry.
By executing dozens of roundtables this way, we have made one major observation: this format is very effective in doing the most good for the most people. It provides a high degree of value, as multiple minds share pertinent first-hand information.
Facilitating a Roundtable Discussion Online
The approach above is 99% still applicable to virtual roundtables, and you can even use the Polls function in Zoom to facilitate the initial questions, without people talking over each other to answer. But how do you even get attendees "into the room" to begin with, and how else can you keep people from tripping over one another when they try to talk?
Here are a few steps for how to run a roundtable, or a group of roundtables, virtually:
Run a survey before your event, asking your audience what kinds of topics they're currently most interested in learning about, then develop the roundtables around those topics.
Upon registration, ask attendees to select the roundtables they'd like to attend, and limit it to 8-10 people.
Set up separate Zoom conference rooms for each roundtable. The limit of 8-10 people will keep the conversation easy, with a bonus that anybody on a desktop version of Zoom will be able to see everybody in the room at once.
Assign your roundtable moderator(s), but also add a technically savvy facilitator who can moderate comments and conversation so that your moderator can focus on the conversation.
Roundtable facilitators often find that muting the room, and only unmuting one attendee at a time when they "raise their hand" to ask a question, is the most organized approach.
For a more lively discussion, you may want to mute the room while your roundtable moderator speaks, and then unmute if the room seems to be able to respectfully handle group conversation.
Qualities of Effective and Less Effective Roundtables
Here are some quick tips on how to run a roundtable discussion from Harvard University, which can be applied to both online and offline roundtable discussions:
Qualities of effective roundtables:
Time is managed carefully, with plenty of time for discussion
Each speaker communicates a clear message & solicits specific feedback
Moderator guides the discussion to touch on all speakers' concerns
Qualities of less effective roundtables:
Not enough time for discussion
Speakers aren't clear about what feedback they want from the audience
Discussion focuses on one speaker and leaves others out
The Value of Roundtables and Roundtable Discussion Questions
From time to time, our consulting clients ask us if it would benefit them to attend a roundtable moderated by us, when they already have us on retainer. Our reply is always yes, because the roundtable environment allows for input from everyone who participates, with varying perspectives, and produces new thinking that challenges existing best practices. After all, today's best practices for digital publishing and marketing are very different than those of just five years ago.
When you go into a roundtable, it's not just about getting your questions answered. The point of a roundtable is to speak with moderators, who are often experts and consultants with broad knowledge, and listen to what other attendees have to share.
There's also a solid chance that at least one person in the room has experienced the same problem you face, and has solved it. Perhaps some have found different solutions to your problem, which may be more or less appropriate for you.
An additional highlight of moderating and attending roundtables is that you receive unexpected valuable information. You will likely hear about problems that you haven't faced yet, but will in the future. Although you may not be aware of the issue yet, hearing solutions from other professionals will help you plan accordingly.
When facilitating a roundtable on Zoom, make sure you're still enabling this discussion, even if it feels more challenging to moderate online, versus in person. You may be surprised to see that people are more likely to pause or stop than to talk over one another. Encouraging the use of the "raise hand" function with a facilitator who is actively monitoring it, will also help the discussion run more smoothly.
How to Run a Roundtable Discussion Perfectly
Whether you're running a roundtable discussion online or in person, it may never go how you expect. Sometimes you'll get a group with no questions, where the moderator does most of the talking, and other times you'll get a discussion that goes completely off course. Trying to compare roundtables is like comparing apples and oranges…they both have nutritional value but have very different tastes and consistencies.
When we moderate a roundtable, we try to sit back and facilitate answers from the audience. We throw in any missing advice or bust myths when necessary, and we steer the conversation away from any third-party accounts that may lose the veracity of the problem and solution, as something may be lost in translation.
Ultimately, what's important to remember is that during a roundtable, everyone in attendance will get some level of consultation as they learn from both the moderators and the participants.
If you're interested in learning how to incorporate events into your multiplatform publishing business model, please schedule a time to talk with us. There are no strings attached and we think you'll enjoy envisioning the possibilities for your business during our conversation.
How have you been running roundtables on Zoom these days?
This post was originally published in 2011 and is updated frequently.