Increase in Magazine Website Traffic Outpaced Overall Internet Growth in Q4 2007
By— Kim Mateus • 03/04/2008
According a study done by the MPA, magazine websites posted a strong 8.1% traffic surge in Q4 2007
The magazine industry is finally catching up in terms of their online presence and success. The Magazine Publishers of America (MPA) announced recently that consumer magazine websites averaged 67.5 million unique monthly visitors during the fourth quarter of 2007. This marks an 8.1% increase over the same period in 2006, when 62.5 million unique visitors logged onto magazine websites. The increase is more than three times the rate of growth for the overall U.S. Internet audience, which rose 2.4% in the fourth quarter. The information, compiled for the first time, is based on a MPA analysis of Nielsen Online-supplied data from 320 consumer magazine brands online.
The analysis also showed that the average fourth quarter monthly reach for magazine websites grew to 41.9% of the total U.S. Internet population, posting a 7.1% gain over fourth quarter 2006. Magazine website users accounted for an average of more than 434.3 million sessions per month during the fourth quarter, a 12.3% improvement over the same period last year, in which an average of 386.6 million sessions were recorded. In addition, visitors to magazine websites spent an average of more than 1.78 billion minutes per month during the fourth quarter, resulting in a 5.5% increase versus the same three-month period in 2006.
"These figures illustrate the growing prominence of magazine brands online," said Nina Link, President and Chief Executive Officer, MPA. "Magazines have long been masters at attracting consumers to their print pages, and now they are doing the same for the Web audience, creating branded digital experiences through compelling content, innovative applications and robust communities."
She added, "It's important to note that the surge in online traffic to magazine websites is taking place while readership of the core print brand has grown over the last several years."
Magazine websites have certainly come a long way from the first MPA digital magazine conference they held back in December of 2005. There is still a long way to go, but with some magazine sites like People.com, Forbes.com and Time.com seeing between 5 and 10 million unique visitors a month it's important to know who to follow – and to allocate resources to efforts that can show immediate and tangible gain.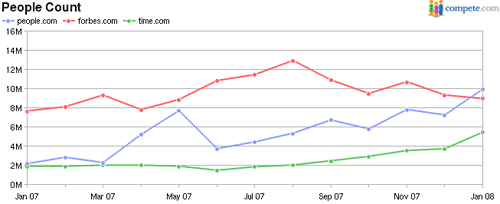 For a full list of cool things magazine websites are doing, and to see the winners of the second annual MPA Digital Awards, please visit www.magazine.org/digitalawards.
Posted in Multiplatform Publishing Strategy