Why adding a job board to your website could both increase revenue and help the economy
Just because the economy isn't doing so hot right now, doesn't mean that every business is doomed to fail. But what it does mean is that we as publishers could really use a good brainstorm on how to build out our own business model in ways that are more profitable than costly.
One avenue that has been consistently popular with publishers is adding a job board to their website network. In general, websites that sell job listings are self-service and require very little maintenance from the publisher.
People getting laid off are resorting to building job boards themselves
A clear hint that we're not doing enough to round up jobs is the Purple People Collective. The PPC was started by Ryan Kuder and Jonathan Tarud of Yahoo!. When Kuder got laid off from Yahoo! in February of last year, he had a hard time finding organized job listings from the various social media sites he visited. So he started the PPC as a new social networking site for laid-off workers/employees in the tech field looking for jobs.
Obviously, when someone who's been laid off doesn't think we're doing a good enough job organizing job listings, and proceeds to start his own job site, we're missing a big niche. But there's still time, the Great Depression lasted four years. Maybe with some help from our side, we can be a part of the solution.
How other publishers are building online job boards to benefit both the employer and the job seeker
Jeff Green, advertising director of Nielsen Business Media's digital strategy group says, "There's about 40,000 different job boards and career portals now operating on the Internet. It's impossible to deny what's happening in the online recruitment industry and the billions of dollars being spent on the Web." He also comments that "Advertising job openings in print is essential if employers want to reach the passive job seeker," says Green. "But active job seekers are not waiting for their weekly issue to arrive." Nielsen uses Adicio to manage their job listings.
One of the biggest media sites we know that makes their job listings a huge part of their business model is MediaBistro.com. MediaBistro.com does about $8 million in annual revenue, about $2 million of which we estimate is classified job advertising.
This website is designed for public relations and media executives, and competes in a broad horizontal market with CareerBuilder.com and Monster.com. But because the directory is attached to a content-rich website, it drives much of its own traffic, using an email newsletter to alert subscribers of new job postings.
Often, B2B and B2C niche websites can do well by adding a listings component, such as a directory or classified website, to their market.
Things to think about when building an online job board
Green offers the following tips when building an online job board:
Create a strong search function. Seekers should be able to search by keyword (matching any and/or all words), location, category and type of position, whether full-time, part-time, contract or temporary. Employers should have access to similar search functions.

Give job seekers the option of warehousing their resume on the site with the ability to determine what type of employers have access to view their resume. Or, allow for a resume upload on a per-application basis.

Seekers love e-mail alert updates on new job posts that fit their job criteria. The big job boards incorporate this function and so should yours.

Set up response reporting tools for your classified advertisers so they can determine the effectiveness of their posts.

Make listing a company name optional. Certain customers may want confidential ads so direct competitors don't know they are hiring for a certain position.

Price classified ads based on rates from the large online job boards and competitor boards.

Set a base price for a standard ad and then offer spotlights and feature placements for an additional fee.

Provide customer service to your clients. Post a phone number and generic e-mail address on the job board site, especially if you don't have a particular sales person linked to the account.
But why would anyone want to pay for a listing on your site when they have free sites like Craigslist and huge portal sites like Monster.com?
It's simple, you own a niche! There's no more specific way to put a job description out there than to offer it to your target audience. Even better, you can attract users who aren't necessarily "seeking", but happen upon a job listing on your site and decide to make a career change. It happens!
Even more importantly, you're offering your employers a site full of users that are passionate about your topic. They're much more likely to find people with the skills, ambitions and goals they are looking for when they place a targeted job listing on your site.
According to a recent survey by JobDig.com, 28% of employers surveyed used three job boards to list their job openings. 21% said they used four or more.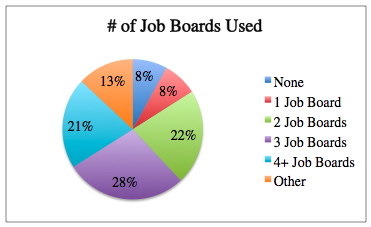 According to the report, "Of the companies that checked the 'other' box, the most popular site was Craigslist, followed by niche sites that were evenly split between geographic/local/regional sites and industry-specific vertical sites." That's us!
How to get started building an online job board
It won't happen overnight, but job boards (especially in this economy) are one of the most frequented sites on the web right now. If you already have print listings, then you already have a client list. If not, you may have to start from scratch, you may even need to start cold-turkey with your listings.
One tip for getting traffic and listings on your site is to put out a press release for one week (or month) of free listings. Advertise it to your list and let the content roll in. Once you have a good amount of content on the site, then you have the value in place to make it a paid product (for employers).
There are various tools you can use to create an online job board, and it's going to take the expertise of your developers. Here are some links to online job board software you can use.
The hands-off approach – For starters, you might consider a job board from JobCoin. They collect the employers for you, and you choose which listings to display on your site. They also allow employers to sign up on your own site, so it truly is your own job board portal. You get paid both when someone applies ($2-10 per application) and when an employer lists a job (around $20). The biggest benefit – it's free.
The hands-on approach – There are many software packages out there you can buy to build your own job board. One of the most popular is Adicio, and it's used by the likes of Nielsen, The Seattle Times, Newsday.com, and yes, Monster.com.
The less expensive hands-on approach – is new open source job board software created in PHP. It has a very clean interface and best of all – it's free.
So take a look at your current business model. Is their room for a job board in there?