Usability and design are two key factors in publishing great websites. You may have a clear strategy and great content, but if your site is unusable and unattractive, it will be:
difficult for users to find what they're looking for,
difficult for you to get users to do what you want them to do and
difficult to get users to become loyal customers and revisit again and again.
Creating user-centric websites begins by following the 14 Mequoda Website Design Guidelines.
After reviewing hundreds of websites, interviewing dozens of website publishers and conducting a series of expert usability reviews and actual user tests, we developed these 14 best practices for creating user-centric websites—along with a Mequoda Website Scorecard that you can use to evaluate the overall effectiveness of your own site.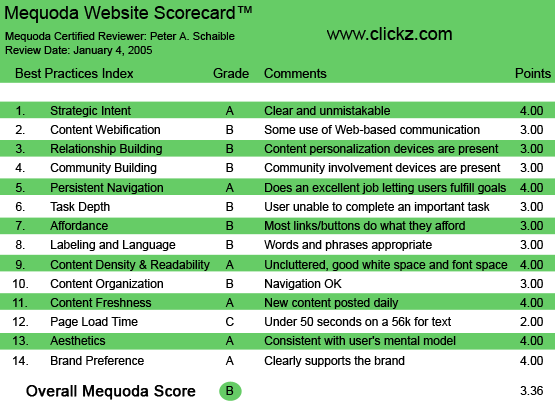 A sample Mequoda Website Scorecard
This article was written by Don Nicholas with the help of Jane E. Zarem. It is just one part in a series on the Mequoda System. See below for the rest of this series:
1. An Introduction to the Mequoda System
2. Mequoda System Habit #1: Implement a Strategic Management System
3. Mequoda System Habit #2: Build a Mequoda Media Pyramid
4. Mequoda System Habit #3: Build a Mequoda Website Network
5. Mequoda System Habit #4: Organize Content Around the Customer
6. Mequoda System Habit #5: Create User-Centric Websites
7. Mequoda System Habit #6: Implement a Mequoda Marketing System
8. Mequoda System Habit #7: Make Metric-Driven Decisions
9. Repeat the Continuous Improvement Cycle
To see our latest revitalization of the Mequoda System, download our most recent FREE Online Publishing Secrets white paper.