Do you have an Internet Hub? How are you using it to expand your brand?
Mequoda's Don Nicholas presented a rapid-fire version of our Making Money Online workshop and moderated a panel focused on one of the seven strategies: multiplatform editorial management.
Don was joined on the panel by David McKee of DRG, Phil Penny of Belvoir Media Group and Bryan Welch of Ogden Publications. The panelists talked about their multiplatform strategies, where their content originates from and how they view the Web as central to their strategy.
[text_ad]
For this session, we asked our panelists to focus on the largest of the several markets they serve.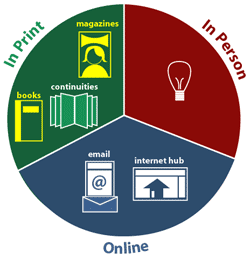 For McKee at DRG, crochet is the biggest brand. In that market segment, offline, he serves his customers with 2 magazines, several books and multiple continuities. Online, he serves his readers with a large free Internet hub (freepatterns.com) and email newsletters. His business model is to use the Web as a source to aggregate email subscribers (mostly via his free Internet hub) and then sell them print subscriptions, books, continuities and downloadable ebooks – some as large as 170 pages. McKee notes that the majority of his content is originated in his books and magazines and then gets repurposed for new products and for his websites.
| | |
| --- | --- |
| | For Phil Penny at Belvoir, we focused on his aviation market. For offline products, he has 5 print newsletters, one magazine, one CD product and a weekly podcast. Online, he offers his readers a robust news-based Internet hub (AVweb.com) and a widely circulated email newsletter. He also has several subscriber-only websites (which Mequoda classifies as Newsletter websites) where paid print subscribers can access PDF versions of the newsletters. For Penny, a large majority of his content is originated at AVweb.com, because it is a news-based website. That content then gets filtered and chosen for deeper analysis and product reviews in his print newsletters. |
| | For Bryan Welch at Ogden, we focused on the Mother Earth News brand. Offline, he offers his readers a print magazine, several books, a 38-year archive of Mother Earth News on CD and DVD and lots of merchandise, such as organic coffee and tea. Online, he offers users a content-rich Internet hub (MotherEarthNews.com) and email newsletters. He also offers robust forums and chat rooms. In person, Welch sponsors about a dozen live shows. |
For the three panelists, the common thread is that they recognize the importance of the Internet hub in aggregating new customers and facilitating the sale of their multiplatform product offerings.
Read the rest of our session coverage:
Optimizing Advertising Sales – Print and Online