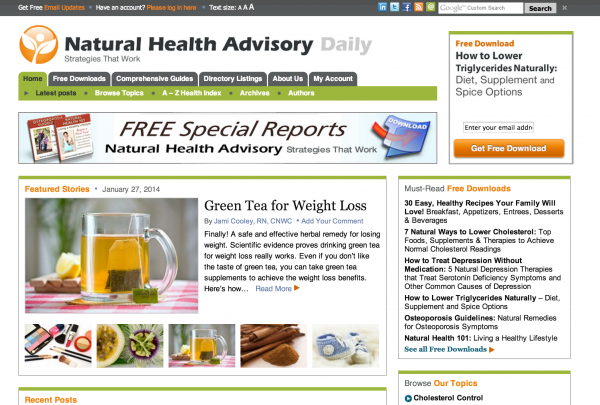 More than 30 years ago, Tom Vick, Executive Editor and CEO of Natural Health Advisory, first discovered that a common ailment he was suffering from, allergies, could be helped significantly by taking pantothenic acid (Vitamin B5) daily. Since then, alternative medicine and natural health has been a passion.
Fast forward to a couple years ago when Tom first came to us with the dream of launching NaturalHealthAdvisory.com, which would, as their mission goes, "research and identify the most effective natural healing options for chronic health conditions and to communicate these to the proactive health consumer in an understandable and quickly accessible format."
He recruited Jami Cooley, a Certified Nutrition and Wellness Consultant and Registered Nurse with certification in Chemotherapy and Biotherapy as his daily editor. Cooley had originally worked in Oncology but became unsatisfied with the traditional treatments for battling cancer and decided to move into research, where she became a medical researcher and published author, tying together diet-link to cancer and how nutrition can help other chronic illnesses.
Vick also gathered a few other reputable researchers and writers, Elaine Fawcett, N.T.P. and Kathleen Jade, N.D. And with this team behind him, he launched a new Mequoda system with Natural Health Advisory.
Natural Health Advisory stands in a highly competitive space, but Vick's business plan isn't run on advertising revenue or sponsorships like many of his competitors. To provide unbiased advice and research, his site is exclusively product-driven.
He publishes comprehensive digital guides that a user can subscribe to individually, or as an all-for-one subscription. And like a true Mequoda System, Vick recycles content across all of his publishing platforms. And he can quite well, because natural health is naturally evergreen.
"I believe most natural therapies for specific health conditions involving specific foods, targeted herbal and nutritional supplements, exercise strategies, stress management, etc. are generally quite evergreen," says Vick. "The strategies involved in a natural health protocol we discuss today will almost always be applicable and appropriate a year from now. Unlike health strategies that involve the heavy use of pharmaceuticals whose status and known side effects change constantly, natural strategies are largely safe and have effects that remain consistent over the years."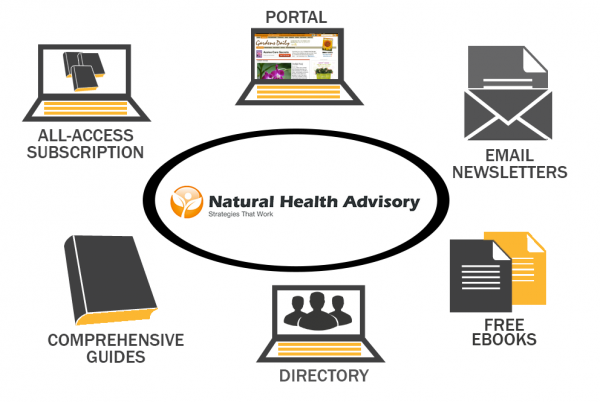 Portal / Blog – Their blog is updated almost daily with new research and how-to's on ailments like treating anxiety naturally, lowering triglycerides, and even healthy recipes (like detox soup, or pumpkin pie) and shakes.
Original content published on NaturalHealthAdvisory.com is recycled into the various email newsletters while older blog content is often repurposed with updated information and recycled into newly published blog posts. Natural Health Advisory has a strong editorial voice, and they are just beginning to build their community.
Email Newsletter – Natural Health Advisory has six different email newsletters for people suffering from high cholesterol, depression and anxiety, fatigue, osteoporosis, cognitive issues, and those who want basic natural health articles.
In addition, they send promotional emails, which are some of the most informative, interesting and non-promotional emails you're likely to read.
The content in these free and promotional emails comes both from the blogs and  excerpts from the Comprehensive Guides.
Free eBooks (Free Downloads) – Content comes from the blog but more so from the Comprehensive Guides. They recently published a healthy recipe eBook that's a compilation of healthy recipes that users submitted through comments on their blog.
Directory – Natural Health Advisory also maintains a large Directory Listings archive. "This is a comprehensive doctor search listing of over 5000 Integrative Physicians and natural health practitioners from across the United States who provide an array of alternative, holistic, or complementary health services," says Vick. "This is intended to help our readers find doctors or practitioners who are natural health oriented or who provide specific therapies for certain conditions."
"Here we do not recycle content per se, but we create blog content that describes the unique characteristics and capabilities of the various Integrative Medicine disciplines that are being provided by the doctors in the Directory. So a reader learns of a specific natural healing therapy and then can go to the Directory to find a doctor who provides that therapy."
Comprehensive Guides (subscription eBook on specific conditions) – This is largely original content material on specific conditions and portions of it are then recycled into some of the blog content and into the Free eBooks. These Guides, which are 60-179 pages long, can be viewed online for an annual access fee of $29. The guides are also live documents that are continually updated so the content stays current.
All Access Subscription – This is where a reader can access all of the Comprehensive Guides with one subscription.
Tom's approach is a perfect example of content recycling in a Mequoda System. Create your premium content, then build from it.
The great news for Tom is that Natural Health Advisory was launched at an almost perfect time. Not only is natural health as popular in elderly communities as it always was, but younger generations are becoming increasingly concerned with their health, which makes the Internet the perfect place for a natural health portal.
And perhaps because research is showing that the younger generation is coping with significantly higher levels of stress, more are seeking help. However they've been taught to shun grains, gluten and high fructose corn syrup, and we're living in the age where it's as legal to buy medical marijuana as it is to buy a cigarette in some states, so younger generations are naturally pulling towards more natural remedies and less pills and prescriptions.
This has opened up the big wide world of natural health, and Natural Health Advisory launched at just the right time. His Facebook page has rapidly grown from just a few fans to almost 900 in just a few months, showing traction is picking up in a big way.
And as Tom expands from eight areas of natural health focus to many more, we'll proudly watch the site grow, and grow, and grow. If you haven't read Natural Health Advisory yet, I strongly recommend you do, it's highly intriguing, extremely well-written and educational!