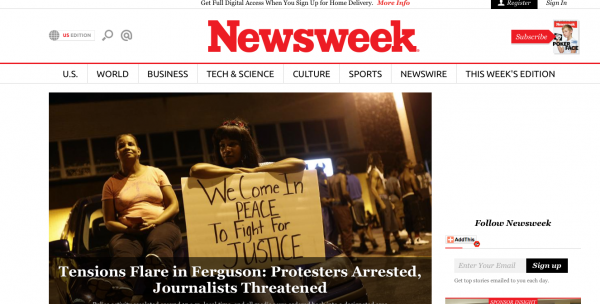 With its print reincarnation established, Newsweek 2.0 is setting its sights on its original mission: a robust digital presence.
Capital New York reports that Editor-in-Chief Jim Impoco is devoting considerably more resources to Newsweek's multiplatform operations.
Impoco has hired four new web writers, with two more on the way, and will soon install a digital editor in an effort to maintain a "continuous news desk." According to Capital New York, the new Newsweek started with 25 newsroom staffers in September of 2013. That number will climb to 50 soon.
"The idea is to supplement magazine content, which is only available online to paying subscribers, while building up traffic that can service banner ads and sponsorships," writes Joe Pompeo.
"The company declined to provide its latest traffic figures, but Impoco said there was a 76% surge in unique visitors between June and July, when he started putting together the new web team. The analytics firm comScore, which skews lower than internal metrics, placed newsweek.com at around 2.2 million unique monthly U.S. visitors as of July, up from 1.4 million in June and 211,000 last October, the earliest month for which data is available."
To read more about the Newsweek digital approach, visit CapitalNewYork.com
[text_ad]