Take a lesson from the mistakes of others when starting and running a successful newsletter or magazine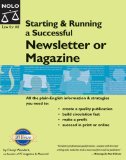 If you are contemplating starting or converting an online publishing company, take a look at Starting & Running a Successful Newsletter or Magazine
by Cheryl Woodard. This book will be very helpful.
Woodward offers many insights into the online publishing world from first hand experience. You will find basic tips such as beginning with your mission statement and finding your niche, to deeper points such as understanding user research data and developing maximum exposure.
While this book details all of the ins and outs of online publishing, it also delves into good old fashioned selling. There are many tried and true tips outlined for acquiring revenue from subscription and advertising sales.
Keeping up with ever changing technology
Don't feel like you have to do everything yourself. "Get the best technology. Outsource the site if you don't have the technical experts on your launch team…Third party Web-developers keep up with the rapidly changing technology and offer the latest tools at the lowest costs,"  Woodward explains.
Learn from experienced online publishers
We especially enjoyed the short stories and examples that summarize each section's main points, making personal application even easier.
It lends to the authors credibility by utilizing real companies with real online publications that you can actually research for yourself. This book is definitely user friendly.
It concludes with a comprehensive resource section, sure to come in handy. No more school of hard knocks with this book as your guide. You won't have to learn from your mistakes, you can and should learn from other's mistakes and successes.
For more, read Starting & Running a Successful Newsletter or Magazine
 by Cheryl Woodard.