Are you giving your users every opportunity to share your website content, or leaving it up to them to figure out?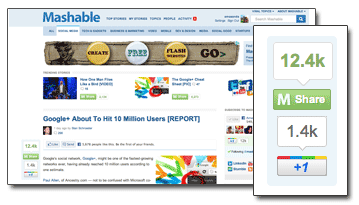 Let's be honest, I love Mashable as much as the next social media nerd, but how does a 221-word news article like Google+ About to Hit 10 Million Users garner twelve thousand social media shares? Is it strange or unusual that the largest search engine in the world would be able to get 10 million people to join Google+? Not really, right?
Despite the simplicity of this article, there are lots of share-worthy elements that brought them up to 12k at the time of this post:
Mashable's readers are some of the most social media savvy, share-heavy users on the web.
According to Compete.com, Mashable gets 3.1 million unique visitors to their site every month. That's 261k visitors per day, so that's really only 4.5% of their readership since it was posted yesterday.
This is news, which is more likely to be shared.
From looking at the comments, most people just want to comment on whether or not they like Google+, which may also be a factor in how people share this article.
Speculation on the numbers (which are not official Google numbers) gives readers another chance to comment and/or argue the legitimacy.
There are prominent share links available on the article, allowing users to share it on any social network that they choose.
Unless you are The New York Times (13m Unique Visitors Per Month), People Magazine (7m UVPM) or even Real Simple Magazine (2.3m UVPM), you probably can't expect to get 12k shares on any given article. In fact, Mashable's 4.5% probably isn't even fair to measure yourself against, since they have the most savvy readers on the web.
But here's what we can take away from Mashable's articles:
Keep measuring: Instead of measuring yourself against anyone else, try measuring against yourself. If right now you only have 0.25% of readers sharing your content, try creating goals for the upcoming months, then measure the increase.
Install social sharing buttons: Give your users as many opportunities as possible to share your content on the largest social networks. WordPress has plenty of plugins, but you can install these buttons on any sites:
Make it newsworthy: While we wouldn't recommend turning your evergreen content into news headlines, we would recommend writing a few newsworthy posts per week, worthy of sharing. As you can see from Mashable's example, they don't need to be long, though we'd recommend at least 300 words to get the most from Google too.
Start a controversy: Some of our most shared and commented posts offer a point at the beginning of the article that everyone wants to comment on, or argue with. Use this point to get people to share your articles.
Make your article social-friendly: The most obvious method here, is to post your articles on the social networks where you want people to share it.
Do you have more tips for getting people to share you content? Let us know in the comments!