If you're not publishing magazines on Kindle yet, you've already missed out on new subscribers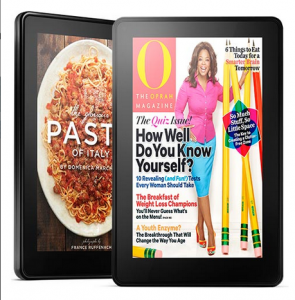 Want to know how publishing magazines on Kindles will boost your digital circulation? The simple answer is math: you can only sell more digital issues, not less, by adding your magazine to a new digital magazine platform.
And we consider Amazon's Kindle Newsstand to be one of the three juggernauts of digital magazine publishing platforms, alongside Google Play and Apple Newsstand. In fact, it's in second place and I'll tell you why a little later.
Not to mention, like Google and Apple, Amazon customers are hugely loyal. In fact, Prime members spend an average of $1500 per year and have a 92% renewal rate. That's double what non Prime members spend. Amazon is like an ecosystem. A member already has their address loaded, their credit card loaded, and anything can be ordered with one-click. The ease of this shopping network causes loyal members to come back for all of their online shopping needs.
Likewise, those who have Kindles (or the Kindle app on any of their devices) will choose to shop on Amazon's Kindle Newsstand to get their magazine subscriptions. Not to mention, they sell Print + Digital packages. Members already have access to more than a million ebooks, so unlike the iPad and other tablets whose users buy mainly for apps and web surfing, the Kindle is a go-to choice for reading from the start.
[text_ad]
What Kindles are doing for Multiplatform Publishing
The Kindle launched in 2007 after being named for the idea that lighting a fire is exactly what readers do when they read a book. An intellectual fire, of course. The more directly named Kindle Fire launched with full tablet functions and apps in 2011. They boasted "hundreds of magazines and newspapers including Vogue, Esquire, National Geographic and Better Homes and Gardens—with glossy full-color layouts, HD photography, and beautifully detailed illustrations," upon launch.
This is the time that Amazon became a legitimate digital magazine publishing platform.
Amazon is in second place when it comes to digital magazine reading on tablets
You wouldn't be surprised to know that when we conducted our Digital Magazine Market Study, using a survey audience of more than a thousand digital magazine subscribers, Apple iPads won most popular tablet device for reading digital magazines.
But you may be surprised to know Amazon regularly comes in second, around 30% in past studies.
So despite who's winning the tablet wars, and who has more market share, the folks reading magazines on tablets have chosen Apple and Amazon as their top two. And we're fairly fond of them too, considering the remit rate is a negotiable 65%. Amazon offers 70% and Google offers 60% so once again, it's sitting there right in second place. And second place is a pretty good place to be.
Are you currently publishing your digital magazines on Amazon? Why or why not?
This article was originally published in 2013 and is frequently updated.