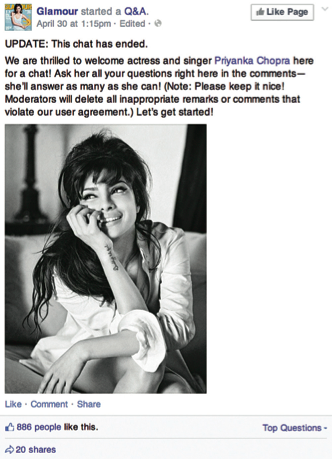 Folio: recently examined the latest practices of publishers building engagement through social media platforms. TJ Raphael's piece focuses on Glamour's use of Facebook, National Geographic's use of Instagram, and Seventeen's use of Snapchat.
Glamour: The Condé Nast property nurtures discussion on Facebook rather than racking up likes. "Today on the Web and through social media in particular, we're able to create an intimate, personal, and almost causal daily relationship with readers," Glamour's Mike Hofman tells Folio:. "And, it's not just us publishing information for them to consume – there can be a conversation back and forth."
National Geographic: Could there be a more natural fit for National Geographic than Instagram? The publisher's 5.2 million followers are encouraged to submit their own photography and travel experiences. "Those photos seem to perform incredibly well, and they also seem to have driven our audience growth," Director of Digital Travel Carolyn Fox says. "I see social as a place where people want to interact with us directly, and we've seen great success by not only asking them questions, but also showcasing curated versions of the answers that we've gotten."
Seventeen: Social media for publishers is always about capitalizing the next big thing, and Snapchat's explosive popularity among teenagers has driven the magazine's new-found commitment to the mobile app. "It's a private message for the user who has friended us," Seventeen's Betsy Fast tells Folio:. "It's a little fleeting moment that we can share with them, and that's really how we've built our audience on Snapchat and how we engage with them."
To read more about the latest practices of publishers on social platforms, visit Folio:.