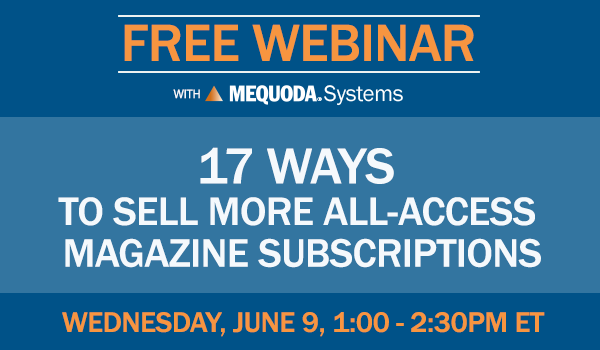 Publishers who peaked over the last 12 months of a pandemic by selling subscriptions had a few things in common. The first is that they had an all-access product, which is always a mouth-watering offering that is all-inclusive and gives access to a library of back issues.
The second tier of having a profitable all-access product is knowing how to sell it.
At Mequoda, we are testing all-access offer language, order forms, and conversion architecture daily; We have an entire team that digs into this data daily and sets up the tests, retests, and more retests of copy on order pages and in email.
On June 9 at 1:00 PM ET, we're going to share our best-performing offers and order forms in a FREE webinar called 17 Ways to Sell More All-Access Magazine Subscriptions. We'll show you the techniques used over five years for a special-interest publisher that led to growing their online order volume from 300 monthly online subscription orders per month to 2,000 online subscription orders per month.
In 17 Ways to Sell More All-Access Magazine Subscriptions, you'll discover three buckets of opportunities for boosting revenue and profits with these models.
Email opportunities, including several different email templates, reciprocal marketing deals, and master file mailings
Web opportunities, including conversion architecture, navigation, landing pages, paywalls, and order flow abandons
Paid opportunities using social media, push notifications, Google Adwords, and other ad networks
In this FREE webinar, 17 Ways to Sell More All-Access Magazine Subscriptions, you'll join me and my colleague, Eileen Shea, Mequoda's Content Marketing Director and resident expert on print and digital magazine subscription marketing. In 2015, Eileen and I took on the challenge of increasing online subscription sales for the Biblical Archaeology Society. Over the next five years, we developed and refined a process that we now call Six Sigma Marketing that includes all the elements we'll be discussing in the 17 Ways to Sell More All-Access Magazine Subscriptions webinar, including next-gen order pages, content previews, marketing spotlights and a myriad of other subscription marketing sources.
We are presenting this webinar absolutely free! The only caveat is that seats are limited to the first 97 attendees to ensure a successful Q&A session at the end of the webinar.