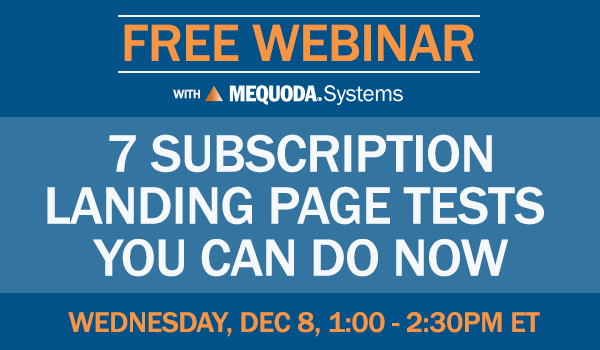 When a visitor arrives at your website landing page, you have about five seconds to make a good impression and capture their attention. If you don't succeed immediately, they're likely to click away and you're apt to lose them forever.
Your landing page needs to be a fast, effective messenger, and this is especially true to subscription landing pages.
With a quick glance, visitors should know exactly what your subscription is about and how it benefits them. Determine what image and message you want the customer to "get" in those first few seconds, and design your landing page toward that objective. Anything that distracts from the central message or image you wish to project should be eliminated.
But how do you know what those things are?
You're invited to join us on December 8 at 1pm ET for a FREE webinar, 7 Subscription Landing Page Tests You Can Do Now, where you'll find out what they are, or at the very least how to find out on your own.
Let me tell you how we've earned so much expertise in this area.
At Mequoda, we have developed, designed, tested, and deployed hundreds of landing pages. Starting with the concept of classic direct marketing sales letters, we use a mix of lengths, offers, visuals and copy—and we're constantly testing them and top-grading them for maximum response. 
In one case, which we'll share with you on this FREE webinar, we saw success with one format when we realized that the placement of images helped to lift response. 
We moved the images higher up the page so that the images would be the first thing the buyer saw when they got to the order page. 
We evenly split all our email promotions for a month and saw a 33% lift in orders from people who landed on the revised page.
In this webinar you'll see exactly what they did to earn that increase, along with six more tests that made a huge impact.
Since this webinar is free, we expect it to fill up, so register now to guarantee your seat. 
At the end of the webinar, you'll get a chance to talk to Eileen and me directly, and ask all of your burning questions about the case studies we'll share, and how you can get the same results.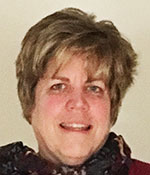 Eileen is Mequoda's Content Marketing Director and a seasoned, top-notch direct-marketing professional with a wealth of experience in planning and managing successful programs. Eileen's breadth of marketing experience covers both consumer and business publishing—from U.S. News & World Report to Harvard Business Review—and marketing strategy and best practices. Eileen's keen and timely data-analytics capabilities help Mequoda partners stay on top of current digital marketing trends to maximize revenue and profits.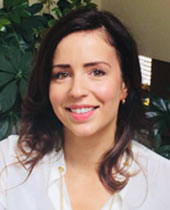 As Mequoda's Chief Strategy Officer, and as an experienced marketing professional who has overseen strategic planning for many of Mequoda's publishing partners, I have guided the development of more than 20 subscription and digital marketing systems. My team and I monitor and maintain a robust best-practices database of marketing techniques and business processes that helps power all Mequoda partner programs.
I know what you're thinking: What's the catch? or Where's the sales pitch? Other than genuinely looking forward to this conversation with you, our goal at Mequoda is to give you all the tools necessary to succeed. It's why we have been sharing our entire business model and best practices five days a week through the Mequoda Daily. Plus, this program will go into our premium subscription product Mequoda Pro after it's concluded, so this is your one chance to get it for FREE!
We hope you'll find that this 90-minute free webinar marks a turning point in how you look at subscription marketing, and that you walk away with a notebook full of ideas you can start testing immediately.
And if you decide to take the next step and let us help you accomplish your new goals, we'll be happy to talk with you after the call. But for now, all you have to do is register today and we'll give you a whole bag of email templates that you can start implementing right away, on your own if you choose.
Register today so you don't miss out on this event, and please pass this along to colleagues and any friends in the industry who may benefit from this webinar.
Eileen and I look forward to meeting with you and answering your questions at the end of the webinar and helping you relate our methodology to your organization, mission, and goals.
If you have any questions, please don't hesitate to reach out!