Where we are as mobile app and digital magazine publishers, and where we're going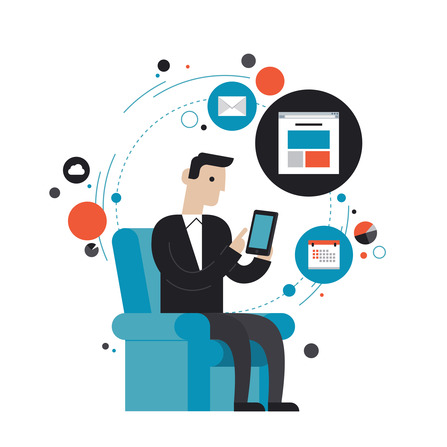 What's up with mobile apps and the people who use them? Anyone publishing a digital magazine, or planning to publish one, must keep up with app user statistics. Recent mobile app user statistics bear out earlier predictions: We living in a mobile, mobile world.
Because we constantly survey the app field to keep our clients well-informed, we'd like to share some of the app user statistics of most interest to publishers.
App user statistics for publishers, Statistic #1: Phablet growth
One thing is true: the device we all love to say out loud is a success – the phablet.
According to Flurry Analytics, a mobile measurement and advertising platform, in the time period from January 2014 to January 2015, "phablets, such as the iPhone 6 Plus and the Samsung Galaxy Note, take the lead in usage growth, growing 148% year over year and propelling the overall mobile and app industry to 78% year over year usage growth (as measured by number of sessions). This is 3.8 times faster than the growth of medium-sized phones such as the iPhone 4 and iPhone 5 over a similar period. "
With phablets come more digital magazine subscribers, so feel free to do a little "we got this" dance.
App user statistics for publishers, Statistic #2: Growth of mobile usage
Flurry Analytics also reports that overall app use grew 76% year over year, which is huge, but not as huge as the previous year which saw a 115% year-over-year growth rate. (App use is defined as a consumer launching an app and recording what Flurry considers as a session.)
Forrester data shows that smartphone owners "use an average of 24 apps per month but spend more than 80 percent of their [in app] time on just five apps."
Games got the biggest chunk of app growth in the past, but Lifestyle & Shopping (176%!), Utilities & Productivity, and Messaging won this past year. The segment that showed the most dramatic growth in the previous year, probably to no one's surprise, was Messaging (social and photo sharing included), making this an ever-more intriguing marketing channel for publishers as it continues to grow.
Want to hear something great? While Lifestyle apps are growing by 176%, according to the MPA, "79 out of the 100 top-grossing "Lifestyle" apps are magazine media brands." Win!
App user statistics for publishers, Statistic #3: Frequency and length of time for app usage
IAB says users are also accessing their apps more often and spending more time with them than ever. More than 90% of time is spent on apps, up from around 80% a year ago. Tablet users spend 24 minutes in an app session, while smartphone sessions are shorter at about 13 minutes.
To those who use apps for most of the time while on their mobile devices, these were their reasons:
Mobile apps are more convenient
Mobile apps are easier to use
Mobile apps work when my phone's not connected
Mobile websites often don't look good on my phone
Media app users spend 20 minutes per session, second only to travel apps. Users of mobile apps are more loyal to the app's brand versus those who just visit the brand's website from their mobile devices. All together, app usage outpaces mobile web visits by an average of 100 minutes per month.
This is certainly food for thought for those publishers thinking that their website alone is sufficient to keep mobile users engaged and loyal. If you don't have a digital magazine, you need one yesterday.
App user statistics for publishers, Statistic #4: From the apps to the website to the print product
Conversely to the statistic above, in a recent smartphone study the MPA found that 60% of respondents have visited a magazine's website as a result of reading digital magazine content on their smartphone. Even better, 60% see their overall readership of printed magazines increasing or remaining the same since they began reading digital magazines on their smartphone.
The MPA also reports readers spend an average of 53.5 minutes reading digital magazines, and 53.2 minutes reading print editions.
App user statistics for publishers, Statistic #5: Mobile doesn't always mean mobile
Mobile users aren't just checking email on the run: 80% of smartphone owners and 81% of tablet owners use their devices in front of the television, according to edigitalresearch. That's what we call "lean-back" time, meaning users are actually browsing or reading content at a leisurely pace.
Again, this is a significant development for digital magazine publishers, in case you think mobile users aren't going to bother spending time with your app because they're too busy.
[text_ad]
App user statistics for publishers, Statistic #6: How many adults read magazines
According the 2014 MPA Magazine Media Fact Book (a terrific resource, by the way), 91% of all adults, 94% of adults under 35 and 96% of adults under 25 read print or digital magazines. MPA says the digital magazine audience is "young, educated and upscale."
What's more, 62% of these young, educated and upscale adults said they read digital magazines for the ads as much as they do the editorial content.
App user statistics for publishers, Statistic #7: Downloads going up
MPA reports that 64 million digital magazine issues were delivered in the last year — that's about 300,000 every single day! The top 10 categories being downloaded are:
Food: 35%
Celebrity/entertainment: 28%
Computers: 24%
Health: 23%
Women's: 23%
Sports: 22%
News: 21%
Travel: 19%
Science/technology: 19%
House/home% 19
This is excellent news for the niche publishers on whom Mequoda focuses!
App user statistics for publishers, Statistic #8: The price is right
For all that publishers have been anguishing over digital magazine pricing since the advent of the iPad, it seems most of us are getting it right. In MPA's study, 63% of respondents said they believe current prices for digital magazines are fair.
App user statistics for publishers, Statistic #9: What they're downloading
MPA reported that of all downloads in one of their studies, the types of downloads broke down like this:
Print and digital bundles: 35%
Digital subscriptions: 34%
Free apps: 22%
Single issues: 10%
We especially love the market for single issues, which appears to be climbing, even while print newsstand sales are faltering.
There's truly good news in app user statistics for publishers, as you can see. If you want more real insight on exactly what digital magazine subscribers want, download our Digital Magazine Market Study.
And now, one last statistic from MPA thats's not directly related to app user statistics, but which I just have to relate because it's so satisfying for those of us in the magazine publishing business:
More than 170 print magazine titles have thrived for more than 50 years; only 13 TV programs can say the same!
Are there any app user statistics you've read recently we should know about? Share them below so we can all enjoy the (hopefully) good news!