How to turn one product into many products using multiplatform publishing
When you recycle a can or plastic bottle, you can wait and listen to the sound of the machine crushing the can. It's almost as if the nickel it spits back at you came from the can itself.
When you recycle a magazine into apps, blog posts, videos, emails and events it makes sounds too: the sounds of web traffic rushing at you. The sound of social chatter and ultimately, ad or product revenue. It's a bit more than a nickel, but you'll take it, right?
I won't tell you that the effort it takes to recycle content across platforms is free or easy, but what I will tell you is that it's cheap and not terribly difficult. Below are some of the most popular platforms that publishers recycle content across:
Websites
Email
Articles
Magazines (print and digital)
Books
Free Reports
Live Events
Online Events (webinars)
Archives
Apps
When magazine brands become multiplatform
While some publishers might consider their magazine the center of their brand universe, savvy publishers consider it just one of the many platforms that they publish on. For example, The New Yorker distributes its content across 10 different platforms. Their magazine may be the origination source of most of their content, but it's used everywhere.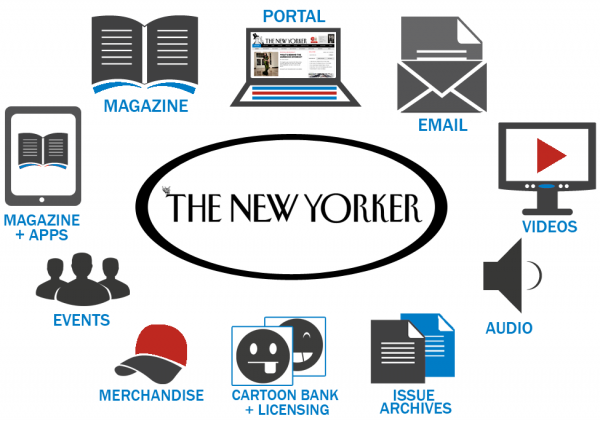 The content produced for The New Yorker isn't just for the magazine, it gets turned into blogs on their website, snippets in their emails, videos, spoken through audiocasts, repurposed in issue archives, licensed through their cartoon bank, sold in their store, told out loud at their events, and finally, configured for mobile devices. Sometimes, they even create apps that only use specific content.
When articles become multiplatform
Anybody can create a digital magazine out of a print magazine and call it a multiplatform day accomplished, but not everybody can build a profitable business using the same content over and over again, like The New Yorker. Oh, but wait, can they?
Let's start with your most fundamental minimum information unit, a magazine article. If you're a legacy publisher with a big archive, you have more of these than you know what to do with. The hardest part is digitizing them, but after that, they can become:
A blog post optimized for search
A chapter in a book
An entire eBook or white paper
Chapters in an eBook or white paper
The copy for a video blog post
The research for an online event or live event
Part of a membership website
Part of an issue archive
A social media post
A guest post on a well-respected blog
An authoritative post on a site like Medium
A viral post on a site like Reddit
If you publish a monthly magazine and each issue includes 50 articles, every year you have content for 600 free blog posts or 600 premium website articles that remain behind a paywall in an archived online magazine library. Or a mix of both.
If you do not offer an archive for your subscribers, this content can be released to your blog when it's 90 to 365 days old and re-used as part of your circulation building strategy. Some magazine publishers are posting 100 percent of their premium content online, simultaneous with or even before print publishing. This practice has not deterred their ability to sell thousand of magazine subscriptions online.
If you do offer a digital archive or paid access to your magazine content, we suggest keeping 70 to 90 percent behind the paywall, organized by issue and topic in a responsive framework so that your premium digital subscribers can read it on the go via their smartphones and tablets.
A sample archive release program might look something like this:

When books and reports become multiplatform
At Mequoda Daily, we create four best practice handbooks per year and update them once per year. Each handbook is comprised of 12 chapters that can be disaggregated into 12 blog posts. Every quarter, a handbook is updated over the course of 12 weeks as the 12 posts are published.
Our handbooks are much larger than most freebies (aka lead generators), anywhere between 100-300 pages, but many publishers write 20-page eBooks and win their audiences over. Here's how to create a freemium, and then how to refresh one during an SEO slump.
Want to know how most publishers do it? They just take blog posts from their website and re-package them into an eBook. As the big red Staples button says, "That was easy!"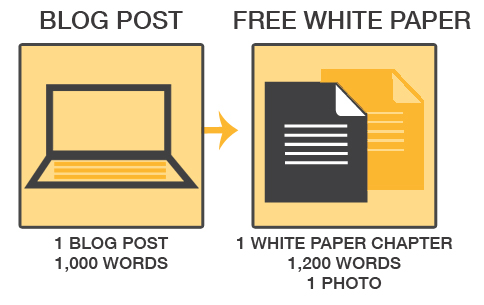 When live events become multiplatform
A live event isn't multiplatform just because it's broadcasted online. It becomes multiplatform when the same content presented can be disseminated and taught in a different way, to a different audience, using a different platform.
You could easily transform the earlier magazine recycling model into the event recycling model. You'd replace "magazine" with "presentation" and "handbook" with "slide" because many of our blog posts also refer to the infographics we present in our Intensives. Like the one you're reading right now.

And let's not forget the simplest content recycling model for live events: videos. You can create new video blog posts and capture testimonials at the same time with the help of a single videographer.
When your magazine archives become multiplatform
For the longest time, publishers hoarded their magazine archives, having no idea what to do with them. After many years of digitizing, they're becoming one of the best upsells a magazine brand could ask for. Our friends at the Biblical Archaeology Society have been particularly successful bundling their archive of back issues with subscriptions to their new print and digital issues.
In fact, as you'll see, the BAS story is one of the best examples of decoy / contrast pricing we've seen in a long time.
There are three packages with the digital magazine you can buy at the BAS website:
$19.95: BAR digital magazine
$29.95: The BAS digital library
BAR archives plus 20 years' worth of Bible Review and eight years of Archaeology Odyssey
$34.95: BAR digital + BAS library
When BAR first launched contrast pricing in 2013, they saw 883 orders for the digital magazine alone, and 1,069 library sales, and 2,769 combo offers – sales of $97,000 for that offer alone.
People want the library, especially when it's only a few dollars more. And the cost to maintain an archive is minimal after it's been built, it's even easier than maintaining SaaS (software as a service) – you can sleep and make money at the same time. This is the most fundamental platform for any legacy publisher.
This same principle applies to digital magazines and apps. You're publishing the same content, just on a different platform with different technology.
What it takes to become a successful multiplatform publisher
If you want to talk about the Golden Child of the Mequoda Method School of Multiplatform Publishing, let's talk about Nutrition Action.
On Oct. 14, 2013, a print newsletter publisher blossomed into a multiplatform publisher. That was the day we helped launch one of our newest Mequoda Systems,  
NutritionAction.com
, the home of a health newsletter from Center for Science in the Public Interest.
With the relaunch, NutritionAction.com went from a print newsletter publisher to a multiplatform publisher. They use newsletter content to produce blog posts, emails, free downloads, guidebooks and a digital newsletter. Featuring 99% recycled content from their print newsletter, they're a prime example of content recycling.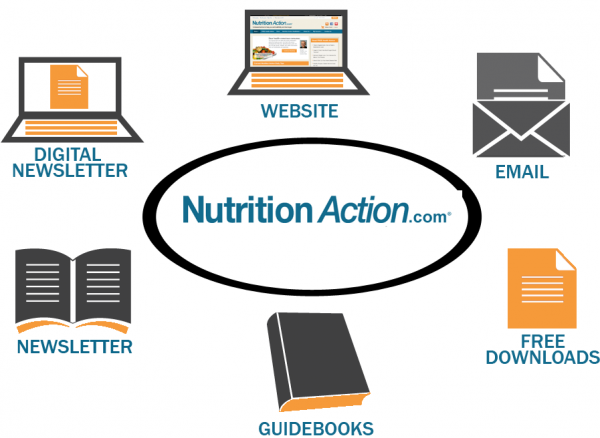 In the near future, CSPI Deputy Director Bill Dugan would like to add virtual and in-person events to their brandwheel. "I have big dreams of doing an annual food and nutrition consumer summit. We need to get in front of people in person." In the longer term, he sees a mobile app in their future. 
Read more about the many platforms and successes of Nutrition Action.
As you might have picked up on, content recycling comes in unlimited strategies on practically unlimited platforms. The only thing you need to know is what your strategy is.
So, what works for you? How do you recycle content to get the most bang for your buck? Do you think premium content should stay premium, or do you recycle content across many free and paid platforms?