Rhode Island Monthly, The New York Times, Hearst & Interweave discover the four newest advertising models
Daily deals websites like Groupon and LivingSocial are becoming very popular for publishers who are looking to make some extra affiliate income from their deal-hungry subscribers. Unfortunately, outsourced companies, like Groupon for example, take between 50 and 100% of the cut from local retailers and continue to get a lot of bad press from struggling small business.
As a magazine, newspaper or publisher, the decision that you may be facing is whether or not it's worth affiliating your company with an existing daily deal program or to just turn in-house and conduct the daily deals yourself. What follows are some magazines and newspapers that have made up their minds, whose stories can help you with your decision.
The Do It Yourself Groupon Model
The Rhode Island Monthly website offers special local deals for customers in the area looking to save money. These coupons have been dubbed "Rhode Deals" and are updated every day with a space designated to clearly showing the price, valued price, discount percent, and the amount of money saved.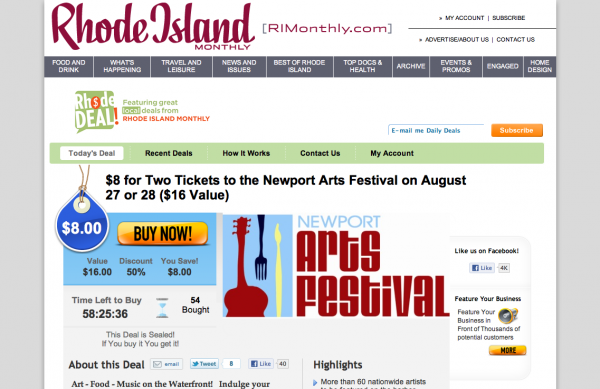 It's easy for eager customers to sign up for a daily email newsletter to these Rhode Deals, too. The subscribe button sits right in many advantageous positions across the website and makes it easy for people to subscribe at eye level.
"Don't miss out on your very own Rhode Deal with this e-newsletter offering you deep discounts at restaurants, salons and spas, entertaining and so much more. These local deals will be sent to your inbox every morning, Monday through Friday, offering the best local Rhode Deal of the day."
The Rhode Deals usually offer discounts on food, crafts or fun things to do around the Rhode Island area, and only one deal a day is offered.
While the Rhode Island Monthly didn't respond to my inquiries about the percentage they take from the retailer, it's reasonable to assume it's somewhere in the 50% range in order to be profitable and that they're using their own sales team to pony up the deals. It's possible this is the same sales team that sells ads, because that just makes sense, right? Check out how they're doing it.
The Separate (But Complimentary) Business Model
Interweave, do-it-yourself arts and crafts book publisher, has also taken to the daily deals, or "flash sales" trend, but using a different sort of platform. Instead of branding it with one of their many different identities, Interweave launched FlockShop separate from their main brands. FlockShop is an an e-commerce site that provides an easy way for long time fans of Interweave's products to browse daily deals and to get up to 60% discounts on arts and crafts books.
What makes FlockShop different is that the deals come one at a time, similar to Woot.com, and that they use videos to highlight the best aspect of the product being sold. FlockShop also does not require membership and the sales aren't private affairs, either. However, customers should sign up for the email list so sales and deals can be sent to them daily.
Senior Vice President and Book Publisher Interweave, Stephen Koenig remarks upon this new chapter at Interweave:
"At its core, Interweave is a company of artists and crafters who combine their work with their passions. Our teams know these brands and products firsthand because we use them and often feature them in our publications, how-to videos, and digital resources. It makes sense for us to leverage that internal expertise on both the supply and eCommerce fronts to provide our customers with a curated selection of products that will allow them to be more successful with their enthusiast pursuits."
Without any specific Interweave branding, it also allows Interweave to easily and seamlessly promote these "flash sales" across all of their many brands and titles.
The White Label Model
A couple of magazines owned by Hearst publishing are also looking into daily deals, through a company called Group Commerce.
Car and Driver and Road & Track are just two of the first magazines to use this daily deals platform. According to an article by Joseph Tartakoff, they are using the white-label solution Analog Analytics, where "the company typically takes a 7 percent cut of each sale. The advertiser takes 50 percent, the publisher 40, and the credit card company the remaining three percent."
To be clear, both magazines are using Analog Analytics to get white label daily deals, they are not selling or finding the deals themselves. Using Analog Analytics provides a software platform that a sales team can easily use and work with, the only part of the job that is in-house.
They will offer items and events targeted to the same audience that subscribes to and reads the publications, according to Tricia Duryee in an article for allthingsd.com. The Hearst Corp. daily deals website will be up later this year.
The Create-Your-Own Model
The New York Times launched their own daily deals network called TimesLimited in March and they are enjoying quite a bit of success from it. Sure, they could have gone the route of any of these other publishers, but they wouldn't be The New York Times if they didn't just go ahead and do it all themselves.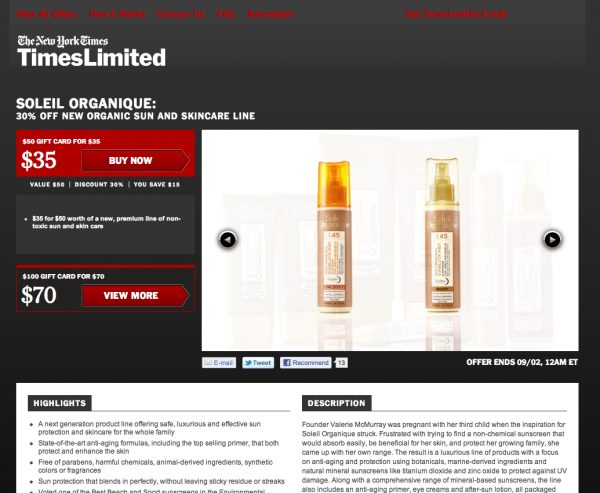 In an article by David Kaplan for paidContent.org, Kaplan quotes Denise Warren (SVP/chief advertising officer for NYT Media Group and the GM for NYTimes.com) on the newspaper's choice to provide daily deals from within their walls:
"We looked at partner options when we began looking at the space a few months ago. But we realized that we have the assets, the consumer reach and the relationships with the advertisers to do this on our own." [Article: NYT Gets Deeper Into The 'Daily Deals' Space With TimesLimited.]
What makes the NY Times' daily deals different is that TimesLimited offers a more upscale version of these daily deals you may see elsewhere, or, in the words of Warren; a more "curated experience".
The funny thing, is that the same white label solution that Hearst is working with, also claims to be working with The New York Times (and Meredith). So are the sales really from "select Times advertisers," or not? Perhaps though, it's just the platform that they share, and not the deals.
In any case, the webpage for TimesLimited already reflects the "more refined spin" on daily deals. The graphics and links are clearly laid out in well-formatted html, and there is a categorical search option underneath the sign-up bar for emails, for things such as "travel" and "dining".
So, is it a better choice to start an in-house daily deals program or go for the outsourced Groupon option? The answer entirely depends on what you think your publishing company can handle.
Not all of us have to be like the "big guys" at the New York Times. Rhode Island Monthly and Interweave are just some of the companies that took matters into their own hands and are having just as good of a time. What it boils down to is whether you think daily deals will be a good, if not temporary, solution to ever-dwindling ad sales.