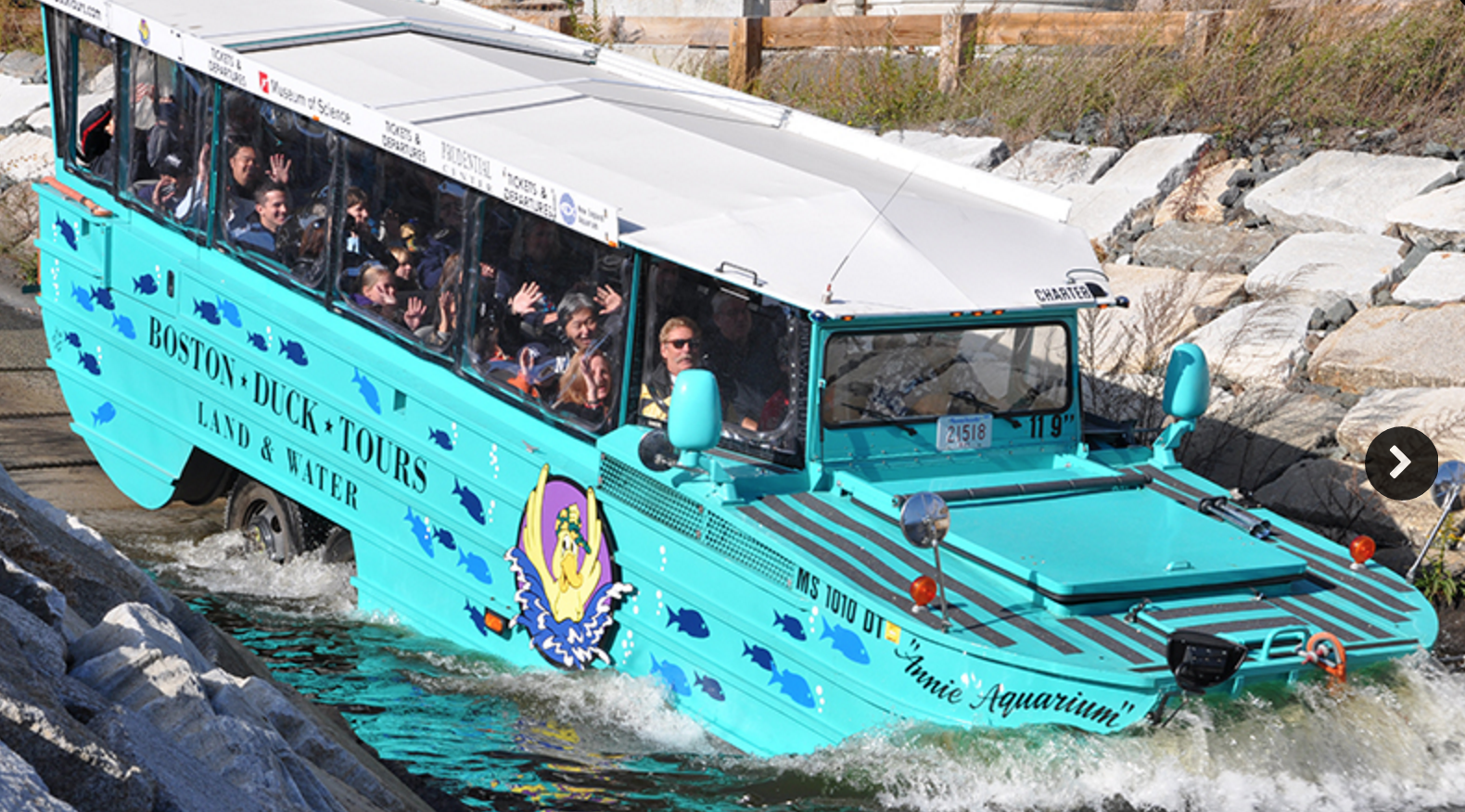 Learn how to double and triple your revenues while riding the duck boats, or taking in a show, shopping in Quincy Market, and eating at world-class restaurants in Boston, Massachusetts
Fall is one of the most beautiful times of the year in the historic city of Boston. The leaves are changing into a beautiful spread of reds, oranges, and yellows. There are a million things to see and do, but be sure to make it a priority to join us in Beacon Hill at the University of Massachusetts Club for two days of business development with the Mequoda team and other niche publishing executives at the Mequoda Intensive.
You'll be fully booked for the days of November 1-2, as we're supplying breakfast, hot luncheons, and a networking reception on Tuesday night. However, we find that most attendees tack on a few extra days to enjoy the location while they're planning the future of their niche media businesses. Here are our personal recommendations for what to do in Boston when you join us.
1.  Ride the duck boats
Boston Duck Tours do not involve sightseeing the ponds around Boston and pontificating on their migration season. Rather, it's your one chance to climb in to a brightly colored "duck boat" and be shown around the city – by land and by water.
2. Visit Fenway Park
Baseball season may be over, but don't miss a chance to visit historic Fenway Park, "America's Most Beloved Ballpark" for one of their tours or an event. It's a small park, so just about every seat is good if there's a concert going on. You can also spend time on Yawkey Way, a private street in front of the park full of food and souvenir vendors.
3. Make your game plan for the North End
The North End is Boston's Little Italy, and you will find some of the best Italian food in America in this very popular neighborhood. The most famous restaurant is Giacomo's, but they do not accept reservations, and the line goes down the block. Panza is another beloved spot along with Galleria Umberto for cash-only slices of Sicilian pizza, which closes when the pizza runs out. For dessert, there's a battle between Mike's Pastry and Modern Pastry for the best cannolis and other pastries, so you might as well try them both.
4. Visit the Museum of Fine Arts
Pair this visit with your trip to nearby Fenway and you'll have an enriching afternoon. The Museum of Fine Arts is one of the most comprehensive museums in the world. Art ranges from ancient Egyptian to contemporary. One particularly fun exhibition occurring during the Mequoda Intensive is Christian Marclay's The Clock (2010). It's "a contemporary masterpiece comprised of thousands of fragments from television and film history – creating a 24-hour video shown in real time. At any given moment, the work displays the accurate time on screen, blurring the line between its fictional clips and reality. Synchronized to the local time zone, The Clock literally becomes a functioning timepiece." The Institute of Contemporary Art is another stunning museum you must see.
5. Shop at Faneuil Hall Marketplace, Back Bay, and the Pru
Stay the weekend and visit one of Boston's  greatest shopping destinations, the Faneuil Hall Marketplace, an indoor and outdoor market filled with street vendors, street theatre and performers, a farmer's market and tons of shops, both small and large. There's an entire building you can walk that's full of food vendors on the inside corridors, and kiosk vendors on the outside corridors. There's also an excellent Ramen spot here called Wagamama that's worth the trip. If you head to Back Bay, you'll find Newbury Street, full of upscale restaurants and boutique shops, and only a hop, skip, and a jump to the iconic Prudential tower, which also has shopping!
6. Dine in food lovers' heaven
Once you've checked The North End off your list, we'd highly recommend checking out some other top spots like The Salty Pig in Back Bay for an impressive charcuterie spread, or Yvonne's downtown for drinks, Neptune Oyster (technically also in the North End) for seafood, Sam LaGrassa's for sandwiches, Toro for Tapas, and the farm-to-plate Townsman for a simply darn good meal. We could go on. The Union Oyster House is kind of a must too, simply because it's the oldest restaurant in Boston. Of course, you cannot miss our ultimate favorite, The Barking Crab, a waterfront experience that feels a bit like you're on a crab boat while dining on the best crab dishes in Boston.
7. Take in a Movie Tour
There is a walking tour in Boston that is just a mile long, but it will take you through Beacon Hill (where our event is located) and Boston Common, and  areas you'll want to visit while in town. The tour includes sitting on the Good Will Hunting benches, drinking at Cheers, seeing a mob hangout from The Departed, and other interesting places you didn't know existed. You can also opt into another tour (there are only two in the city) that provides transportation to areas, even grabbing a drink in Southie at L Street Tavern, home of Good Will Hunting.
8.  Walk the Freedom Trail
The Freedom Trail can be experienced by guide (often in costume), or can be self-guided with a map. It's 2.5 miles long, and the most notable sites are Paul Revere's house, the Old North Church, but also make a stop at the Old State House museum and, as mentioned before, Faneuil Hall Marketplace. If you're looking for another amazing walk, head to the Charles River Esplanade, where you can explore the beautiful Charles river on a path that will be dressed in fall colors, full of willows, and completely paved for runners and people on bicycles.
If you're an executive at an independent media business, the Mequoda Intensive may be the first step on the path you've been seeking. In just two days, you will learn a step-by-step process for transforming a legacy media brand into a multiplatform media brand. Join the ranks of our past graduates who have doubled or tripled their revenue in five years or less using our methodology. Register now and start making those dinner reservations.