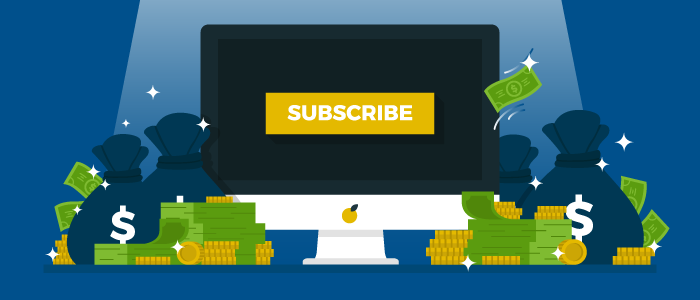 In 2016, our clients, who we affectionately call our Gold Members, have followed the Mequoda Method using our Haven Nexus CXMS and have seen tremendous gains in traffic year over year.
Every year at our annual Gold Member Summit, we give out Rocket Awards. The Mequoda Rocket Award honors the fastest growing website among Mequoda's Gold Member websites.
As the name implies, the Rocket Award acknowledges online publishers who soar above their competition to position themselves at an admirable place in the online environment.
The Mequoda Rocket Award, which premiered in 2009, was originally created by looking at a large sample of online publishing websites, clients and non-clients combined. In 2010, we started looking only at Mequoda Gold Member websites. The winner of the Rocket Award is the online publisher who experiences the greatest growth in online traffic throughout the year. They must have had at least 10K users to the website as a starting point in order to be considered for the award and their traffic growth must've been at least 10% in order to place in the finals. Last year our winner was Tom Vick from Natural Health Advisory with a 368% increase in site growth. In fact, he was so successful that he was recently absorbed by University Health Publishing, the winner of this year's Rocket Award.
Winners of the Mequoda Rocket Awards
We won't be so impolite as to divulge their traffic numbers for the year, however we'd love to reveal our top Mequoda Haven Nexus Systems in order of unique website traffic, some of whom haven't even been using their new CXMS for a full year yet (denoted by an *). For those who have, they saw anywhere from a 14% increase year over year to a 53% increase.
#1 – University Health News* – universityhealthnews.com
University Health News won our first place Rocket Award this year with a 53% increase in traffic year over year using their new Mequoda System, which only launched back in May of this year. Their acquisition of Natural Health Advisory was a large factor in their win.
Metro Parent Publishing Group – metroparent.com
Metro Parent is a southeast Michigan-based online parenting community offering expert advice, stories on parenting trends and issues, and innumerable resources. In addition to being in second place for our Rocket Award, Metro Parent's, Vice President Alexis Bourkoulas and Editor in Chief Julia Elliott were inducted into the Mequoda Hall of Fame this year based on tremendous growth, their contribution to the Mequoda community, and their innovative initiatives to spur sponsorship revenue. They grew 48% year over year, and their system launched in January 2015.
Biblical Archaeological Society – biblicalarchaeology.org
Susan Laden from the Biblical Archaeological Society was inducted into our Hall of Fame last year with their Mequoda System. The Biblical Archaeology Society—a non-profit, non-denominational, educational organization, dedicated to educating people about biblical archaeology founded in 1974 by Hershel Shanks—who also publish Biblical Archaeology Review. We first started working with publisher Susan Laden and her team back in 2006, and she became a Gold Member officially in October 2010. We launched their Mequoda System, with their Portal, Bible History Daily, back in August of 2011. Since then, Sue has gone on to be our 2015 Mequoda Master due to extreme growth, implementation of the Mequoda Method, and willingness to share her secrets with the Mequoda community. Not only is Sue's content excellent but she has a forward-thinking team who has implemented the Mequoda Method with precision. This year, her system grew by 21% year over year.
The National Association of Plan Advisors – napa-net.org
NAPA first launched their Mequoda System in October 2012 with a major relaunch in May of 2015. Year over year, their System grew by 17%. 
Vida y Salud Media Group – vidaysalud.com
Vida y Salud is no stranger to our top five list of Rocket Award winners, in fact they won it two years in a row! vidaysalud.com launched in June of 2009 with just 240 posts in a dozen health categories. Publisher Carl Kravetz, along with Dra. Aliza Lifshitz, his wife and business partner, have created the Internet's most successful Spanish-language health website. It was so successful from launch that they received their 1,000,000th unique visitor less than 10 months after the website's launch. Seven years later, VidaySalud.com has grown to thousands of posts, recipes and videos in 21 health categories. Dra. Aliza Lifshitz, editor-in-chief, and Carl Kravetz, publisher, of Vida y Salud were inducted to the Mequoda Hall of Fame as Mequoda Masters in 2010 and were Mequoda Rocket Award winners in 2010 and 2012. As you can see, they're still going strong. This year they grew by 14%.
Our next top three Mequoda Systems also saw excellent traffic numbers this year and we're proud of each and every one who are dedicated to implementing the Mequoda Method.
If you're interested in building a Haven Nexus Mequoda System, please reach out.