In thinking about the last 30 days, how many print magazine issues have you read?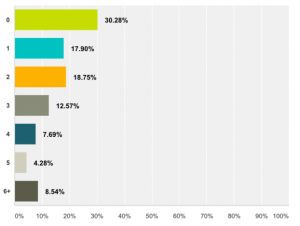 Chances are your response will be at least a couple.
Today we've released our Digital Magazine Publishing Study and Handbook. And before quantifying the readership of digital magazines, we wanted to first understand what percent of the American adult population with Internet access reads print magazines. We also wanted to learn how many print magazines, on average, they are consuming in a 30-day period.
We learned that 69.6% of adult Americans have read an average of 2.91 print magazine issues in the last 30 days. This means that 147 million adults have read an average of 428 million print magazine issues in the last 30 days.
[text_ad]
In upcoming posts over the next two weeks, we'll examine how digital magazine readership is gaining ground, but for now, let's take a look at what's driving print readership, which is still robust. After all, we consider print a viable component of a multiplatform publishing strategy.
An article in the UK's Independent last week declares that print isn't dead – and we couldn't agree more – citing sales of independent print magazines as a driving factor. This is a crucial consideration, because a key feature of the majority of successful independent print magazines is their enthusiast approach. Again, this aligns with our best practices for any publisher – home in on a passionate and content-hungry niche audience segment, and you stand a solid chance of opening several revenue streams with your skillful distribution of that content.
"One reason is that it's really easy to publish your own magazine now. If you have the idea then there are loads of free, or relatively cheap, tools to make it with. And then, using social media, you can find contributors and an audience. So in a way the very thing that was supposed to destroy magazines – the internet – is actually helping to revive them. You don't need a big office and lots of money from investors any more," Print is Dead. Long Live Print author and journalist Ruth Jamieson told the Independent.
"It needs to have a really pure, original idea. And it needs to know who its audience is and speak to them."
This gets to the heart of the Mequoda Method's focus on audience development. In the coming days, stay tuned for takeaways from our Digital Magazine Market Study and how they relate to industry trends.
Looking for more data on reader habits? Download our free Digital Magazine Market Study, full of the latest publishing research, today!