The Kindle Wireless Reader has forever changed online publishing—for the better?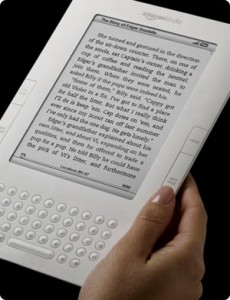 Ever wonder how many Kindles has Amazon sold to date?  Apparently, that is the million dollar question.
The general consensus is this: over 250,000 units sold in 2007, modest estimates of 500,000-750,000 units sold in 2008 and there was a quick sell out the new DX model in 2009.
By our calculations, there are at least 1 million Kindles out there.  Compare this to the Sony Reader which has sold just over 300,000 devices since the debut of the original Reader in 2006.
Who's buying all of those Kindle Readers?  Not your usual gadget geek.   Almost as many women are buying as men and it's most popular with 55-64 year olds.
Kindle Top Sellers
Today, the Kindle Store has more than 300,000 books available, plus top newspapers, magazines, and blogs.  Whether you prefer biographies, classics, investment guides, thrillers, or sci-fi, including 109 of 112 books currently found on the New York Times® Best Seller list.
Kindle sales are now 35% of book sales when Kindle editions are available. Huge jump in February when Kindle 2 went on sale.
[text_ad]
Here's what is on the their top 5 lists as I write this (updated hourly at Amazon.com)
Top 5 Books – Best sellers are generally $9.99 – that's less than the wholesale price for print
Glenn Beck's Common Sense: The Case Against an Out-of-Control Government, Inspired by Thomas Paine by Glenn Beck
Angel Experiment by James Petterson
Culture of Corruption by Michelle Malkin
Paranoia by Joseph Finder
The Help by Kathryn Stockett
Top 5 Magazines – All magazines start with a free 14-day trial.
The Economist
The New Yorker
Time
Newsweek
Reader's Digest
Top 5 Blogs – Kindle has more than 5500 blogs for every interest, even Mequoda Daily.
Amazon Daily
The New York Times – Latest News
A Kindle World Blog
Huffington Post
The Onion
Top 5 Newspapers – in the U.S.
The New York Times
The Wall Street Journal
The Economist
USA Today
The Washington Post
The Future of Kindle
Kindle, Kindle 2, Kindle DX, and the Sony Reader are just the beginning.  Many companies are already in the production mode with their own electronic reader.  There are rumors of an Apple Tablet, a touch screen reader with color or the Kindle 3, also in color. Add to that mobile applications for the iPhone and other Smartphones, electronic readers are here to stay.  With print sales slowly declining, they may surpass printed publications in the very near future.
Cash strapped college students will be happy to know many textbooks are already available electronically, with thousands more titles coming shortly.  Not only will it save them money, but these editions will be as up-to-date as possible.  Plus, it's a lot lighter in their backpack.
Many Kindle owners confess to reading more than ever before.  What about you?  Do you own a Kindle?  What do you use it for: books, newspaper, magazines or blogs?  Share you comments below.