Bristol, RI – September 23, 2004 – Internet Media Review Names WSJ.com Best Online Newspaper Marketer

With more than $40 million in annual online print sales, The Wall Street Journal's WSJ.com wins the IMR Marketing Excellence Award 2004 for Selling Print Newspaper Subscriptions Online.
The 30-page Best Practices Report offers in-depth analysis of what America's largest daily newspaper publishers are doing right (and wrong) to convert website visitors into print subscribers. WSJ.com ranked well above the rest, scoring an 88 out of a possible 100. The overall score is a compilation of the scores of 10 key metrics that IMR feels are critical to success. Among the key metrics studied were: high value placed on content, multiple subscribe entry points on homepage, effective use of entry and exit pop-ups, easy to follow order flow and having price and term clearly presented.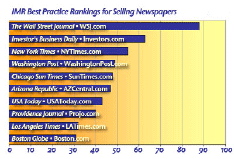 Other top performing sites include Investors.com (Investor's Business Daily) and NYTimes.com (The New York Times). Sites singled out for their poor online marketing practices include Boston.com (The Boston Globe) and LATimes.com (The Los Angeles Times).
WSJ.com clearly wins this game, if due to nothing more than the fact that they offer paid content both online and in print and clearly differentiate on the homepage between the two. Some content is free but the consumer is quickly signaled that the bulk of the relationship will require that money change hands.
The premise of the report is that until newspapers do a better job of converting traffic that arrives into paying print subscribers (the leading revenue generator for most newspaper websites), it's difficult to justify generating more traffic.
[text_ad]