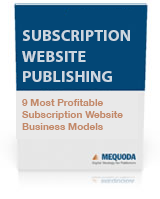 A complete, exhaustive guide to starting a subscription website is now available
FOR IMMEDIATE RELEASE
January 31, 2014 – BOSTON — Subscription website publishing is one of the hottest entrepreneurial ventures on the Internet, both for novices and for legacy publishers struggling to make the leap from print in a digital age.
Now Don Nicholas, author of Digital Magazine Publishing: Creating Digital Magazines in a Tablet Magazine Publishing World and Multiplatform Publishing Strategy: 60 Digital Publishing Secrets for Making Millions Online, has just published another handbook, this one written to help any publisher master subscription website publishing and join other publishers who follow Nicholas' advice in making millions online. All of handbooks can be downloaded for free.
Subscription Website Publishing: The 9 Most Profitable Subscription Website Business Models helps publishers determine the best business model for their content, as well as showing them how to create, price, organize and optimize content for publishing success.
In addition, readers will learn how to build brand loyalty, market a subscription website and measure success. In short, the book delivers everything any publisher must know to succeed in subscription website publishing.
Nicholas, a 35-year veteran of the magazine publishing industry, is in a unique position to write this book. He has been researching and documenting subscription website publishing since 1997, and his consulting company,Mequoda Group, has guided the development of 110 successful niche media websites. Don and his team have built and maintained more than 48 systems in markets as diverse as investing, crafting, executive education, religion, travel, health and lifestyle.
"A magazine is not a website. And a website is not a magazine," explains Nicholas, noting one of the major misconceptions about subscription website publishing. "In fact, your subscription website isn't even a website. It's actually a combination of two or three websites."
A complete guide to subscription website publishing
These websites all have specific purposes and distinct requirements. Subscription Website Publishing: The 9 Most Profitable Subscription Website Business Models painstakingly describes these website models, making it easier for niche publishers to launch their own sites, and understand how certain models work with the others to maximize traffic, engagement and revenues.
Almost any content producer will find the right model to build on after reading this book. The book also includes Nicholas' proven methods for driving traffic and building an audience, and explains the OMI, or online media index, that Nicholas created as a tool for measuring success in subscription website publishing. There's even a chapter on common mistakes that subscription website publishers make.
Finally, the book includes nine in-depth case studies of actual subscription websites, from TIME.com to EatingWell.com to CeramicArtsDaily.org, offering a slate of mentor sites that publishers can study across a wide range of media niches.
Co-authors of the book include other members of the Mequoda Group team, including Chief Content Officer Ed Coburn, Lead Copywriter and blogger Mary Van Doren and Managing Editor Amanda MacArthur. Says Nicholas, "Our team is in a unique position to gather this expertise, because we've gained our knowledge from working with more than 100 publishers in the digital age, learning everything we could from our work, drawing on our decades of magazine industry experience in the trenches, and compiling a huge database of best practices and digital publishing tips."
This handbook is available free to anyone who subscribes to Mequoda's free e-newsletter, which currently has 10,000+ existing subscribers. The newsletter is written to guide niche publishers in their daily efforts at subscription website publishing, digital magazine publishing, multiplatform publishing strategy and email strategy. A fourth handbook on email strategies is forthcoming.
Download Subscription Website Publishing: The 9 Most Profitable Subscription Website Business Models now:
https://www.mequoda.com/free-reports/subscription-website-design-free-report/
About Don Nicholas
Don Nicholas, CEO of Mequoda Group, has guided the development of more than 110 successful niche media websites including Consumer Reports, HR Daily Advisor, Investing Daily, Johns Hopkins Health Alerts, Knitting Daily, Program on Negotiation at Harvard Law School and Vida Y Salud. He is an expert in new business development, digital publishing and Internet marketing. His team's Mequoda Method books, reports and posts were downloaded more than 850,000 times last year. This year more than 100 publishing executives will attend his quarterly Digital Publishing & Marketing Intensive, where they will learn his comprehensive system for digital publishing and marketing.
About Mequoda Group
Mequoda Group offers training, consulting and development services for publishers to maximize their use of the Internet and other media outlets to create, build and retain long-lasting and profitable customer relationships.