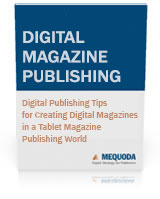 The only complete guide to digital magazine publishing now available
FOR IMMEDIATE RELEASE
January 10, 2014 – BOSTON — Following the recent release of his new Multiplatform Publishing Strategy handbook, Don Nicholas, a leading magazine industry consultant and CEO of Mequoda Group, has just published his second free handbook, Digital Magazine Publishing: Digital Publishing Tips for Creating Digital Magazines in a Tablet Magazine Publishing World.
Digital Magazine Publishing, available free at the Mequoda website and also available for purchase at Amazon, is based on Mequoda's extensive research and deep experience in helping clients become successful digital magazine publishers. It will be invaluable both to publishers with legacy print products as well as to entrepreneurs seeking to start new enterprises with digital-only products.
Digital Magazine Publishing is a complete guide to publishing digital magazines, which Nicholas believes is critical for the survival of the magazine industry.
"We have seen the future of magazine publishing, and it's paperless," says Nicholas. "Today, many consumers have begun predicting the demise of print publications. Pay-for-access online content is gaining newfound acceptance, and e-readers and computer tablets are enjoying soaring popularity."
Most important, he notes: "Many of the publishers we work with generate more than 10 percent of their new subscription sales from digital channels, and that number is growing."
That's a key number in an industry struggling to overcome declining newsstand and advertising revenues. Nicholas backs it up by introducing his subject with his groundbreaking 2013 Mequoda Tablet Study, which showed that in 2013, 55% of Internet users either own or have access to a tablet.
"If growth occurs at the same rapid pace we've been witnessing thus far, we predict that market penetration will be at 85% by 2020," he adds.
A complete guide to publishing digital magazines
Most publishers today approach the idea of digital magazines with hesitation, lacking background or experience to guide them in this wholly new enterprise. The 140-page Digital Magazine Publishing handbook, however, answers all of the questions most publishers have, and even some they probably haven't yet thought of.
The guide outlines the steps necessary in launching a digital magazine, from choosing a format – all of the current formats are explained in detail, including pros and cons – to selecting software to pricing and marketing.
Digital Magazine Publishing clarifies the mysteries of digital magazine creation, including Mequoda's recently released standards for design, content and functionality, and explodes the myth of the Apple remit rate, explaining how conventional wisdom calling it highway robbery for Apple is simply wrong.
The complex subject of digital circulation auditing is simplified – yes, Nicholas says, you should definitely be reporting your digital circulation if you want to sell advertising – and the murky issues surrounding digital advertising are also explained, leaving publishers with a clear picture of the future, and of their potential revenues to be gained in an age when print revenues are continuing their alarming decline.
Throughout the book, Nicholas illustrates his points with real-world examples from his clients and from leaders in digital magazine publishing – who are not who you might think they are. He also includes seven detailed case studies of digital magazines, from The Atlantic to MAD to Black Belt.
Co-authors of the book include other members of the Mequoda Group team, including chief content officer Ed Coburn, lead copywriter and blogger Mary Van Doren and managing editor Amanda MacArthur. Says Nicholas, "Our team is in a unique position to gather this expertise, because we've gained our knowledge from working with more than 100 publishers in the digital age, learning everything we could from our work, drawing on our decades of magazine industry experience in the trenches, and compiling a huge database of best practices and digital publishing tips."
Why is Mequoda giving away a 145-page book? That's a secret from Nicholas' earlier work, Multiplatform Publishing Strategy: 60 Digital Publishing Secrets for Making Millions Online, which is also available for free here.
Download Digital Magazine Publishing now:
https://www.mequoda.com/free-reports/digital-magazine-publishing-strategy-basics/
About Don Nicholas
Don Nicholas, CEO of Mequoda Group, has guided the development of more than 110 successful niche media websites including Consumer Reports, HR Daily Advisor, Investing Daily, Johns Hopkins Health Alerts, Knitting Daily, Program on Negotiation at Harvard Law School and Vida Y Salud. He is an expert in new business development, digital publishing and Internet marketing. His team's Mequoda Method books, reports and posts were downloaded more than 850,000 times last year. This year more than 100 publishing executives will attend his quarterly Digital Publishing & Marketing Intensive, where they will learn his comprehensive system for digital publishing and marketing.
About Mequoda Group
Mequoda Group offers training, consulting and development services for publishers to maximize their use of the Internet and other media outlets to create, build and retain long-lasting and profitable customer relationships.