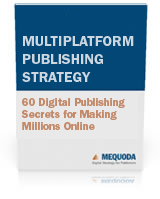 Build your digital publishing empire with the secrets and proven techniques in this new 100-page handbook
FOR IMMEDIATE RELEASE
December 17, 2013 – BOSTON — Don Nicholas, who has spent 30 years as a publisher and consultant in the magazine publishing industry, has released a free 100-page handbook titled Multiplatform Publishing Strategy as a followup to his 10-year-old book, Internet Marketing Strategy for Publishers. "Ten years and one tablet revolution later, my newest professional goal is simple: To help each and every publisher successfully cross the new digital divide," says Nicholas.
Multiplatform Publishing Strategy: 60 Digital Publishing Secrets for Making Millions Online documents a seismic shift of historic proportions in the publishing industry.
This book is written for magazine publishers who want to turn their single-product brand into one that publishes on many different platforms. Case studies include those from companies like The New Yorker, Business and Legal Resources and Harvard Health Publications. For example, says Nicholas, "We've analyzed the New Yorker's highly successful digital magazine publishing operation to deliver diverse multiplatform publishing ideas for any digital publisher."
Also included are the strategies behind some Mequoda clients' success, including those whose website traffic has grown more than 100% in the past year. Some of these case studies include America's Horse Daily, Mr. Food and the Biblical Archaeology Society.
Specific strategies include uncovering assets you didn't know you had, using different platforms to serve different members of your audience, driving traffic organically through SEO, and recycling content so that everything you produce has multiple publishing platforms.
Co-authors of the book include chief content officer Ed Coburn, lead copywriter Mary Van Doren and managing editor Amanda MacArthur. "My team has spent hundreds of hours researching and documenting the most successful strategies and processes," says Nicholas.
Why is Mequoda giving away a 100-page book? "Ah, that's one of the secrets you'll learn when you read it!" says Nicholas.
Download the Multiplatform Publishing Strategy Handbook now: https://www.mequoda.com/free-reports/multiplatform-publishing/
About Don Nicholas
Don Nicholas, CEO of Mequoda Group, has guided the development of more than 110 successful niche media websites including Consumer Reports, HR Daily Advisor, Investing Daily, Johns Hopkins Health Alerts, Knitting Daily, Program on Negotiation at Harvard Law School and Vida Y Salud. He is an expert in new business development, digital publishing and Internet marketing. His team's Mequoda Method books, reports and posts were downloaded more than 850,000 times last year. This year more than 100 publishing executives will complete his quarterly Digital Publishing & Marketing Intensive where they will learn his comprehensive system for digital publishing and marketing.
About Mequoda Group
Mequoda Group offers training, consulting and development services for publishers to maximize their use of the Internet and other media outlets to create, build and retain long-lasting and profitable customer relationships.