Bill and I were lucky enough to travel to the Philadelphia Flower Show in Pennsylvania this month. If you have never been, it is definitely a sight to see! The displays are breathtaking and the information you can learn is amazing. I never knew how many volunteers it takes to run a show like this or level of prestige involved with being asked to judge. I think we spent half a day just wandering around like kids in a candy shop taking in all of the exquisite and exotic flowers and plants. The amount of time, technique and love that goes in to all of this is just awe inspiring!
We were lucky enough to meet up with our friends from GardenComm for the afternoon. We were given a tutorial on the best way to capture quality pictures in an exposition setting (where the light is not always the most cooperative). We were also given an insight into a day in the life of a show plant. How interesting it would be to follow one for the day, from transport, to preening/prepping, judging, awards, etc. There is so much that happens in a competition at this level, some of which involves tweezers and small brushes.
We spent some quality time exploring the booths in the Marketplace. We were able to see so many wonderful products and ideas. I will admit that I was not able to pass up a cherry tart from a local bakery and both Bill and I enjoyed a "gardener's" chair massage. We love going to these shows to see what products are out there for gardeners, crafters, and those of us that just want to discover unique and useful additions to our home lives.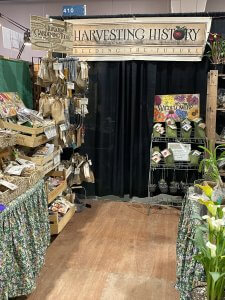 While in the Marketplace, we were able to visit the booth of our friends and longtime partners at Harvesting History, which was founded in 2016 to provide customers with the finest quality horticultural and agricultural products available today. Their offerings include seeds, roots, bulbs, tubers, plants, garden tools and equipment, garden clothing, and garden-related books and art. They focus largely on heirloom varieties that can be reliably offered to customers year after year and the tools and equipment are designs that have proven invaluable to gardeners for many, many generations. We are so happy that Barb Melere was there for us to visit with and to share her vast gardening knowledge.
Our few days at the Philadelphia Flower Show were definitely full and exciting. We enjoyed the sights we saw and the people we were able to meet. Be on the lookout for other great products we have found in the upcoming months!
About Mequoda Publishing Network: Mequoda provides actionable ideas, inspiration, and advice for gardeners, cooks, and crafting enthusiasts—with the goal of improving their lives and increasing personal enrichment and enjoyment. We operate five multiplatform consumer brands, including six magazines, 28 email newsletters, and more than 100 digital books. We partner with dozens of sponsors to help them market their products to our audiences.
For nearly two decades, Mequoda has explored and expanded the evolving art and science of multiplatform publishing and marketing. With in-depth research, aggressive testing, and cutting-edge strategy, Mequoda has developed a reputation as an industry leader for building and operating multiplatform communities that serve, engage and delight consumers, sponsors, and affiliates.
Contact: To become a sponsor or marketing partner with any of our publications, or to speak with a member of our team, please contact Christy Page at Christy@Mequoda.com or (781) 556-1006.