Supplement your analytics with some cool website design visuals from online heat map tracking tools
If you want to know why your website design is, or is not performing, start conducting usability tests. A/B tests are great for content, but when it comes to seeing how users engage with your website, online heat map tracking tools can make all the difference.
Google Analytics is of course a resource for testing your content, but the difference between Google Analytics and heat map software is that heat map and click tracking software is based on coordinates. Google Analytics tracks clicks on a per-URL basis.
This means you might have a "download this report" link to your Rapid Conversion Landing Page within a button on the page, and you might also have it in the first paragraph. Google Analytics groups the results together in its report, rather than seeing them as two different entry points. Besides that, heat maps are just cool. And they're great to present to non-technical people.
So you might be wondering where you can get one of these handy-dandy heat map tracking tools? Well, thanks to the ever-growing collection of tools on the web, there are several free and paid options.
Find out the CMS features that publishers require to manage an online publishing business. Download a FREE copy of 7 Ways Haven Wordpress Goes Beyond Wordpress, and discover the features all publishers should have access to for a bigger audience, greater revenue, and higher profits.
5 Heat Map Tracking Tools
CrazyEgg – Crazy Egg is a popular choice. It's $29 a month at minimum, but they offer a free 30-day trial and several different visual types of click tracking, from heat maps, confetti view (offering search terms, top 15 referrers, operating system, browser, etc.), overlay and lists.
They allow you to create reports, share your data, block clicks from your own computer, and be alerted via email or RSS. $29 a month is a small price to pay for the service, and all you would need to do is use this service and decrease your bounce rates anywhere in your funnel by 1-5% to make the money back.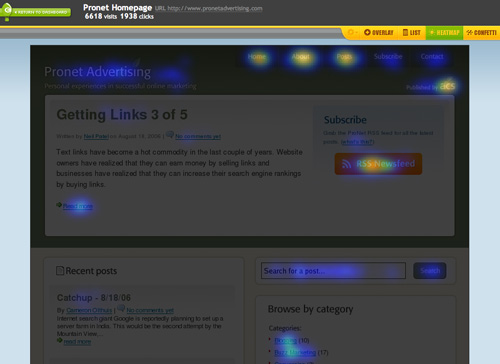 Heatmap.me is another solution with both free and paid options. If you want to test more than five pages, which is free, you can choose packages that start at $100 per month. It uses Javascript and does not log information from your visitors.
ClickHeat – If you just want to tinker with click tracking and have full control over it, you might consider installing this open source (free) piece of heat map software on your own server.
Hotspots Analytics WordPress Plugin – If you're running on WordPress, this plugin includes basic heat maps and added analytics. According to their plugin description, "when the heat map is displayed, a HTML5 canvas drawing is overlaid on the website. An additional information panel is also provided at the bottom right of the screen which provides the current page width, browser, device etc. … If you resize the page width, a different heat map will be displayed. A width allowance setting can be changed to allow for some overlap in page widths."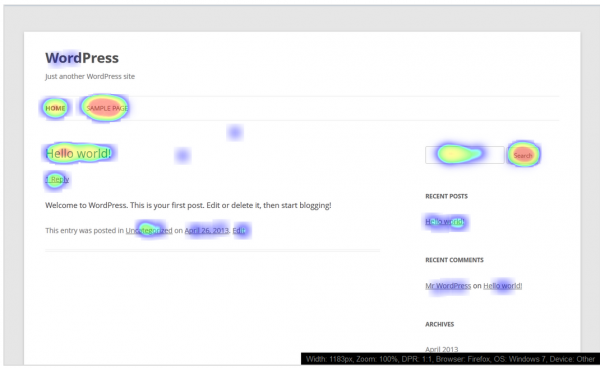 ClickTale – If you want to get really fancy, you can subscribe to ClickTale and get actual movies of your visitors' browsing sessions. The benefit to this is that you can see where your visitors scrolled, whether they hesitated, hovered, etc. Most helpful though, you can see which fields in your forms users tend to abandon. Add an audio recorder, and this could be a great tool for in-house usability tests. They don't offer public pricing on their site anymore, but last we checked it was around $99 per month and they do offer a free trial.
Have you tried any of these tools? Tried other ones? Share your experiences in the comments.
This article was originally published in 2009 and is updated frequently.