Increasing website traffic by building more quality inbound links
The value of your website can be determined by how many people visit.
This is true for both advertising-driven websites and product-driven sites, because a boost in traffic is directly related to how many conversion opportunities you'll receive. If you get 1,000 unique visitors, you have 1,000 opportunities to turn them into an email subscriber or paying customer.
As I sit here this morning and am rummaging through Google Analytics and Open Site Explorer to build a few monthly reports for my clients, I'm reminded of how much value there is in an inbound link.
Every inbound link has the opportunity to drive hundreds, thousands or millions of unique visitors to your website, depending on where it comes from.
For the sake of having an example, I'm going to use a random mommy blog to show you an example. The Meanest Mom has about 10,225 inbound links to her website.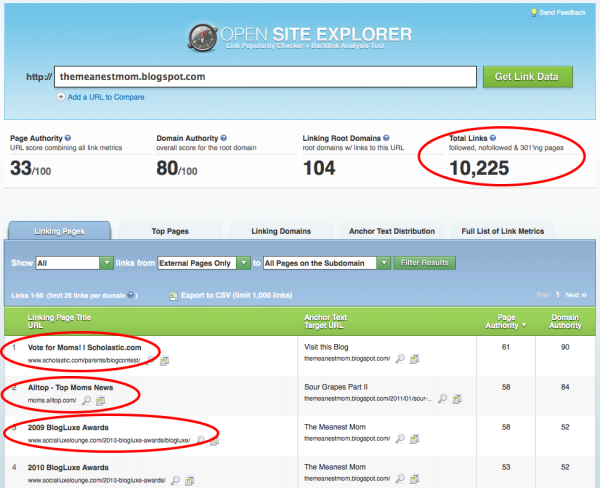 Directories and Contests
So if I was The Meanest Mom, what I'd take away from these first links is that I need to get myself into more contests and directories. The links with the highest authority in her roster of inbound links happen to be both.
It's easy enough to submit yourself to AllTop directory, and if you're a publisher, you'll probably get approved.
Listings 1, 3 and 4 are for contests. It's easy enough to submit your site to contests in your niche, all you have to do is find them. Here are a few examples:
You can find even more if you search "[yourniche] blog awards" in Google.
Find out the CMS features that publishers require to manage an online publishing business. Download a FREE copy of 7 Ways Haven Wordpress Goes Beyond Wordpress, and discover the features all publishers should have access to for a bigger audience, greater revenue, and higher profits.
Profile Links and NoFollow Links
If I scroll further down, I can see two more types of inbound links; Profile links and nofollow links.

These nofollow links aren't technically counted by Google, so if The Meanest Mom was spending any time commenting on blogs for inbound links, she could omit this particular blog in the future.
The other inbound links come from user profiles. Just goes to show that using your URL in your online profiles can be helpful, especially if they're from a site with a good Google reputation and doesn't use the nofollow tag.
Communities and External Blogs
Finally, we have some links from online communities and other blogs.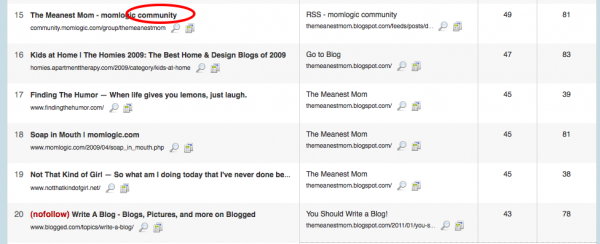 You can easily generate inbound links from online communities; all you need to do is be a part of them. Finding and joining social networks in your niche, you have the opportunity to build inbound links any time you post. The more communities you join, the more opportunities to increase website traffic from different domains.
As far as external blogs go, this is fairly simple too. It can be time consuming, but offering to guest blog for other blogs in your niche will allow you to link to your website in your byline on the other blog. By commenting on other blogs, you're able to get inbound links as well. Most comment forms will link your name to your website URL.
Take a look at Open Site Explorer to check out your own site. Are there areas where you're already successful and allow for new opportunities? Are you spending too much time trying to build inbound links from nofollow blogs? How can you improve your inbound link numbers in order to increase website traffic?