The calendar content business model can provide a useful, linkable resource that keeps visitors coming back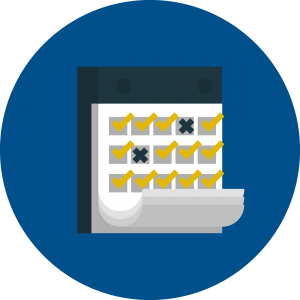 It's necessary to know the most ideal business model(s) for publishers, to be able to develop your strategic plans for CAROTME (content, audience, revenue, organization, technology, measurement, and economics). Not considering the content business model is a major mistake some publishers make.
We have identified 12 content business models that Mequoda member companies have engaged in profitably, but the one I'd like to focus on today is the Calendar content business model.
Calendar websites are free, open sites that list upcoming events. Event listings, or entries, typically include information about the event such as title, date, location, and sponsoring organization and may include additional information, too.
[text_ad]
The content in each entry may have minimal SEO value, but they can be great generators of inbound links and referral traffic, which will certainly help search engine performance. Because of the fairly limited content, these are best paired with another website business model that can drive traffic, of which a portal is clearly the best qualified.
As noted, calendar websites are usually free to access and are usually free to list an event in as well, unless the calendar is managed solely by the publisher.
The underlying revenue-generation system is therefore sponsorship. This sponsorship might be for the publisher's products and events or for third-party products and events…and often takes the form of banners and other display advertising, either for the whole calendar or for sections of the calendar. For instance, a sponsor may wish to be visible whenever a user searches on events in a particular location or region, or for a category of events.
Examples: The New York Times Events section is a widely used example of a mass-market calendar.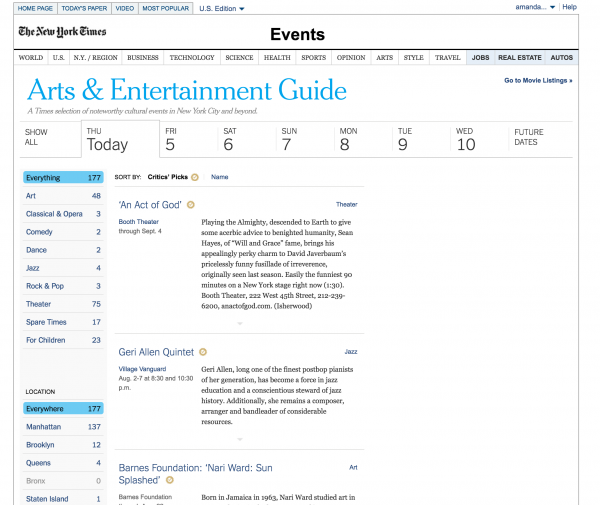 Our client Loss Prevention Media has a Loss Prevention Media Events section and is a similar example in the narrow, B2B niche of retail loss prevention. This section is a huge resource for loss prevention professionals, who can come to this one place to find upcoming trade events. Meanwhile, as a traffic-driving tool, we hope they pop over to the rest of the site while they're in visiting.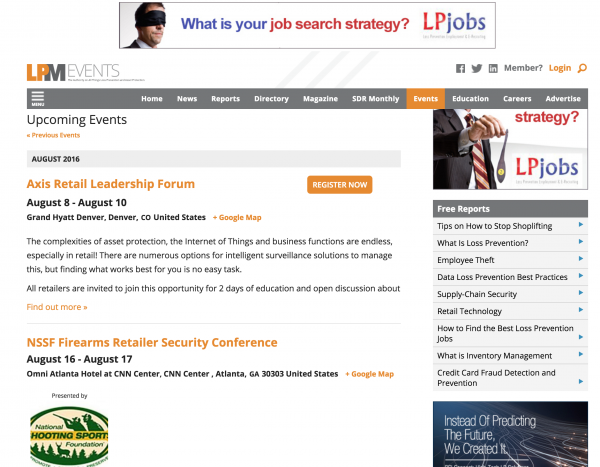 If you're considering launching a calendar content business model …
Online calendars are used by all kinds of organizations, from the largest trade associations to the smallest garage bands. Like many other things in digital publishing, the functionality itself isn't so special, but how you use it can make a huge difference.
Many publishers use website calendars as another way to reach out to their audience by providing an online, centralized source of event information. These publishing events can range from the biggest industry conferences to the smallest get-togethers (like a happy hour) for learning and networking. Many publishers not only lists event details, but also allow users to add the event to their Google calendar or export to another calendar system.
Mequoda clients use our Haven Calendar module to build out their calendar content model.
If you are not a client, but are using a WordPress site, there are plug-ins with various levels of functionality. Simple event calendars that list date, time, location, etc., can be used just to list events for others to browse. Other solutions are more advanced and can allow users to confirm their expected attendance at an event, or even charge for the event using a payment gateway such as PayPal.
Some of the providers include All In One Events Calendar, The Events Calendar, My Calendar, and Booking Calendar.
Regardless of the choice, website calendar business models are not difficult to implement, but can add a valuable functionality for your audience.
All of the content business models out there have a core function they are designed to serve – building an audience that we refer to as creating affinity or directly monetizing content that we refer to as premium. The revenue generation for affinity business models is sponsorship, because the content is open and free to users, and much of it is even free to visitors who are not registered.
The premium business models require a greater level of commitment from users, which is often in the form of payment but can also be in the form of additional time or travel in the case of an event. More on those in the coming weeks. In the meantime, do you have a calendar content component of your site?  Tell us about it!