You know The New York Times, right? Of course you do. And what's great about NYTimes.com is that it features an exquisite layout that retains the look and feel of a read newspaper and provides the form and function for todays netizens as well.
One goal that digital publishers have is to keep readers reading and clicking, and The New York Times has a clever feature that entices readers to do just that.
They have a "fly out bar" that slides onto the screen as you get closer to the bottom of the article. This bar features a link and sometimes an image to another related article. Below is a screenshot of what the fly out bar looks like on their site (highlighted by the orange arrow).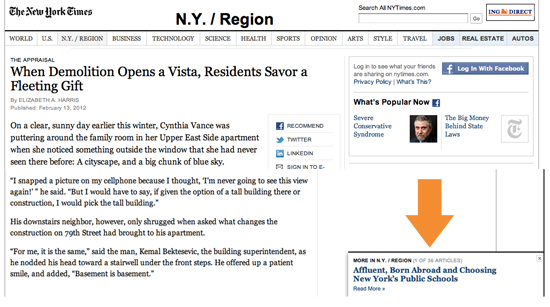 Find out the CMS features that publishers require to manage an online publishing business. Download a FREE copy of 7 Ways Haven Wordpress Goes Beyond Wordpress, and discover the features all publishers should have access to for a bigger audience, greater revenue, and higher profits.
To see the "fly out" bar in action, visit any article on NYTimes.com and scroll to the bottom of it.
If you want to use this same strategy in WordPress, there's a plugin called nRelate Flyout that creates the same effect seen on NYTimes.com. The plugin automatically analyzes your articles and serves up related posts for you. You have several style options available, and below are a few variations: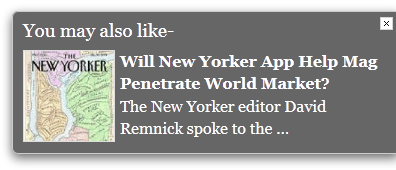 You can also configure nRelate Flyout to serve up specific posts and links. Ads perhaps?
There are few things you should know about this plugin before you install it:
While the plugin is installed on your server the actual related post analysis is done on nrelate's servers. This may be a deal breaker for some publishers. Nrelate mentions in their FAQ that calculating related posts is can put a strain on your server. This is one of the reasons processing is done off site. They also mention if you're currently using a related post plugin and switch to nrelate you may see an improvement in site performance.
You do have the ability to serve ads in the flyout but it's through nRelates revenue sharing program.
On Feb 2, 2012 nRelate released a press release stating they just added their 20,000th publisher.
Do you use a related plugin post? Let us know in the comment section.